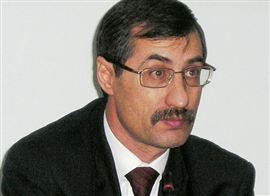 A delegation from the Office of Democratic Institutions and Human Rights (ODIHR) of the Organization for Security and Cooperation in Europe (OSCE) has met with imprisoned Kazakh human rights defender Yevgeny Zhovtis.
The OSCE issued a press release on September 5 saying that the ODIHR delegation visited Zhovtis on September 3.
Zhovtis is currently in jail in Kazakhstan's eastern city of Oskemen (known as Ust-Kamenogorsk in Russian), serving a four-year sentence after being convicted of vehicular manslaughter.
The OSCE and international rights organizations expressed concerns during proceedings against Zhovtis in 2009 that the rights activist was not receiving a fair trial.
An ODIHR press release said Zhovtis is "in good spirits" but was disappointed by the denial of parole."
Zhovtis has requested early parole twice and been turned down both times due what authorities said were "minor infractions."
Radio Free Europe/Radio Liberty