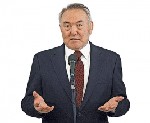 President Nazarbayev is not pleased with the expose.
Rakhat Aliyev has turned the piles of documents he took with him when he went into exile, after a very public falling out with Kazakhstan's strongman in 2007, into an exposé called The Godfather-in-Law. Among the revelations are how President Nursultan Nazarbayev and his cronies have secreted billions outside the resource-rich nation, which sprawls from the Caspian Sea to the Chinese border. And what makes Aliyev's claims so incendiary is that he used to be the deputy intelligence chief and deputy foreign minister, and was also married to Nazarbayev's eldest daughter, Dariga.
"For each word, for each figure, I have a piece of paper," Aliyev, 46, told the German magazine Der Spiegel. Among the files in Aliyev's possession is the purported job application to the Soviet KGB by the current prime minister, Karim Massimov, details of an elaborate network of companies designed to funnel money out of the Central Asian country, copies of cheques made out for millions and a list of spies in Kazakh embassies.
The book, published in Germany, was quickly banned by the government in Astana. "Our citizens, if they are found to be involved in purchasing and distributing this book, will face criminal prosecution for assisting the criminal, Rakhat Aliyev," stated Saparbek Nurpeisov of the prosecutor general's office. As for Aliyev, he lives in hiding in Austria. Within days of his self-exile, Kazakhstan announced his indictment on corruption and assault charges as well as Dariga's quickie divorce from her disgraced husband. Aliyev was sentenced in absentia to 40 years in prison. However, he didn't escape without taking a fortune with him. "It would be difficult," he told Der Spiegel, "for me to spend all my money."
For Nazarbayev, who's ruled the oil-rich nation since the Soviet Union's breakup and who has been accused of widespread abuses, the attention that Aliyev's book brings to his country couldn't come at a worse time. Kazakhstan is getting ready to take over the chairmanship of the Organization for Security and Co-operation in Europe, which deals with human rights issues and democratization.