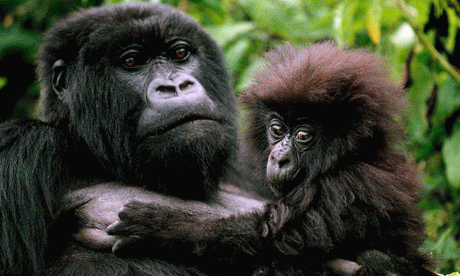 Does this picture make you think of Rwanda? If so, a British PR firm has done its job, and many states want a similar makeover
Positive pictures of Rwanda, such as the country's famous gorilla trails for tourists, are used to change its image. Photograph: Getty Images
When Louise Mushikiwabo, Rwanda's foreign minister, was due to speak at her country's high commission in London reporters from the world's media waited inside a fake Rwandan village hut and leafed through glossy brochures promoting the country's famous gorilla trails.
Smart-suited young British PR executives poured Rwandan coffee and burbled about presenting "a different image" and focusing on "mountains, gorillas, crops" – all part of the country's increasing efforts to reinvent itself 16 years after it was torn apart by genocide. Alluring offers were held out of trips to the nature reserves for journalists willing to write up such topics, and when Mushikiwabo arrived she wanted to share "the good news that has been taking place in Rwanda". There are more women in parliament than any other country and it has been admitted to the Commonwealth. "We are at a time in our post-genocide history where we have to move on," she said.
As Rwanda prepares to go to the polls on Monday to elect a president for only the second time since 1994, this public relations drive, masterminded by the incumbent president, Paul Kagame, this week faces its sternest test. The government is facing accusations, which it denies, of state murder and corrupting the democratic process. Will the international community accept that Rwanda has indeed, moved on?
Tasked with persuading the world is London PR firm Racepoint, hired by Kagame. "You used to Google Rwanda and the first thing you would see would be about genocide," said Cathy Pittman, Racepoint's managing director. "Now we are feeding content and stories to journalists about the economy and culture. A lot of it is about images."
It sometimes works. A writer from Foreign Direct Investment magazine was taken on a trip to Rwanda by Racepoint and wrote a piece in February which stated Rwanda "prides itself on having zero corruption" and that "Rwanda is poised to become Africa's newest success story".
The Commonwealth Human Rights Initiative, in a report last year, found that Rwanda has "excellent public relations machinery" which has succeeded in "persuading the key members of the international community that it has an exemplary constitution emphasising democracy, power-sharing, and human rights which it fully respects". It concluded: "The truth is, however, the opposite."
Rwanda's constitution, the report said, was "a facade which hides the exclusionary and repressive nature of the regime", "basic human rights are in an unsatisfactory state", "censorship is prevalent" and there are "serious concerns about the level of political freedom".
On 24 June Jean Leonard Rugambage, a dissident journalist, was approached at the gate of his home in Kigali by two gunmen and shot twice in the neck. The killing sparked accusations and denials that his murder was commissioned by the government, which had already withdrawn his newspaper's licence to print.
Hutu opposition politician Victoire Ingabire has failed to secure registration to stand in the election, leading to claims Kagame's regime is blocking her candidacy. At Racepoint's suggestion, James Musoni, Rwanda's local government minister, wrote an opinion piece for British newspapers, which was pitched to the Guardian, among others, to try to deal with these issues.
It concluded somewhat ambiguously: "The government is determined to ensure these elections go ahead peacefully and fairly – without interference from those inside and outside the country who stand to gain from stirring up instability."
Racepoint also arranged for a Guardian journalist to interview Kagame in Kigali. The resulting story was published on 28 May and focused on the allegations.
Earlier this month, opposition politician Andre Kagawa Rwisereka was found dead, reportedly nearly decapitated, sparking concern that the killing was politically motivated.
Rwanda is not alone among regimes with controversial human rights records to turn to London's PR firms for help. Others have hired leading outfits such as Bell Pottinger, led by Lord Bell, a former adviser to Margaret Thatcher; Portland PR, which counts Michael Portillo among its advisers; and Hill and Knowlton, better known for representing Adidas, Castrol and Nissan. Leading consultants have fanned out from London to win contracts as far afield as China, Kazakhstan, Saudi Arabia, Russia and Zambia.
A recent report into the phenomenon in Brussels by Corporate Europe Observatory, a campaign group which researches the power of corporate lobbying, said: "Secrecy among both embassies and consultancies keeps much of this phenomenon out of public sight ... some of the consultancies are lobbying on behalf of governments which are directly or indirectly responsible for serious human rights violations."
London's growing status for reputation management is partly down to the time zone, language, and the important role for their clients of British publications with large international readerships including the Economist and the Financial Times, PR executives said.
"If you are managing a client's reputation, whether individual, company or country, it is the Anglo-Saxon media that matters and particularly the London-based media," said Ivo Gabara, who advises the Kazakhstan foreign ministry on press relations in London. "Coverage in the US is important but what is said out of London will determine your global reputation."
An Amnesty report on Kazakhstan earlier this year stated that "torture or other ill-treatment of individuals deprived of their liberty, whether formally detained or in de facto unacknowledged detention, continue to be routinely used".
"I take on business I am comfortable to identify myself with," said Gabara. "In Kazakhstan I see a country making progress on every front including its human rights record, media legislation and political freedom."
The doyen of this business is Lord Bell, the chairman of Chime Group, which runs Bell Pottinger. His firm's political contracts include Sri Lanka, where the government was recently accused of war crimes and Madagascar, where he acts for the former president, Marc Ravalomanana, who was forced out following violent clashes and was sentenced in absentia to four years in jail for abuse of office in buying a presidential jet. Bell's position on the ethics of which contracts to take is simple.
"I wouldn't do anything I would do a bad job on," he said. "It is about the direction of travel. I don't choose to sit in judgment on whether they are going fast enough. If the direction of travel is right then I am perfectly happy to help them."
Another big UK firm, Hill and Knowlton, has contracts with the Malaysian government's cyber security agency; the Singapore prime minister; city governments in Beijing, Shanghai and Chonqing; and Saudi Arabia's investment authority. Portland PR works for the Kremlin while Africa Practice, whose director, Marcus Courage, helped run Mwai Kibaki's presidential campaign in Kenya which was followed by a wave of violence, is working for the government in Gabon.
A PR executive who has worked for governments in eastern Europe and Africa said working for foreign governments was sometimes an exercise in "spinning them into legitimacy".
"You are often paid a lot to do something that you know from the outset you will not be able to achieve," he said on condition of anonymity. "It is almost like a con. You can't spray perfume on a turd. It will smell nice for a while, but eventually it will smell like what it is."
He said he was once offered, but turned down, a £2m two-year contract by the Sudanese government to produce PR about Darfur. With such fees on offer competition is growing.
"Firms distinguish on whether they are being asked to do anything unethical rather than whether their client is acting in that way, rather as a lawyer would take on the case of a criminal," said a senior partner in a leading firm which contested the recent Kazakhstan contract. "We are paid to put the best case on behalf of the client."
Another PR firm with an office in London, Marston Nicholson, produces the Kazakhstan Live website, which has featured items on folk music and apple harvests.
Morris International Associates, a London firm, manages UK media relations for the Saudi Arabian government, including arranging briefings with the London ambassador, Prince Mohammed bin Nawaf al-Saud, and press trips to the kingdom. In 2009 Saudi authorities executed, mainly by beheading, 102 men and women for offences ranging from drug possession and blasphemy to rape and murder, according to Amnesty International. In its latest annual report on the kingdom, the human rights organisation said: "Torture and other ill-treatment continued to be widespread and committed with impunity. Commonly cited methods include severe beatings with sticks, electric shocks, suspension from the ceiling, punching, sleep deprivation and insults."
Ann Morris, a director of the company, acknowledged the country had a mixed reputation and "terrible things happen everywhere", but she insisted the Saudi government "deserves to have the many, many positive things emphasised and pushed forward". She said: "Our aim is very much to develop a better understanding," she said. It is quite often lop-sided. It is quite difficult for some countries to swim above that and show the good things they are doing. Nobody is suggesting any country is perfect but we are trying to get a balance."
Her firm has arranged meetings with Saudi officials for the Guardian and other newspapers.
PR consultants who profess to maintaining high ethical standards said they would not take contracts if they believed their clients' values would reflect badly on them.
"You need to see the whites of their eyes and if you think they want you to spin and promote a picture of their regime which is untrue, it is an unacceptable contract," said Simon Cohen, managing director of Global Tolerance, an agency which has worked for the Dalai Lama, the Wallace & Gromit's Children's Foundation and the Green Party. "PR and communication agencies have to ask if the people they are working with are aligned with their values."
Beneath the PR façade
Rwanda
The PR says: "The Rwandan government has gained significant international support in the past few years precisely because of the stability and reconciliation it has brought to the country." - An article written by James Musoni, minister of local government in conjunction with Racepoint, a London public relations firm, June 2010
A human rights NGO says: "It uses the constitution opportunistically as a façade, which hides the exclusionary and repressive nature of the regime; relies on power structures that sometimes run parallel to, and sometimes cross-cuts, the formal government; and in which the army plays a central role." - Commonwealth Human Rights Initiative report August 2009.
Sri Lanka
The PR says: "We are ready to engage positively with anyone and everyone around the world who wishes to help us achieve our dream of a united and prosperous land and enable Sri Lanka to take its rightful place in the world as an island of unsurpassed beauty, enterprise and now peace." - Sri Lankan president Rajapaksa in an article pitched to the Guardian by Bell Pottinger, a PR group, in December 2009.
Amnesty says: "At the end of the war, atrocities against civilians and enemy combatants appeared to be fuelled by a sense that there would be no real international consequences for violating the law." - Madhu Malhotra, Amnesty International's deputy director for the Asia-Pacific region in March 2010
Kazakhstan
The PR says
"Political stability, religious tolerance and a unique location at the crossroads of China, Russia and Europe gives Kazakhstan a stabilising role for the whole region – as well as making it the perfect host for the Congress of World Religions." Kazakhstan Live – website created for the Kazakhstan foreign ministry by Marston-Nicholson.
The UN says
"I conclude that the use of torture and ill-treatment certainly goes beyond isolated instances. I have received many credible allegations of beatings with hands and fists, plastic bottles filled with sand, police truncheons; of kicking, asphyxiation through plastic bags and gas masks used to obtain confessions from suspects." Manfred Nowak, the Special Rapporteur of the UN Human Rights Council on torture and other forms of cruel, inhuman, degrading treatment or punishment following a visit to Kazakhstan in May 2009
http://www.guardian.co.uk/media/2010/aug/03/london-pr-rwanda-saudi-arabia