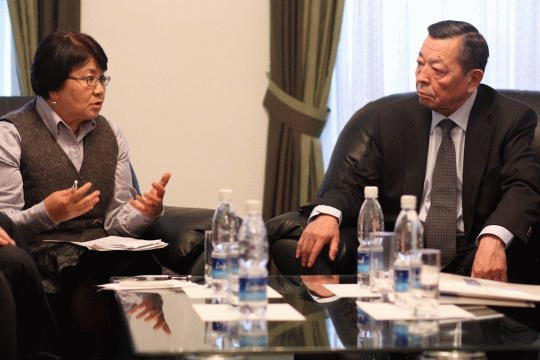 When Kazakhstan assumed the 2010 chairmanship of the Organization for Security and Cooperation in Europe (OSCE), officials in Astana touted their country's capabilities as a regional diplomatic trouble-shooter.
Now, faced with the challenge of an unprecedented political and humanitarian crisis in its own backyard, a crack has emerged between Astana's image and the reality of its response to the June violence in Kyrgyzstan.
Astana has played up the fact that it has acted as a mediator amid the Kyrgyz violence. In addition to sending humanitarian aid, Astana dispatched envoy Zhanybek Karibzhanov to help defuse tensions, and, most visibly, assisted in brokering a deal that enabled former president Kurmanbek Bakiyev to leave Kyrgyzstan in April. Kazakhstani officials contend that their mediation efforts helped prevent the outbreak of civil warfare in southern Kyrgyzstan. Currently, Kazakhstani officials say they are working through OSCE channels to keep a lid on interethnic tension.
"To help Kyrgyzstan, Kazakhstan as chairman of the OSCE is working hard to employ the organization's potential to the fullest extent possible," Foreign Minister Kanat Saudabayev said in a July 4 op-ed published in The International Herald Tribune. "It is important that the political will of its 56 member states now be mobilized to offer Kyrgyzstan the assistance that it so urgently needs."
But as Astana lobbies the international community, analysts are questioning Kazakhstan's record in the Kyrgyz crisis. "The OSCE presidency was supposed to signal Kazakhstan's emergence on the international stage," Paul Quinn-Judge, the International Crisis Group's Bishkek-based Central Asia project director, told EurasiaNet.org. "In fact they've done very little [concerning Kyrgyzstan]. They seem to be mostly interested in somehow burnishing their own image."
Inside Kyrgyzstan, many citizens believe Kazakhstan dealt a severe economic blow to Bishkek by sealing the border during the April upheaval that led to Bakiyev's ouster. By choking off trade, Kazakhstan's action compounded the hardships faced by many Kyrgyz. Then, in mid-June, Kyrgyz border service officials reported that Kazakhstan unilaterally denied entry to ethnic Uzbeks intent on fleeing the violence in southern Kyrgyzstan. Kazakhstani officials denied barring ethnic Uzbeks. However, authorities did say that about 200 ethnic Uzbeks who were reportedly in transit in Kazakhstan, heading from Kyrgyzstan to Uzbekistan, would have to be deported after Tashkent announced that it could no longer accept refugees.
"I think that Kazakhstan has done little to tackle the [Kyrgyzstan] problem – it could have even exacerbated it by some steps, like disdaining the new government and closing the borders, etc," Aitolkyn Kourmanova, executive director of the Almaty-based Institute for Economic Strategies - Central Asia, told EurasiaNet.org. She added that Kazakhstan had only a limited range of tools available to mediate, but "it could choose to be more proactive."
Astana's hosting of a previously planned OSCE tolerance and non-discrimination conference on June 29-30 offered an opportunity to promote stabilization and reconciliation efforts in southern Kyrgyzstan. But Kazakhstani officials used the meeting primarily to promote Astana's image as a model of interethnic harmony.
"What are the distinguishing peculiarities of the Kazakh model of tolerance whose elements could be successfully adapted to the specific conditions of other OSCE states?" President Nursultan Nazarbayev said in remarks to the gathering. "Firstly, the tolerance, patience, hospitality and respect for other peoples, cultures and religions so characteristic of the centuries' long history of the Kazakh people were placed at the basis of this model."
Nazarbayev offered a straightforward definition of the causes of interethnic violence in Kyrgyzstan, which experts see as rooted in diverse and complex factors ranging from profound ethnic tensions to rival power factions scrambling for influence. "The basis of all the events that have taken place is the poverty of the population and a lack of tolerance in society," he said.
As tensions continue to simmer in Kyrgyzstan, Nazarbayev called for the establishment of new OSCE institutions to promote tolerance. He recalled Astana's OSCE agenda priority of conflict mediation, but his emphasis on Kazakhstan as a mediator in frozen conflicts – which does not pertain to the situation in Kyrgyzstan – raised eyebrows.
The mixed reaction of the OSCE chair country to Kyrgyzstan's crisis has frustrated some observers. "The Kazakh presidency has generally been a major disappointment, and that's being extremely polite," Quinn-Judge said.
In trying to explain the perceived discrepancy between Astana's actions and words, Kourmanova pointed out that oil-rich Kazakhstan's regional economic clout is not tantamount to political muscle. "The question of political leadership is quite complicated and different from being an economic leader," she said. "While Kazakhstan is acknowledged as an economic giant of the Central Asia region, I don't think it has the same political leverage."
Astana's diplomatic capacity is also affected by the role of the great powers and the limitations of its own model for stability, she added: "The region is still overseen by big powers like the United States, China and Russia; and, unfortunately, Kazakhstan's attempts to lead other republics in terms of any form of integration or political initiatives have not been successful enough," Kourmanova stated.
"Kazakhstan offered the region its personal example of political stability, but its lessons cannot be translated to other countries in the region, since Kazakh stability is so far based on economic factors and it is not immune to such threats as national or religious extremism, social unrest, etc," she added.
Nazarbayev – who has not visited Kyrgyzstan during the past few months of instability – met with provisional Kyrgyz President Roza Otunbayeva on July 4, the day after her inauguration. The talks – at least publicly – did not yield tangible results. He wished Otunbayeva success, his press service said, and "the fraternal Kyrgyz people peace, stability and prosperity."
Fine wishes for troubled Kyrgyzstan, but some would argue that actions speak louder than words.
Editor's note: Joanna Lillis is a freelance writer who specializes in Central Asia.
Eurasianet