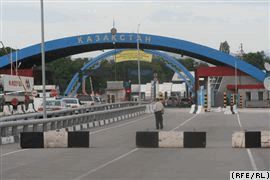 The Kyrgyz-Kazakh border remains closed despite what Bishkek says was an agreement between the two countries' leaders to reopen it, RFE/RL's Kyrgyz Service reports.
Roza Otunbaeva, the leader of Kyrgyzstan's interim government, said that Kazakh President Nursultan Nazarbaev agreed with her via telephone that the border would be opened on May 11.
But Kazakh border guard officials told their Kyrgyz colleagues that they had not received any command "from above" to open the border.
Kyrgyz interim government deputy head Omurbek Tekebaev harshly criticized Kazakh authorities' refusal to open the border on May 11.
Tekebaev said Astana's decision to close the border has created an "economic blockade." He said all countries and international organizations such as the Organization for Security and Cooperation in Europe (OSCE), which is currently chaired by Kazakhstan, are interested in stabilizing the situation in Kyrgyzstan.
But he said that Kazakhstan, as OSCE chairman, is for some reason reluctant to contribute to the normalization of the situation in Kyrgyzstan.
Kazakhstan closed the border on April 7, when clashes between security forces and antigovernment demonstrators toppled Kyrgyz President Kurmanbek Bakiev.
The closure of the Kyrgyz-Kazakh border, the main import-export route for Kyrgyzstan, has seriously exacerbated the country's economic problems