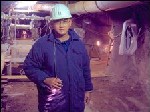 Anti-corruption war takes public's attention away from real problems.
(Photo: Mr Dzhakishev is suspected of defrauding the state nuclear firm)
A number of senior government officials have fallen to an anti-corruption drive in Kazakhstan, but some are questioning the motives behind the latest campaign, says the BBC's Central Asia correspondent Rayhan Demytrie.
The Kazakh government has introduced a series of anti-corruption measures, some more gimmicky than others.
The latest is for civil servants to wear badges stating: "I am against corruption."
"We thoroughly studied anti-corruption methods used in other countries before coming up with these suggestions," says Mirbulat Kunbayev, a member of the anti-corruption council of the ruling Nur Otan party.
"I understand that it will not eliminate corruption, but I think anyone wearing the badge will think twice before asking for a bribe. This method has been successfully used in Malaysia."
Other suggestions have been to hold a competition for the best anti-corruption song and introduce life sentences for government employees found guilty of stealing "particularly large sums" from state funds.
'Ten slashing punches'
Other measures are much more serious.
"The media misinterpreted us," says Mr Kunbayev, who is unhappy that only these novelties were singled out from the anti-corruption drive.
"We suggested a whole list of measures aimed at creating a powerful anti-corruption system."
In April, President Nursultan Nazarbayev suggested paying cash rewards to ordinary citizens for turning in any corrupt state officials they encounter.
Last year the president said corruption in the country had to be fought with "10 slashing punches". He ordered the creation of a special programme aimed at eliminating fraud and dismissing top government officials implicated in corruption.
Some have not had to wait too long.
According to official figures, close to 1,000 corruption investigations have been opened this year, many of them against government employees.
Transparency plea
In a recent survey conducted by the International Republican Institute - a US-funded organisation that promotes good governance - Kazakhs consider traffic police, the customs service and the general prosecutors office as the country's most corrupt institutions.
But the current wave of sackings and arrests over allegations of corruption mainly involves high-ranking officials.
In early June, President Nazarbayev fired his ex-Defence Minister Danial Akhmetov, a long time loyalist and former prime minister.
No official reason was giving for his dismissal.
Just weeks before, Mr Akhmetov's deputy Kazhimurat Mayermanov was arrested on corruption charges.
A statement from the National Security Committee (KNB) said that Mr Mayermanov and several other defence ministry officials were accused of purchasing defective military equipment from Israel and misappropriating $82m from the defence budget.
"Ahmetov's dismissal was somehow expected ever since the whole corruption scandal at the defence ministry began. It was just a matter of time," says Daulet Zhumabekov, an ex-soldier who has battled corruption at the defence ministry.
In May Mukhtar Dzhakishev, the head of the state-owned nuclear firm "Kazatomprom", was arrested along with a number of his deputies.
The authorities say Mr Dzhakishev appropriated 60% of Kazakhstan's uranium deposits, worth billions of dollars, and sold them to foreign firms.
His arrest caused a stir in Kazakh business circles, prompting a group of businessmen to write an open letter to President Nazarbayev urging transparency in Mr Dzhakishev's criminal case.
The businessmen said a secret investigation would tarnish Kazakhstan's international image and deter potential investors.
But the authorities are releasing little information about the case. Mr Dzhakishev's wife and family are not allowed to visit him and lawyers have been denied access.
"Dzhakishev was known as an honest and talented manager," says Sergey Smirnov, an energy expert from the journal Expert-Kazakhstan.
"Any Kazatomprom contract has to be approved by the government and the ministry of energy and natural resources. Technically it is impossible that Dzhakishev could have appropriated 60% of uranium deposits," says Mr Smirnov.
During his 10-year tenure Mr Dzhakishev led Kazatomptom to become one of the world's top uranium producers.
There is also an ongoing case against former Environment Minister Nurlan Iskakov and two of his deputies, who are charged with financial manipulation and embezzling more than $6m from the state budget.
Power struggle?
In a recent interview with Interfax-Kazakhstan news agency, the head of Kazakh national security Amangeldi Shabdarbayev said that there was no political implication in the cases against top government officials.
"Every case is a result of a thorough investigation by the general prosecutor's office and other institutions," Interfax-Kazakhstan quoted Mr Shabdarbiyev as saying.
But some are questioning the timing of the latest anti-corruption drive.
"The country has been hit badly by the global economic crisis, and this big scale anti-corruption war could be one of the means to take the public's attention away from real problems," says political analyst Andrei Chebotaryov.
Others suggest the anti-corruption drive is part of a bigger power struggle and an excuse to purge unfavourable figures from Kazakhstan's ruling elite.
Story from BBC NEWS:
http://news.bbc.co.uk/go/pr/fr/-/2/hi/asia-pacific/8153982.stm