Prospect Of Chinese Farmers Brings Controversy To Kazakh Soil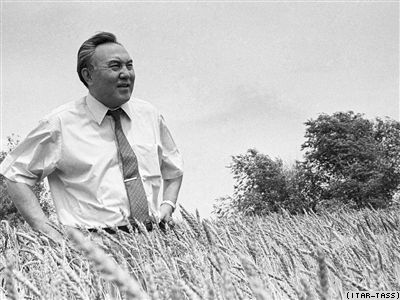 Kazakhstan has a unique problem. It's long on land and short on the people to farm it.
The Central Asian country is huge -- about six times the size of France -- but has less than one-quarter of France's population -- just 16 million people.
Although Kazakhstan's desert and mountainous regions are not arable, its ample steppe land is, and enough of the Kazakh population turns to farming it to make the country one of the world's leading grain producers.
There is still an ample amount of land that goes uncultivated, however.
Kazakh President Nursultan Nazarbaev addressed this issue during a recent meeting of his office's Council of Foreign Investors on December 4. And he surprised many in his country when he mentioned a possible solution, saying neighboring China was interested in renting 1 million hectares of Kazakh farmland.
As Kazakh officials have increasingly made mention of a formal Chinese proposal, seeds of opposition have grown.
In the commercial capital, Almaty, on December 17, Kazakhs assembled for the second straight day to protest the prospect of Chinese farming their land.
Bolat Abilov, co-chairman of opposition party United Social Democratic Party Azat, warned the crowd of the potential consequences.
"Citizens, dear citizens, dear compatriots! I will talk briefly, about only one problem -- about the land issue," Abilov said. "If we tomorrow give, or distribute, 1 million hectares of land, it would mean 15 people working per hectare. That means 15 million people would be brought from China. If one of those 15 people were to give birth each year, that would be the end. In 50 years there would be 50 million Chinese [in Kazakhstan]. Let's stop this move announced by Nazarbaev."
'We Do Not Agree'
Many critics fear that Nazarbaev decided early on to grant China's wish.
Gulzhan Yergalieva, editor in chief of the independent Almaty-based newspaper "Svoboda Slovo," spoke to RFE/RL's Kazakh Service on December 11, shortly after Nazarbaev first floated the idea of renting land to China.
Yergalieva was attending a rally outside the Chinese Consulate in Almaty, where a small group of activists were trying to hand over a note of protest to the Chinese ambassador.
"We believe that if the president is talking about this proposal, then this is a serious matter," Yergalieva said. "And in this regard we wanted to, through the consulate in Almaty, hand over our note to the Chinese government saying that we do not agree to this proposal."
Participants at the rally also had a message for the Chinese president, who was due to arrive in Kazakhstan the next day.
They unrolled a placard that read: "Mr. Hu Jintao, we will not give up Kazakh land!"
Kazakh Agriculture Minister Akylbek Kurishbaev later said Hu and Nazarbaev did not discuss the issue of renting Kazakh land.
But Deputy Agriculture Minister Arman Yevniev, in an interview with RFE/RL's Kazakh Service, shed light on the state of discussions on the issue.
"It's obvious the discussions are about China's need for agricultural products like soybeans. Their annual imports come to some 40 million tons, and the tendency is toward an increase of these volumes every year," Yevniev said.
"As concerns our zone in south Kazakhstan, the steppe of south Kazakhstan and Zhambyl provinces, if this land were effectively cultivated, [soybeans] could grow there."
Foregone Conclusion?
Yevniev was clear, however, that Kazakh law does not allow another country to "rent" land.
"Concerning the 1 million hectares, we are talking not about handing it over or sectioning it off," Yevniev said, "but about organizing production in 1 million hectares of [agricultural] fields."
Yevniev stressed that Kazakhstan and China are talking about organizing production on farms and investment in such farming projects.
Fears that Chinese involvement in Kazakh agriculture is a foregone conclusion appear to be at least partially correct.
Yevniev, the deputy agriculture minister, said a "test" is about to start.
"Probably even this year there will be a test on 10,000 or 15,000 hectares of land, growing soy within the framework of this project," Yevniev said, "although we have soy planted on some 70,000 hectares."
One person in Kazakhstan who has a long history in dealing with China is urging caution.
Murat Auezov was Kazakhstan's first ambassador to China, serving in Beijing from 1992 to 1995.
'Who Will Grow The Crops?'
Commenting to RFE/RL on the possibility of a deal being worked out for 1 million hectares of farmland, Auezov posed a number of questions.
"This is a project that requires the migration of many people. Who will grow the crops? Who will harvest and prepare it? Who will get it ready for sale?" Auezov said. "We know what the strategic aims of China are, and how China can use any kind of terminology to achieve its goals."
And Auezov had some candid comments on China's methods of doing business.
"The Chinese are masters in the art of bribery on different levels. But what kind of China asks Kazakhstan to make available 1.2 million hectares of land to grow soybeans?" Auezov said. "This is the China that gave Kazakhstan $10 billion in credit during one of the [Kazakh] president's recent trips."
Auezov also noted a border demarcation agreed upon by the two countries at the end of the 1990s. Kazakhstan inherited from the Soviet Union 34,000 square kilometers of "disputed" territory claimed by China.
After several years of talks, both sides concluded a deal that was unpopular with many in Kazakhstan at the time.
"When they defined the disputed territory," Auezov said, "it was important for the Chinese to take the strategic high ground and leave the Kazakh border guards down in the lowlands. And when [Kazakh authorities] told the people that Kazakhstan did not lose one meter of land and even gained 51 percent [more land], they were referring to all this territory that was disputed -- not one meter of it on the Chinese side of the border, all of it on our side. But this division of 51 percent turned out to mean that from our previous 100 percent the Chinese took 49 percent."
"If this question is decided in favor of the proposal from China," he continued, "then it will be the very colonization of Kazakhstan. And we're not talking about one region but across a wide front."
Successfully Complained
The influx of Chinese workers has already been causing friction with local populations in other neighboring states -- Kyrgyzstan and Tajikistan.
In Kyrgyzstan, there have been several informal local campaigns to chase Chinese merchants from local bazaars. In some cases, local residents have successfully complained to officials about Chinese merchants taking over Central Asian bazaars by their sheer number, prompting immigration checks that thin Chinese merchants.
In Tajikistan, Chinese laborers have been building new roads to connect Tajikistan to China. There have been several incidents in the last two years of fights involving scores of locals and Chinese workers.
As China's neighbor for millennia, Central Asians long ago grew wary of this goliath on their doorstep.
And now, with China rich (again), Beijing is willing to sign deals to not only purchase Central Asia's energy resources but to fund construction of the infrastructure needed to bring it to China.
And as China loans billions of dollars to the Central Asian states, especially those with oil and gas, its expanding influence is being felt throughout the region.
Erzhan Karabek and Sultan-Khan Zhussip of RFE/RL's Kazakh Service contributed to this report
Radio Free Europe/Radio Liberty