Authorities hope greater social spending helps defuse creeping mood of discontent.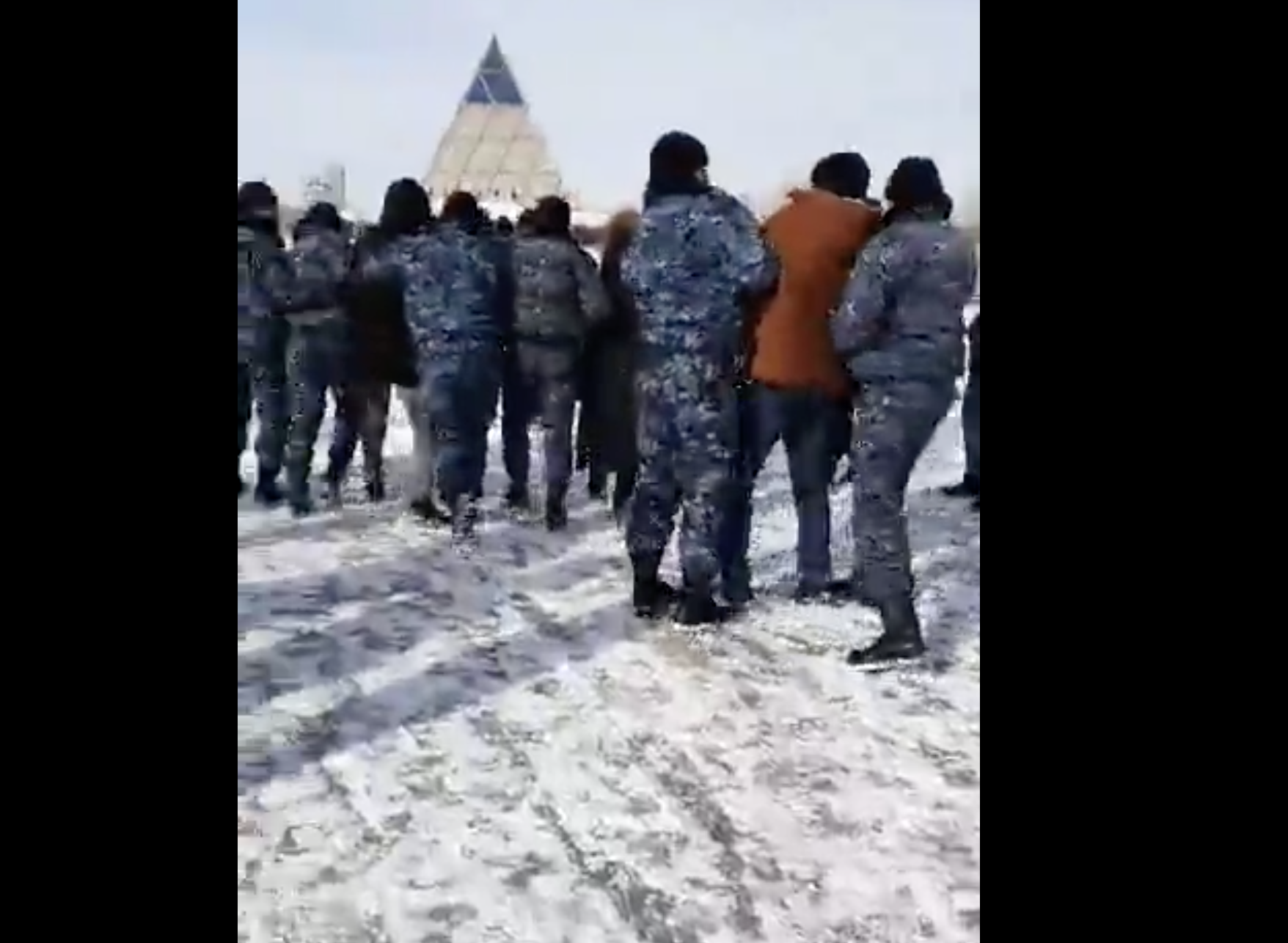 Dozens of people have been detained while attempting to demonstrate in Kazakhstan's capital as the ruling party held its congress in the wake of a major government reshuffle triggered by the country's weak economic performance.
RFE/RL's Kazakh service, Radio Azattyq, reported on February 27 that people mustering outside the Nur Otan event in Astana held an unauthorized picket in a demand for root-and-branch reforms before being dragged away by police officers to waiting buses.
"We want to be able to live in a decent condition and enjoy some comforts in our motherland, resource-rich Kazakhstan, and not to have to take out loans to pay for an education and have our children go abroad to other countries and work as migrant laborers," one demonstrator told an Azattyq reporter.
Similar scenes played out in the business capital, Almaty, where demonstrators picketing the local Nur Otan office were likewise bundled away.
The Nur Otan conference, which was held on a date marking the 20th anniversary of the party's foundation, was overseen by President Nursultan Nazarbayev, who just last week fired the government, arguing that it had failed to effectively spread prosperity among the whole population.
Nazarbayev's sudden dismissal of the entire Cabinet on February 21 has been read in some quarters as an indication of his administration's concern over mounting discontent about widespread poverty and corruption, among other issues. In his statement announcing his decision, the president said that a new strategy on addressing pressing social issues would be discussed at the Nur Otan congress.
True to his word, Nazarbayev said at the party summit that more than 1.35 billion tenge ($3.6 billion) will be spent on social programs in the coming three years. Included in that package of measures is a $55 monthly payment per child to large, low-income families. Under the current system, mothers with four or more children qualify for cash benefits of $45 in total.
Healthcare workers, educators and other state employees in the social assistance sector are to get 30 percent salary hikes. Salaries in those jobs typically stand at below $300.
The plight of indigent families has been pushed to the top of the public agenda since a nighttime fire at a ramshackle home in Astana in early February claimed the lives of five young, unattended children. The parents of the small girls were reportedly absent because they were doing night-shift work at the time of the incident. In the days and weeks that followed, public anger mounted at the perceived failure of the government to address the urgent needs of impoverished parents.
Although it initially appeared that the government might seek to ride out the furor, Nazarbayev appears to have recognized the potential for sentiments to escalate and has sought to staunch the damage by firing the government en masse.
In addition to criticizing the national executive, the president also lambasted provincial officials for what he said was their failure "to listen to people's problems" and properly explain government policies.
Seeking to deflect blame from himself, Nazarbayev argued on February 21 that he had put the necessary constitutional and financial measures in place to grant provincial authorities the power to address shortcomings in healthcare, education and industry, but that the opportunity had been squandered.
"No systematic work was done. The real incomes of the population have not increased. Spending on food as a share of the family budget is growing," he said.
In a series of personnel rotations unveiled this week, Bakhytzhan Sagintayev was replaced as head of the government by Askar Mamin, 53, who has served as deputy prime minister since 2016 and oversaw economic affairs, regional policy and transportation in that capacity. Mamin had previously acted as mayor of Astana.
Ministers responsible for problem areas were also switched around. Ruslan Dalenov was named National Economy Minister; Berdibek Saparbayev takes over at the Labor and Social Protection Ministry; Roman Sklyar will head the Industry and Infrastructure Development Ministry; Saparkhan Omarov will lead the Agriculture Ministry and Kulyash Shamshidinova is the new education and science minister.
The head of the National Bank was also replaced. Daniyar Akishev, who has come under fire for failing to prevent yet more wobbles in Kazakhstan's ever-troubled banking sector, is out. Yerbolat Dossayev, the outgoing deputy prime minister with the portfolio for developing the financial system and tax and customs policy, is in.
Many ministers, including those for foreign affairs, energy, defense, the interior, justice, health, and culture and sports, retained their posts, however.
Among the few structural changes, the Information Ministry was merged with the Social Development Ministry. The former has presided over what media rights advocates argue is a worsening climate for press freedoms. The latter was the department responsible for oversight of religious affairs, relations between the state and civil society, and youth policy.

Original source: EURASIANET