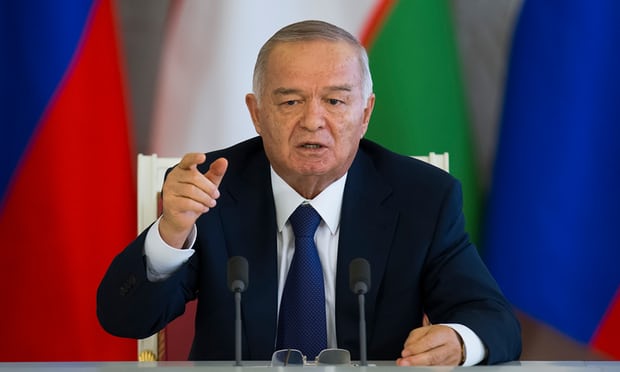 Paul Day says 'I go with the flow' as critics ask if artist's monument in Moscow square will reflect reality of Karimov's bloody rule
The late president of Uzbekistan, Islam Karimov, was widely regarded as one of the most ruthless dictators in recent history. His regime jailed and tortured critics, and massacred hundreds of unarmed protesters in the town of Andijan in 2005.
Despite his reputation, a leading British sculptor is working on a memorial in Moscow to Karimov, who died last year after a 27-year rule over Uzbekistan.
Paul Day, whose monument to British soldiers and civilians who served in Afghanistan and Iraq was unveiled by the Queen this year, has been criticised for accepting the commission, organised and funded by the Uzbek government and one of Karimov's daughters.
"Karimov oversaw truly terrible human rights abuses for over 25 years as Uzbek president," said Hugh Williamson, from Human Rights Watch. "To erect monuments to his memory that entirely ignore this terrible record is a rewriting of history that should raise serious concerns for all those involved."
In a Facebook post earlier this year, Karimov's daughter Lola Karimova-Tillyaeva said she was in Moscow with Day to discuss the project with city authorities.
Day confirmed to the Guardian that he had accepted the commission and begun work on the project, but declined to provide details of how it would look. He expected it to be unveiled next summer.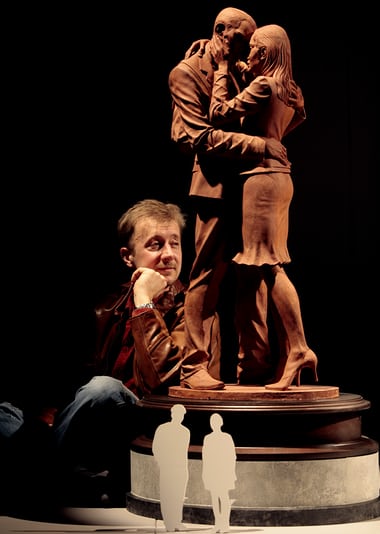 Paul Day with a maquette of The Meeting Place, his nine-metre statue at St Pancras station in London. Photograph: Martin Argles for the Guardian
Day has created several public works in London, including The Meeting Place, a nine-metre statue that dominates the concourse at St Pancras station.
In a telephone interview, he said the ethical concerns about memorialising Karimov were "a conversation I'm not prepared to have at this stage in the project".
The artist said he had visited Uzbekistan twice and done a lot of research. "I'm enthusiastically doing the best job I can on this memorial for both the Uzbek government, the family and the people in general."
Under Karimov's leadership, most Uzbek people lived in extreme poverty, while his family enjoyed a life of opulence. His daughter Gulnara Karimova recorded pop songs and had her own range of jewellery and perfume before she fell out of favour. She has not been seen in public since 2014; earlier this year, prosecutors said she was being investigated on charges of fraud and money laundering.
Karimova-Tillyaeva is often photographed at European high-society events and has a multimillion-dollar business portfolio with her husband. In 2011 she attempted to sue a French publication that called her a "dictator's daughter", but lost the case.
The monument will be funded by the Islam Karimov Foundation, led by Karimova-Tillyaeva, and will be located outside the Uzbek embassy in a central Moscow square renamed after Karimov last year.
"It's clear that this is partly a project to show Russia and Uzbekistan are political allies," said Daniil Kislov, editor in chief of the Moscow-based Fergana news agency which covers the central Asian states.
Karimov was criticised by rights groups for his country's use of mandatory child labour in the annual cotton harvest. Economic hardship led millions of Uzbeks to seek work in Russia, often in terrible conditions.
"If you are going to build a monument to Karimov, it should reflect the reality of his rule: the dead of Andijan, the millions of migrant workers, the long period of political crackdowns and economic stagnation," Kislov said.
Vera Leonova, a local councillor and the deputy dean of the graduate school of urbanism at Moscow's Higher School of Economics, said there should be "ethical considerations" for Day in taking the commission.
"Has Paul Day researched the situation in Uzbekistan and the consequences of Karimov's rule? Is he not concerned of the potential impact of this commission on his reputation?" she asked.
Day dismissed the latter question. "As an artist and not a politician or a journalist, my job is to make objects of lasting quality and beauty, and subjects will vary," he said. "Anything I do can have both a positive and a negative effect on my career. Life offers opportunity and I go with the flow, as it were."
Andrei Morev, the head of the local council in Yakimanka, the central Moscow district where the memorial is to be installed, said more than 100 residents had submitted complaints about the plans and many more had expressed anger their online.
"It's less about the political element and more just that people are angry about having a monument there at all," Morev said.
The council had voted by eight to one to rescind the previous approval and oppose the monument, he said, but the Moscow city government appeared determined to go ahead.
"The decision was made behind closed doors and there has been no public discussion concerning the monument or the renaming of the square," Leonova said.
Guardian News, 20.12.2017