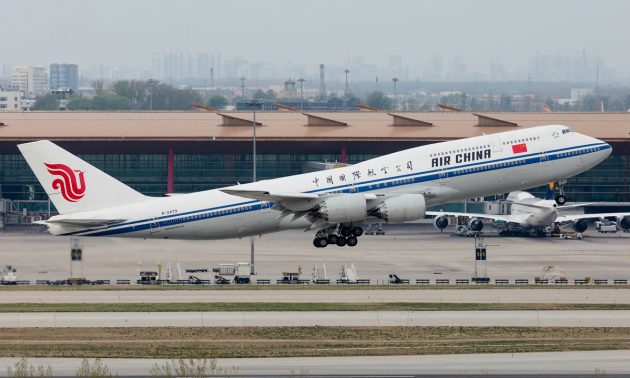 While a new Boeing 747-8i has still not been provided the Chinese president, he is still flying in an old plane that is not luxurious or secure enough
The continued use of the aging state aircraft that carried Chinese President Xi Jinping, an Air China 747-400 jet bearing the registration number B-2472, on his most recent overseas visits – to Vietnam and Laos last month – may be evidence of delays in converting and retrofitting a newer 747 variant as a genuine Chinese "Air Force One" for the top leader to fly in style and comfort.
The 17-year-old jumbo jet, which rolled off the production line in Boeing's plant in Everett, Washington, near Seattle in May 2000, is of regular commercial jet configuration and has served three Chinese presidents, beginning with Jiang Zemin.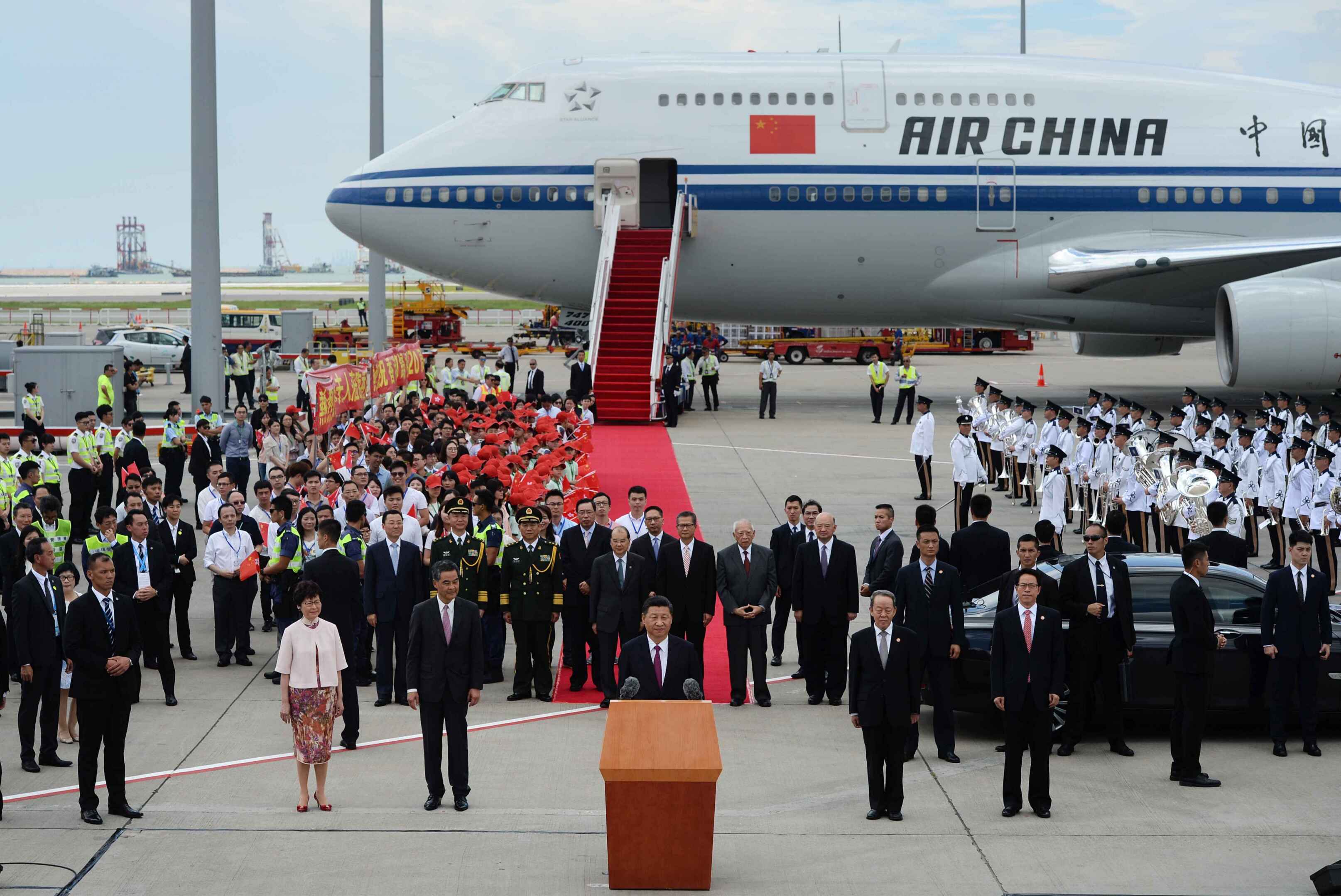 Chinese President Xi Jinping delivers a speech at Hong Kong International Airport in June in front of an Air China 747-400 airliner. The 17-year-old jumbo jet has served three presidents. Photo: Xinhua
The plane normally returns to the Air China fleet and operates commercial flights between ad hoc missions for state visits. Its first and business classes are briefly upgraded with the addition of prefabricated modules before flying Xi overseas and are restored to the commercial layout afterward.
In 2013, state broadcaster China Central Television released footage of Xi dining with Kazakh President Nursultan Nazarbayev on board the plane, giving the public a glimpse of its interior.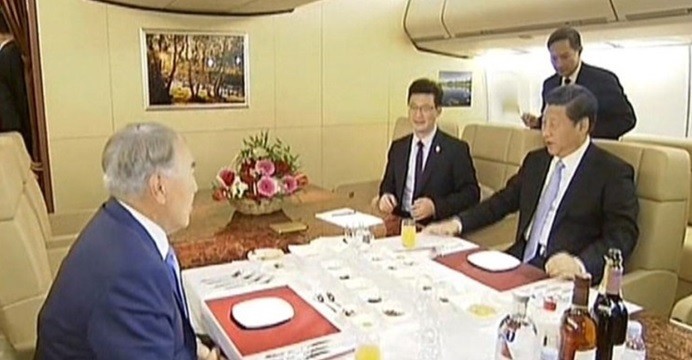 A screen grab shows Chinese President Xi Jinping dining with Kazakh President Nursultan Nazarbayev (left) on board Xi's 747-400 plane. Photo: CCTV
But reportedly the plane is becoming more prone to mechanical glitches and, more important, while his US or Russian counterparts can still run their nations while airborne, such as deploying troops or even (if necessary) launching a nuclear strike, Xi is deaf and blind when traveling in this aging, bulbous jet.
Security and confidentiality are bigger concerns.
Communications from the plane can be easily tapped because of inadequate encryption, and, unlike the US Air Force One, the jet does not have military-grade radar to monitor airspace in close vicinity, nor aerial refueling capability, electronic countermeasures to jam enemy radar or flares and chaff to avoid missiles.
Previous media reports suggested that China would wrap up its testing this year for the commission of a brand-new Air China 747-8 Intercontinental VIP jet exclusively for Xi's future official outbound trips.
China's endeavor to procure and refit a state-of-the-art airliner to carry the top leader has never been a smooth ride.
In 2001, Air China ordered a twin-engine wide-body 767-300ER from Boeing for US$120 million when Jiang wanted to fly a presidential jet of his own before retirement. Chinese agents found multiple listening devices throughout the cabin, including inside the private lounge and the president's private bathroom, after the plane's $10 million reconfiguration in Texas. That saga erupted in a bitter diplomatic row with Washington, though there was speculation that rival Communist Party factions were involved.
The 767-300 was never used by any top Chinese leader after delivery. It operated commercial flights and was sold to a Kazakh airline in 2014.
The Air China 747-8i that has been tipped as the "Chinese Air Force One," manufactured in November 2014 and registered as B-2479, is said to have undergone thorough cabin modifications in Hamburg, Germany, from May 2015 and flew back home for further testing in October 2016.
One of its recent known flights was in April, when it traveled from Beijing to Chengdu in southwestern China and returned without touching down, covering 3,400 kilometers in almost six hours. The plane can fly up to 14,000km without refueling.
Besides a luxurious master suite-cum-executive office for the president and the first lady, a cavernous main lounge for ministers and top aides, a medical center, a secret-service command room, and other features it's believed that the new jet, already called the "flying Zhongnanhai," will have all the security and communication features to ensure real-time command and conferencing and defense against threats from the air or the ground.
www.atimes.com, DECEMBER 5, 2017