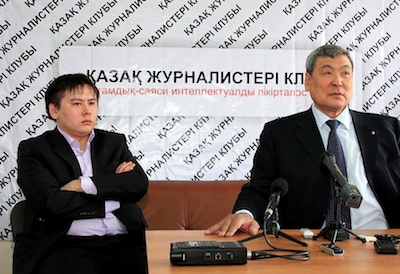 In the months before his arrest, Kazakhstani journalist Zhanbolat Mamay knew something was up.
Writing on his Facebook account on December 6, he reported finding his car, which was parked outside his home in Almaty, with a window and side mirror smashed. A few weeks later, he wrote to say he had noticed strangers following him in the street.

At the end of January, the printing house that produced the weekly newspaper that Mamay edited, Tribuna, refused to fulfill an order. Mamay described the sudden decision to stop printing his newspaper as politically motivated.

"This is how they are going to shut down an independent newspaper," he wrote.

So few were especially surprised when the police arrived at the journalist's apartment one day in February with an order to detain him. Shortly thereafter, he was told he was facing charges of money laundering.

Opposition activism in Kazakhstan has been systematically stifled in the past few years. Attention has turned now to non-state media-affiliated outlets.

The goal, some political commentators believe, is to force widespread political compliance ahead of a potential political transition.

As with other criminal cases leveled against government critics, the name of a self-exiled regime foe Mukhtar Ablyazov is at the center of allegations against Mamay.

Earlier this month, the Medeu District Court in Almaty began hearing arguments from state prosecutors that Mamay had allegedly received $110,000 in funds from Ablyazov, delivered through intermediaries, with the purpose of laundering the cash. That amount, it is suggested, came from the billions that Kazakhstan's authorities say Ablyazov embezzled from BTA Bank, which he ran before fleeing the country in 2009. In June this year, Ablyazov was sentenced in absentia to 20 years in prison for embezzlement, among other offenses.

The first hearing of Mamay's trial was scheduled for August 14, but when relatives, journalists and activists turned up, they were informed proceedings would take place behind closed doors. After a swell of indignant protests and complaints, the hearing was rescheduled for four days later and the court reversed its position on shutting out the public.

The state's main witness is Zhaksylyk Zharimbetov, a former deputy chairman of the board at BTA Bank and an erstwhile aide to Ablyazov.

How he came to be at this trial is its own saga.

On January 17, Zharimbetov was traveling through Istanbul's Sabiha Gökçen International Airport when he was detained by Turkish authorities after he triggered a Interpol Red Notice issued by Kazakhstan. Some days later, according to an account collated by the Poland-based Open Dialog Foundation, Zharimbetov was flown out of Turkey on a charter plane. Once he was delivered to Kazakhstan's security services, he seemingly began providing evidence of his alleged wrongdoings, which included allegedly providing evidence that has led to Mamay's detention.

So far, the trial has comprised in great part an exchange of contradictory versions of accounts.
Zharimbetov told the court that he gave Mamay around $110,000-120,000. The funds, he said, were intended to fund operations at Tribuna.

Zharimbetov's sister, Shamshiya Zharimbetova and her ex-husband, Galymzhan Ahanov, said that between 2011 and 2014, it was they that acted as intermediaries for this transfer of money, although they did not know the identity of the ultimate beneficiary.

Zharimbetov said the money was paid at Ablyazov's request.

Mamay does not deny receiving money from Zharimbetov, but rejects the suggestion there was anything illegal about doing so.

"I know Zharimbetov well. He supported the newspaper. I don't consider this to be money laundering," Mamay said in court.

People watching the trial closely are similarly perplexed about how what Mamay did can properly be described as money laundering.

"What money laundering? Money laundering is the legalization of money. But there was no legalization here. It was just aid, charitable assistance for the publication of a newspaper," Tamara Kaleyeva, president of the Adil Soz media rights advocacy group, told EurasiaNet.org.

Amirzhan Kosanov, a government critic and once-author of a weekly column in Tribuna, is appearing as a witness in the trial and argues that Mamay has fallen victim to a broader, long-standing political tussle between the government and Ablyazov.

"Mamay is not inclined to support Ablyazov's ideals. He was just simply in that general pro-democracy current occupied by dozens, if not hundreds of real journalists," he said.

The bigger picture that some people see here is the long-standing issue of how power will be transferred once 77-year-old President Nursultan Nazarbayev eventually leaves the scene.

"There is a political reconfiguration and an intra-elite battle going on, because the current president will have to depart his seat sooner or later for simple physical reasons," said Yevgeny Zhovtis, a well-known rights activist. "The people now in power are trying to clear the scene of information resources that are not in their immediate control and that could, in their view, bear some influence on the outcome of their battles."

An article published in May on Moscow-based Ferghana.ru outlined in detail which power brokers in Kazakhstan control which newspapers, news agencies, websites and TV and radio stations. While the piece is speculative in some of its claims, media insiders in Kazakhstan would typically agree to the accuracy of the overall picture, which speaks to the importance that the country's most prominent elite players place on controlling what are perceived to be credible and professional media outfits.

Anything beyond the control of elite-controlled media is necessarily suspect.

Kaleyeva of Adil Soz noted that back in the 1990s there were many more independent outlets in circulation and pressure from the authorities was not felt so strongly.

"Now that there are barely any of them left and every remaining media outlet is under scrutiny, of course this pressure feels like it is setting a new precedent," she said.

Kosanov was a little more optimistic.

"We shouldn't imagine that just because they are putting Zhanbolat Mamay on trial that people will be scared and stop asking questions. You can't close everybody's mouth," he said.

Mamay's trial in ongoing and there is no clear date set for its conclusion.
EurasiaNet.Org, 25.08.2017