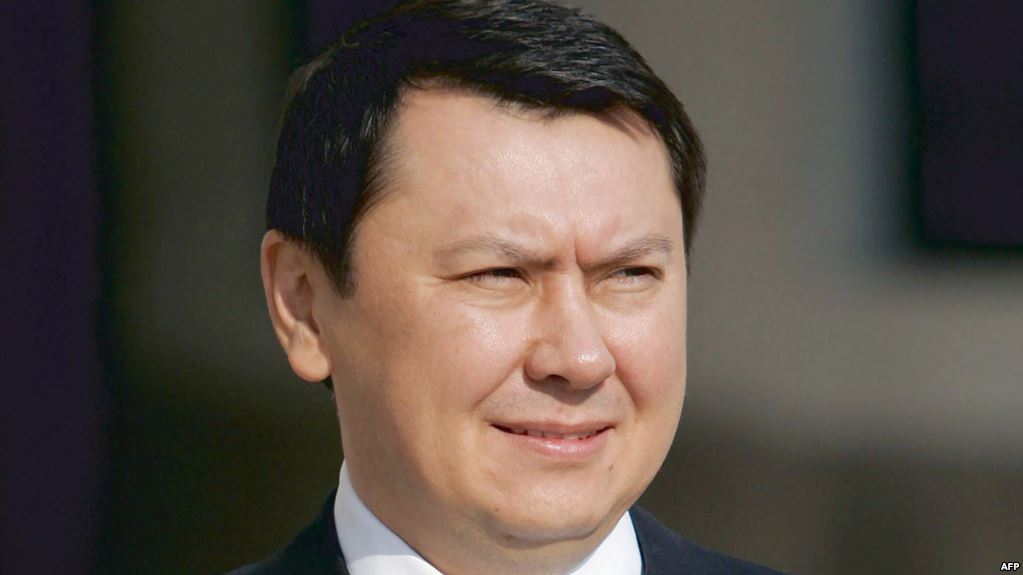 Lawyers for the family of Rakhat Aliyev -- the late former lieutenant and son-in-law of Kazakh President Nursultan Nazarbaev -- say they still believe he was murdered in an Austrian prison and will continue to push for an investigation despite the Vienna prosecutor's fresh finding that it was a suicide.
The Viennese authority announced on February 14 that there was no forensic evidence that the 52-year-old Aliyev, in custody over murder charges when his body was found hanging from a wall-mounted clothes hook in his cell in February 2015, was murdered.
Their latest finding follows a review by the Institute of Legal Medicine in St. Gallen, Switzerland, whose experts were said to have found no evidence of any "outside hand" in Aliyev's death.
News of Aliyev's demise at Josefstadt prison two years ago sparked fears of foul play, given his inner knowledge of Nazarbaev's secretive regime. Aliyev had powerful family connections -- he spent years married to Darigha Nazarbaeva, one of the president's daughters who continues to wield considerable political clout -- and spent years in senior posts before his falling-out with the Kazakh leader a decade ago.
Klaus Ainedter, an attorney for Aliyev's second wife, Elnara Shorazova, told RFE/RL on February 14 that the family's legal team and German forensic specialist Bernd Brinkmann would examine the St. Gallen report "in depth" but that the discovery that Aliyev's sternum had been broken was an important piece of evidence that was overlooked by the Viennese coroner.
A broken breastbone can show up after victims are smothered, or "burked," if the killer puts a leg or knee on the chest of the victim to help brace for blocking the nose and mouth.
Several 'Irregularities'
Austrian lawmaker Hannes Jarolim on February 10 called for a murder investigation to be opened into Aliyev's case.
Jarolim, the justice speaker for the Social Democratic Party, cited the broken breastbone as one of several "irregularities" in the case that he said are "difficult to grasp in their density."
The Swiss report has been sent to Brinkmann, who went public in December with his conclusions from photographic and other evidence that Aliyev had been suffocated before being suspended in his cell.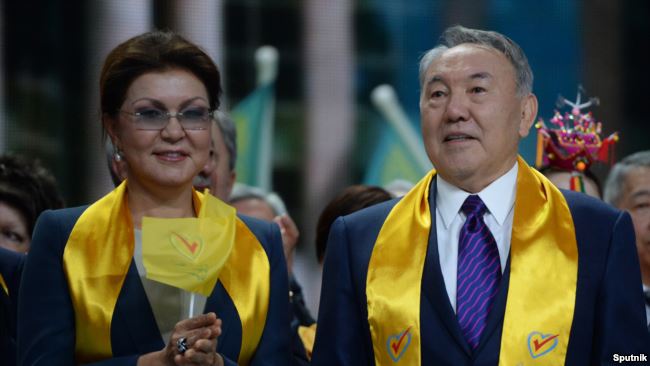 Kazakh President Nursultan Nazarbaev (right) and his daughter, Darigha Nazarbaeva celebrate a presidential election victory in 2015.

Brinkmann told RFE/RL that after studying more than 140 photos and the autopsy report he "saw no evidence of hanging" but there were signs consistent with smothering.
"We found everything -- huge, huge congestion and then with many, many small bleedings in the skin of the face, of the neck, and of the upper [chest]," said Brinkmann. "So this is [a] 100-percent match, yes, [with] burking."
Brinkmann said he was also "astonished" to find a "pale zone" around Aliyev's nose and mouth that appeared to be due to the pressure exerted to suffocate him.
"Hanging is impossible, because these are not the findings in hangings," he added.
Aliyev 'Not Suicidal'
Brinkmann has participated in previous high-profile investigations of controversial deaths of famous figures, including exiled Russian oligarch Boris Berezovsky, Italian banker Roberto Calvi, and French Prince Louis XVII.
He also made headlines in Austria in 1999 when his testimony contradicted that of a Viennese court doctor and the deportation death of Nigerian Marcus Omufuma was proven to have been caused by asphyxiation.
In the Aliyev case, other irregularities include statements by former Josefstadt prison psychiatrist Stefan Zechner suggesting that Aliyev was not suicidal and that a prison worker played a role in killing him.
Lawmaker Jarolim also noted that an alleged contract killer, Aslan G. (aka Chako), had been moved to a cell near Aliyev's shortly before his death.
Aliyev was found hanging in the bathroom of his cell at Josefstadt on February 24, 2015, two days before he was due to testify in court in a case in which he was charged with murdering two Kazakh bankers in 2007.
Aliyev was once married to Nazarbaev's daughter, Darigha, with whom he had three children. He rose quickly to become a senior official in Kazakhstan, one of the country's leading businessmen, and a confidant of his father-in-law.
Legal Trouble
Aliyev was first sent to Austria in 2007 -- under a cloud of legal trouble in Kazakhstan -- as the Kazakh ambassador and permanent representative to the Organization for Security and Cooperation in Europe (OSCE).
But he became critical of the Kazakh president and even announced his intention to unseat Nazarbaev, who has governed Kazakhstan since before that Central Asian republic declared independence from the Soviet Union in 1991.
Later in 2007, Aliyev received a fax saying he had been divorced from Darigha Nazarbaeva, a step that he said was taken without his consent.
He was then stripped of his diplomatic posts and was sentenced in absentia by a Kazakh court in 2008 to 40 years in prison for kidnapping, treason, and plotting a coup attempt.
Kazakh officials demanded that Austria extradite him to his home country, which Vienna refused on the grounds that he would not receive a fair trial in Kazakhstan.
Aliyev was also accused of money laundering while in Europe and of ordering the assassination of Kazakh opposition leader Altynbek Sarsenbaev in 2006.
Austrian officials canceled Aliyev's passport -- acquired by marrying Shorazova -- in 2013 and he fled to Malta.
He turned himself in to Austrian officials in 2014 and was jailed pending trial.
Aliyev was moved to a different cell while in prison after claiming inmates had threatened him with demands for cash.
Ainedter told RFE/RL on February 14 that the review of the Swiss report and a response by Aliyev's family lawyers and Brinkmann on the next steps to take in the case will likely take a few weeks.
www.rferl.org, 16.02.2017