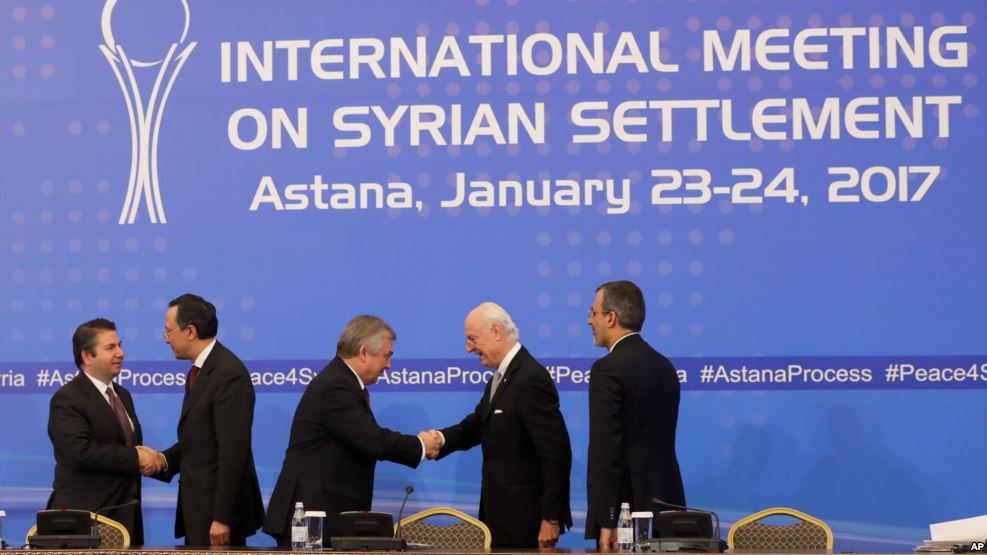 A delegation of experts is meeting in Kazakhstan's capital to discuss the cease-fire agreement in Syria.
Representatives from Russia, Turkey, Iran and the United Nations are in Astana Monday for the first meeting of the Joint Operational Group.
The delegates are discussing various issues, including how to monitor the cease-fire agreement and prevent violations, as well as how to insure the safe delivery of humanitarian aid.
Last month, Turkey and Russia, along with Iran, brought delegates from the Syrian government and rebel groups to Kazakhstan for a round of peace talks that ended with the three nations agreeing to help monitor a partial cease-fire and work toward a political resolution to the Syrian conflict.
Turkey spokesman Huseyin Muftuoglu said his country would not allow certain fighters to spoil the cease-fire, which went into effect in late December. He also reiterated Turkey's position that Syrian President Bashar al-Assad has no place in Syria's future. Turkey has backed the rebels throughout the conflict that began in 2011 as peaceful protests before spiraling into a civil war.
Assad's fate has been a point of disagreement during multiple international efforts to achieve peace in Syria. The U.N. has created a framework that calls for a new constitution and new elections. Assad's allies, which include Russia and Iran, have said he should stay in power.
VOA News, 06.02.2017