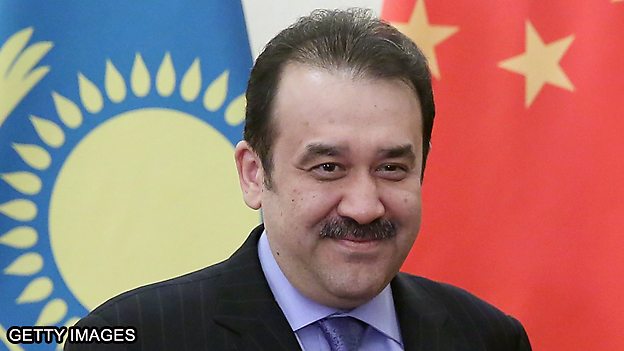 After months of media silence, Kazakh Prime Minister Karim Masimov recently launched a major PR drive. Many analysts are linking the PM's move to the government's new media policy - and a strategy to drown out rivals amid the administration's poor performance. But some journalists see Masimov's campaign as a precursor to a run for president.
Masimov, Kazakhstan's longest-running premier, started his publicity blitz this summer.
The man rumoured to be one of the most influential figures in the governing elite revived his old social media accounts and created new ones. He also embarked on a well-publicised campaign to visit all of the country's regions. Masimov used his new Instagram account to post photos and videos of himself cycling and taking part in a duathlon with other officials; playing hockey with Russian PM Dmitry Medvedev; and visiting Kazakh museums, memorials and other sites.
Masimov even tweeted that he would ask Medvedev to consider returning Kazakh relics - the heads of Kazakhstan's national hero Keyki Batyr and Sultan Kenesary Kasymov.
The premier's PR campaign extended to inviting blogger and independent journalist Denis Krivosheyev on his trips around the country. Krivosheyev, who is often critical of the government, said before the invitation he never expected to interview Masimov. The blogger added that the campaign is the premier's reaction to the public desire for a "show rather than boring declarations".
New policy for "silent ministers"
Some pundits agree that Masimov's activities could be part of Kazakh President Nursultan Nazarbayev's new communication policy, adopted following land protests in March and April.
The cornerstone of the policy, the newly created Information and Communications Ministry, had raised fears the government sought to monitor and obstruct protest activity.
Over the past few months, however, the result has been a stronger focus on the government's media outreach, which the president has called using the media to "maintain domestic political stability" and utilising "cutting edge-expertise when necessary".
Analyst Serik Maleyev noted that, following the land protests, Nazarbayev "probably became tired of taking the blame for others" and "serving as a permanent speech-writer for his silent ministers".
The government's new strategy, according to Maleyev, runs along the lines of "please, ministers, come out to the people and answer all of their difficult questions - not through boring reports, but directly online."
Political analyst Dosym Satpayev agreed that Masimov's frequent media appearances are linked with the growing "protest moods" and "a permanent collapse in communication with the population at all levels, central and regional".
The government "is hoping that Masimov's re-appearance in the media" can deflect public criticism, he told the Kazakhstan edition of Forbes magazine.
Defence against rival clans
Satpayev also suggested that Masimov could be using PR as a "defence" against rivals who are trying "to inflict a blow" on his reputation.
"Masimov left the media [spotlight] to avoid giving his rivals an excuse to present him as 'as a second sun in the sky [beside the president]'. Now the premier feels that it is quite dangerous to keep silent. It is time to be active, including in the eyes of the president who is clearly displeased with the political and economic situation," Satpayev said.
Journalist Miras Nurmukhambetov also saw a link between Masimov's activities and "the latest flare-up of clan infighting".
"Masimov is independent enough that you can throw stones at him without the fear of hitting the president," the journalist said. He noted that the government's pro-Kremlin rivals are good at this - and have an "information and ideological army equipped with latest Russian technologies and powerful financial assets".
Masimov and Nazarbayev have been showing pro-Russian rivals "that they are in good shape and are delivering a few pre-emptive blows" by adopting a strategy of "defence through offence" he added.
But journalist Nurmukhambetov noted the premier's ability to outmanoeuvre rivals does not mean he could become a successor to Nazarbayev, largely due to his poor Kazakh language skills, the dissatisfaction of some clans and "national-patriotic movements".
Masimov's "damaged" reputation
Masimov has been named as one of a handful of potential successors to Nazarbayev, and journalists have questioned if the PM's media campaign is part of a larger plan to become president.
Tolganay Umbetaliyeva, head of the Central Asian Fund for Democracy Development, believes that Masimov is too unpopular to become president, media campaign notwithstanding.
"His reputation is so damaged that such irregular outbreaks of activity are unlikely to save the situation. I consider all these PR steps to be a fruitless and senseless waste of state money," she said.
Umbetaliyeva warned that if Masimov openly lays claims to the top post it could provoke a public unrest.
"The people will take to the square, moreover, in far larger numbers than even under the land protests," she added.
To find out more about BBC Monitoring's reporting on social media around the world please contact us.
BBC, 26.08.2016