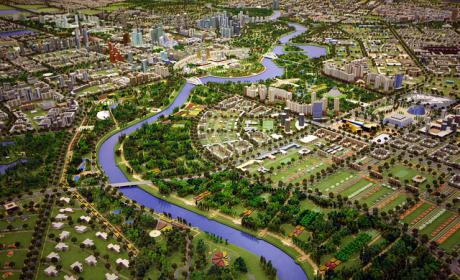 Kazakhstan's networked authoritarianism is a powerful system of media control, but it leaves little room for the regime to manoeuvre.
After a visit to Almaty's Children Hospital in September, Ainura Seitakyn, a young mother from Kazakhstan's southern capital, was fed up with the dismal condition of the hospital toilets.
She returned home and, like most people these days, posted at length on Facebook, including photographic evidence of the hospital's poor sanitary facilities. Seitakyn's posts quickly went viral, and the pictures began to be shared by social media users in Kazakhstan, even reaching Baurzhan Baibek, the newly appointed (and increasingly popular) governor of the Almaty city administration.
Shortly after, Baibek visited the hospital and dismissed a series of top-level medical and managerial cadres, citing their apparent failure to address the issues in Seitakyn's Facebook post.
In this context, the triangular relationship between Kazakhstan's (struggling) population, its (authoritarian) élite, and mainstream (digital) media developed into a force for positive change, insofar as it stimulated a minimal improvement in daily conditions across Almaty.
The Seitakyn case confirms that Nursultan Nazarbayev's regime is very aware of the rising importance of digital media: Kazakhstan's authoritarianism, to use an expression popular in scholarly debate, is now fully networked. And so is its opposition.
The outlook of Nazarbayev and his associates determines how local users access the web
Just as independent blogging rose to the fore in the post-Zhanaozen inquiry, the Internet has provided a space for alternative discourses of development to crystallise. There is now even a Facebook Party (5,000 likes in mid-November).
Internet penetration rates are rising rapidly, consolidating the web's centrality in Kazakhstan's information and communication panorama, and its role as a critical vehicle for middle-class aspirations in urban contexts.
There is another side to this coin, however, and we noticed it in all of its brutality in October, when two activists, Ermek Narymbayev and Serikzhan Mambetalin, were arrested after it was alleged that they 'had circulated material on social media that contains clear signs of inciting national discord [and] insulting national honour and dignity'.
The arrest and detention of Narymbayev and Mambetalin suggest that the Internet sits now at the very core of the government's repressive action: this trend has been recently confirmed by Freedom House's 2015 Freedom of the Net report, which, for the first time, downgraded Kazakhstan's overall status from 'partly free' to 'not free'.
Targeted and umbrella blocking, explicit or subtle censorship, and promotion of an overall de-politicised and ultimately lowbrow use of digital media have come to characterise Kazakhstan's Internet consumption patterns.
Networked authoritarianism
In Kazakhstan, the Internet is a medium that emerged and became popular under the regime's watchful eyes. It is the outlook of Nazarbayev and his associates that determines how local users access the web: following celebrities on social media and online shopping are encouraged, criticising the government is tolerated under no circumstances.
Internet usage patterns are centrally enforced even vis-à-vis the élite's highest echelons: in November 2012, Twitter-savvy prime minister Karim Massimov was apparently invited to discontinue his micro-blogging activities as he was becoming too popular for the president's taste.
Silencing local media supports the regime in its efforts to tone down domestic discontent with Kazakhstan's poor economic performance. Chris Price / Flickr. Some rights reserved.
Media repression, most importantly, extends beyond the digital realm, as the Nazarbayev regime recently directed its oppressive attention to other segments of the local information landscape.
The recent closure of magazine Adam Bol and its successor Adam, the mercurial application of anti-libel legislation (ultimately an instrument of censorship), the systematic marginalisation of independent media throughout the 2015 electoral campaign suggest that, in the late Nazarbayev era, freedom of speech continues to be regularly violated across every oblast', while increasingly tight restrictions are imposed upon every segment of the local media spectrum.
To my mind, there is a precise rationale for the recent hardening of Kazakhstan's media relations: silencing local media supported the regime in its efforts to tone down domestic discontent with Kazakhstan's poor economic performance.
The severe crisis affecting Kazakhstan's economy is eroding the appeal of a key domestic narrative, one which established a nexus between Nazarbayev's permanence in power and the population's prosperity. The government's economic message, in this sense, has lost much, if not all, of its relevance. While a new one is framed, the economic narrative that permeates Kazakhstan's public space has to be closely controlled by the Presidential Administration.
In the government's narrative, the path (zhol) through which Kazakhstan had to exit the 2014 crisis was described to be a shining (nurly) one. The post-2014 reality saw two painful rounds of tenge devaluation, eroding the purchasing power of most citizens and, ultimately, compromising the regime's economic credentials.
The dream that Nazarbayev has tried to sell to the Kazakh(stani) population is in this sense vanishing: the aspirations of the middle class have crushed under a punitive tenge/US dollar exchange rate, while the decline of oil revenues has drastically limited the prospects for geographic and socio-economic re-distribution of wealth.
Be careful what you wish for
A tightly controlled media environment should allow a more controlled economic narrative to emerge. In February 2014, blocking WhatsApp messaging apparently aimed to avoid a panicked reaction to the first round of currency devaluation. In actual terms, it allowed the regime to be the only public voice elaborating upon the monetary storm that had hit Kazakhstan.
The dream that Nazarbayev has tried to sell to Kazakhstan's population is vanishing.
In 2015, closing Adam Bol/Adam obliterated an alternative outlet from a media landscape that had to delve in and comment on a rampant economic crisis. Through the arrest of Narymbayev and Mambetalin, the government managed to (temporarily) silence a voice that, via sustained Facebook activity, deliberated connected Kazakhstan's Eurasian Economic Union membership with poor domestic economic performance.
The Nazarbayev regime is not hiding the severity of the crisis. Rather, it seeks to sanitise the local media landscape in its print, broadcast, and digital segments. This strategy has led to the crystallisation of a tenuous media context, characterised in turn by a series of idiosyncratic connexions. Open criticism of Nazarbayev's economic management is never an option. Media reporting on the personalisation of discontent has to date focused on Kairat Kelimbetov, the former head of the National Bank of Kazakhstan. Using social media to criticise low-level officials or reporting police abuse is therefore permitted; writing a deliberately anti-Nazarbayev post on Facebook can lead to imprisonment.
In Kazakhstan, power is highly personalised, and so is its media representation. The president has always scored personal points on Kazakhstan's economic achievements: this context explains why he is currently struggling to de-personalise the attribution of the crisis's responsibility. These are problematic prospects, in an environment that, for more than two decades, has been dominated by the mantra of 'Economy first, politics later'.
A new economic narrative is desperately needed in Astana: the enforcement of strict media control can only be a temporary measure for a regime that is running out of time in political and economic terms.

www.opendemocracy.net, 16.11.2015