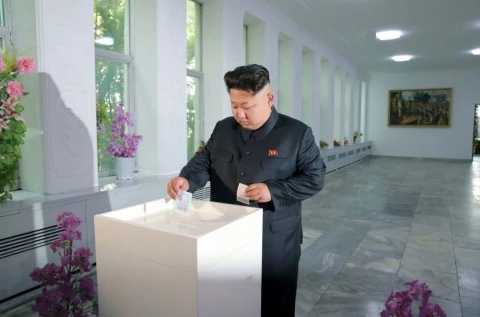 North Korean leader Kim Jong Un casts his vote at a polling station during the election of deputies to the provincial, city and county people's assemblies in this undated photo released by North Korea's Korean Central News Agency in Pyongyang on July 20, 2015. (Reuters/KCNA)

Local elections in North Korea over the weekend went just about as expected.
State-run Korean Central News Agency reported that 99.97 percent of voters participated in Sunday's ballot, which is held every few years and essentially involves predetermined candidates who are rubber-stamped into office.
Any lingering curiosity about the remaining .03 percent quickly evaporates, as the agency acknowledged that they were "on foreign tour or working in oceans" at the time.
If that feels, well, unbelievable, in a world of strongmen and staged elections, think back to these past examples. (Yes, North Korea makes an appearance):
The time Kazakhstan's president "apologized" for getting nearly every vote.
Officials in the predominantly Muslim former Soviet republic announced in April that President Nursultan Nazarbayev won a fifth term. He took about 98 percent of the vote in an election that the government said had turnout around 95 percent. (In 2011, Nazarbayev took 95.5 percent.)
The next day, the Organization for Security and Co-operation in Europe, which monitored the ballot, said "voters were not offered a genuine choice between political alternatives." Nazarbayev, who has led the Central Asia nation since 1989, sincerely slammed his critics.
"I apologize if these numbers are unacceptable for the superdemocratic countries, but there was nothing I could do," he said in televised remarks from the capital, Astana. "If I had interfered, it would have been undemocratic."
[The Post's View: Sticking with the strongmen in Central Asia]
The time Egypt extended its presidential vote due to low turnout.
In May 2014, less than a year after a military takeover swept Egypt's first democratically elected president from power, the man who led the about-face was poised to be his successor.
Abdel Fatah al-Sissi was the undeniable front-runner going into the two-day vote, which had been boycotted by the Muslim Brotherhood, the party of ousted Islamist leader Mohamed Morsi. But turnout was widely reported to be low, and so officials added a third day. Some cited political disillusionment as the cause; officials blamed a heatwave.
When all was said and done, it was a landslide for Sissi. As for his opponent, Hamdeen Sabahi, the New York Times summed it up best: "He finished basically tied with the number of ballots that had been defaced to protest what critics called the undemocratic climate and limited choices."
International observers quickly criticized the extra day, which was objected to by both candidates. Monitors from the E.U. said it "caused unnecessary uncertainty in the electoral process."
The time Kim Jong Un got 100 percent of the vote.
The young successor to Kim Jong Il was "elected" to the country's legislature in early 2014 with a perfect score, during the first ballot since his father's death in 2011.
State-run media reported that he nabbed every vote submitted in his district, which apparently saw 100 percent turnout, just above the countrywide average of 99 percent.
"This is an expression of all the service personnel and people's absolute support and profound trust in supreme leader Kim Jong Un," the agency said, "as they single-mindedly remain loyal to him."
The time Azerbaijan released its election results before voting started.
In perhaps the most memorable election gaffe in recent memory, a mobile app used in 2013 by the country's election commission published the results a day before voting even began.
The president, Ilham Aliyev, was said to win more than 72 percent of ballots; an opposition candidate took second place with nearly a tenth of that.
As The Post reported, the app's developer chalked the error up to a test version being sent out with data from years earlier, though that didn't quite explain why the names of current candidates were included. Later, the government acknowledged the mishap, saying it showed "hypothetical results from one small electoral district." Aliyev got his third term.
www.capitalbay.com, 21.07.2015