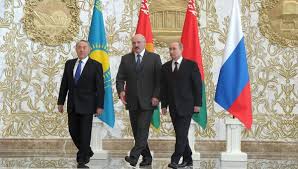 A key element to President Vladimir Putin's vision of growing Russian influence in the world is his plan to lead the former Soviet republics into an economic union. Right now, though, what he's mostly doing is wiping out their currencies. Just as Russia's financial crisis is finally showing signs of easing amid a tenuous cease-fire in Ukraine, the aftershocks are spreading from Moscow to former Kremlin satellites including Belarus, Azerbaijan and Moldova.
Those three countries -- along with Ukraine itself -- dominate the very bottom of the world's worst-performing currency list this year. And just one spot beyond them, right after the Brazilian real, is another regional currency, Georgia's lari. All of these currencies have plunged more than 13 percent against the dollar, and three of them, led by the Belarus ruble, are down more than 25 percent.

The declines are a reaction to the Russian ruble's 46 percent collapse last year. That plunge threatened to flood the smaller neighboring countries with suddenly cheaper Russian-made goods, swelling their import tabs and eroding their trade balances. The devaluations, while helping ease the pressure by keeping their currencies competitive with the ruble, bring a new set of problems by pushing up inflation and making it more expensive to repay foreign debt.
"There's very little these countries can do" to stem the slide in their currencies, Charles Robertson, the London-based chief economist at Renaissance Capital Ltd., said by phone on March 9. "It would take years to loosen economic links with Moscow."
Belarus Devalues

For Azerbaijan, the selloff in oil has been a key cause of the decline too. Like Russia, it counts on crude and gas for much of its export revenue.
Belarus devalued its ruble in January and tightened capital controls after it dropped to an all-time low of 15,705 per dollar last month.
Ukraine raised its benchmark interest rate last week to 30 percent, the world's highest, after the hryvnia tumbled to a record 34.247 per dollar in February. Georgia and Armenia, whose currency lost 14 percent over the past year, have also lifted rates -- again, to little effect.
'Snap Effect'

"It's a bit like a rubber band: you pull it and it eventually comes back with a vengeance," Per Hammarlund, the chief emerging-markets strategist at SEB AB in Stockholm, said by phone March 9. "They'll be able to resist for a while, but you'll get that snap effect further down the road."
The economic pain caused by contamination from a weaker ruble comes as Putin seeks to assert himself on the world stage, from his alleged support for Ukrainian separatists to testing NATO's defenses by flying bombers into Baltic airspace.
While the ruble has rebounded this year as tensions eased in Ukraine and benchmark Brent crude prices stabilized, the central bank may be setting the currency up for further losses by reversing course after last year's interest-rate increases, according to Morgan Stanley.
With the ruble gaining 11 percent since the end of January, the central bank lowered the benchmark interest rate by 2 percentage points last month to 15 percent. Bank Rossii will lower borrowing costs to 14 percent this week, according to the median forecast of 30 economists surveyed by Bloomberg. The ruble was little-changed at 62.4940 as of 3:00 p.m. in Moscow on Wednesday.
Key Election

Across the Caspian Sea in Kazakhstan, policy makers have so far resisted repeating the exchange-rate devaluation of a year ago. Central Asia's biggest oil exporter is facing pressure to devalue again as its companies struggle to compete in Russia, the largest overseas market for their products.
Yet any action may have to wait until after elections in April, which will decide the fate of President Nursultan Nazarbayev, in power for 26 years. The central bank will probably weaken the tenge's trading band after the vote, according to Renaissance, SEB and Danske Bank A/S.
"The later they do it, the stronger the devaluation will be," Vladimir Miklashevsky, an economist at Danske Bank in Helsinki, said by phone on Monday, predicting the tenge will be debased by more than 30 percent versus the dollar. "Still, it's logical to wait until the elections as the ruling party wants a mandate for economic reform."
Hurting more than Kazakhstan right now is Ukraine, which has drawn down its foreign reserves to the lowest in more than a decade after fighting with pro-Russian separatists in the east of the country undermined the economy. Shoring up the hryvnia is dependent on a $17.5 billion emergency loan from the International Monetary Fund, due for approval by the board in Washington on March 11.
Russia's change of direction on interest rates is encouraging others to move toward devaluation, according to SEB's Hammarlund. "Otherwise they would have lost their competitiveness," he said.
To contact the reporter on this story: Marton Eder in Budapest at This email address is being protected from spambots. You need JavaScript enabled to view it.
To contact the editors responsible for this story: Wojciech Moskwa at This email address is being protected from spambots. You need JavaScript enabled to view it.; David Papadopoulos at This email address is being protected from spambots. You need JavaScript enabled to view it. James M. Gomez, Andras Gergely
Marton Eder
Bloomberg, 12.03.2015