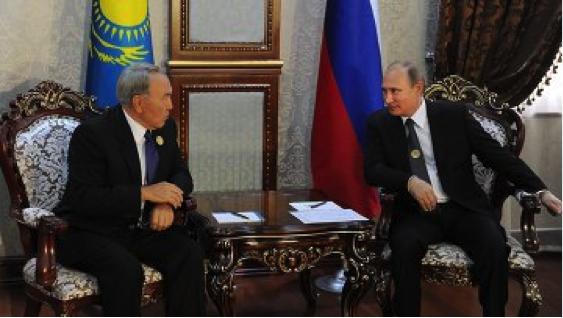 Kazakhstan's largest city began life as a Russian fortress. The government is doing all it can to stop it becoming one in future once President Nursultan Nazarbayev's long rule ends.
Almaty, near the Chinese border, was the capital until 1997 when Nazarbayev moved it to Astana in the center of the country, and closer to the large Russian population in Kazakhstan's north. The move was interpreted in part as an effort to bind the northern regions bordering Russia more tightly into the state as it consolidates its independence following the Soviet Union's collapse.
The risk of domination from China or Russia is "like living in a cage with a dragon or a bear -- it will bite you," Dosym Satpayev, director of the Kazakhstan Risks Assessment Group said in an interview. "If Kazakhstan is seen as in only Russia's sphere of influence, we're lost."
The conflict in Ukraine's east between the new Europe-leaning government and pro-Russian separatists is sharpening the dilemma in Kazakhstan, the former Soviet Union's second-largest energy exporter after Russia. Russia annexed Ukraine's Crimea peninsula in March and voiced "respect" for rebel demands for autonomy, even as its economy labored under U.S. and European Union sanctions.
Succession Question
With no anointed heir to 74-year-old Nazarbayev, who's ruled since independence in 1991, uncertainty over the future was acknowledged in a sovereign bond prospectus in September. Should he leave office "without a smooth transfer to a successor," the "political situation and economy could become unstable," according to the document.
Russia may have spotted a potential opportunity to cement ties with Kazakhstan when Nazarbayev departs. A study for Russian government officials, conducted last year and obtained by Bloomberg, suggested his succession offers a "beneficial background to promote moderate values of Eurasian integration."
Russian President Vladimir Putin jangled nerves when he told students at a pro-Kremlin youth camp on Aug. 29 that Nazarbayev had created a state "where there's never been a state" and that the "vast majority of the citizens of Kazakhstan favor stronger ties with Russia."
His remarks may be interpreted to mean a state "that's appeared thanks to one person can disappear thanks to another," Carnegie Moscow analyst Alexei Malashenko said in his blog.
Eurasian Warning
Two days before Putin spoke, Nazarbayev warned that Kazakhstan reserved the right to leave the Russian-led Eurasian Economic Union if its independence is threatened by membership. The alliance includes Russia, Kazakhstan, Belarus and Armenia and takes effect Jan. 1.
Former Ukrainian President Viktor Yanukovych's rejection of an EU integration pact, as Russia pushed it to join the Eurasian Union, triggered his nation's current crisis.
"If you're on good terms with Russia and participate in Russian projects then it's OK," said Nargis Kassenova, associate professor and director of Central Asian Studies Center at KIMEP University in Almaty. "If you decide to go elsewhere like Ukraine, you'll be punished. That worries us a lot."
Demographics fuel concern in this Central Asian republic, the world's ninth-largest country, where Russians make up a quarter of the 17.4 million population. Russians outnumber Kazakhs in the Northern Kazakhstan and Kostanay regions next to Russia, according to the 2009 census.
Arriving, Leaving
Kazakhstan is seeking to revive an incentive program to lure back ethnic Kazakhs, known as "oralmans," from abroad. More than 944,000 returned between 1991 and 2013, official data show, while there's been a steady exodus of Russians, who made up 40 percent of the population before the Soviet collapse.
Military activity can also be a worry. More than 4,000 Russian troops held missile drills in the Altai region, close to the Kazakh border, RIA Novosti said Sept. 3. Kazakhstan tested the combat readiness of 3,000 troops in its south in unscheduled exercises Nov. 19-21, the Defense Ministry said.
Punishments for expressing separatism are being toughened and may include jail terms of as long as 10 years. The proposals were made a month after Vladimir Zhirinovsky, a deputy speaker of Russia's lower house of parliament, called for Kazakhstan to be merged into a new Russian region.
'Dearest Treasure'
"Our independence is our dearest treasure," Nazarbayev said in comments broadcast on Kazakhstan's 24KZ TV. "We'll never surrender it."
Kazakhs are asserting a national identity that leaves some in the Russian minority wondering about their future.
"When Nazarbayev goes, it will be bad," said Yuri Bunakov, 75, who heads the Russian Community office in Almaty's state-run Ethnic Assembly of Kazakhstan. "There could be a scenario such as in the Baltic countries or Ukraine, where naked nationalism was adopted."
The sign outside his office is written only in Kazakh, according to Bunakov, even though Russian enjoys official status under a law he says he helped persuade Nazarbayev to pass in the 1990s.
Nazarbayev is strengthening the dominance of Kazakh, ordering adoption of the Latin alphabet in place of Cyrillic by 2025. A 2007 Education Ministry report argued that the switch would move the nation from a colonial Soviet mentality "which still largely dominates the national consciousness" to a sovereign Kazakh one.
Use of Russian in official documents has fallen considerably, along with study of the language and Russian history in Kazakh schools, while Russians are "practically absent" from positions in state bodies, according to Bunakov.
Exxon, Eni
As well as firming up domestic unity, Kazakhstan has looked abroad to buttress its independence. The government has attracted $150 billion of foreign investments, according to the presidential website, including energy giants Exxon Mobil Corp (XOM), Royal Dutch Shell (RDSA), Total SA (FP) and Eni SpA. (ENI)
China, the region's other dominant force, may also act as a counterweight to Russia, having overtaken it as Kazakhstan's top trading partner in 2010. Kazakhstan signed cooperation contracts and agreements worth $30 billion last year and Nazarbayev has expressed enthusiasm for Chinese President Xi Jinping's plan to revive the ancient Silk Road trading route from China to Europe through Central Asia.
"China looks good compared to Russia because of Ukraine," Professor Kassenova said. "We're vulnerable to Moscow; if Russia wants to undermine the legitimacy of our government, they can do."
'Unwavering Support'
The U.S. is also building ties through a "Strategic Partnership Dialogue" with Kazakhstan established in 2012. It expressed "unwavering support for Kazakhstan's independence, sovereignty, and territorial integrity" in a statement after U.S. Secretary of State John Kerry held talks with Kazakhstan's Foreign Minister Erlan Idrissov in Washington on Dec 10.
The U.S. "appreciates its open dialogue with Kazakhstan on the crisis in Ukraine," according to the statement.
Nazarbayev has spearheaded the quest to cement independence, repeatedly demonstrating an ability to balance that goal with steps that avoid antagonizing Putin. He called the Russian leader "the most normal liberal today" on Dec. 5 and criticized sanctions against Russia over Ukraine as a "dead end," according to Kazakhstanskaya Pravda.
The Kazakh leader's exit would risk depriving the nation of the driving force behind its national identity, making it vulnerable to outside influence.
Nazarbayev and independence are "sacredly inseparable," Gulshara Abdykalikova, state secretary of Kazakhstan, told a Nov. 28 meeting of the Ethnic Assembly in Astana, describing him as the "symbol and guarantor of the unity of the nation."
To contact the reporters on this story: Nariman Gizitdinov in Almaty at This email address is being protected from spambots. You need JavaScript enabled to view it.;
Henry Meyer in Moscow at This email address is being protected from spambots. You need JavaScript enabled to view it.
To contact the editors responsible for this story: Alaric Nightingale at This email address is being protected from spambots. You need JavaScript enabled to view it.;
Balazs Penz at This email address is being protected from spambots. You need JavaScript enabled to view it.
Tony Halpin, Andrew Langley