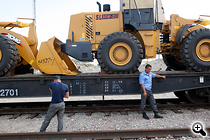 President Nursultan Nazarbayev thinks Kazakhstan can spend its way out of the economic doldrums. Experts, meanwhile, are divided about whether Nazarbayev's plans represent a bold Roosevelt-style New Deal or a throwback to sluggish Soviet-style economics.
The centerpiece of the Nurly Zhol (Bright Path) strategy – unveiled in Nazarbayev's state-of-the-nation speech in November – is an additional $9 billion in public spending over three years. The massive cash infusion is designed to kick-start economic growth. The money will come from Kazakhstan's rainy day oil fund.
The spending is required to meet "new threats and challenges," Nazarbayev said. His reference to "the geopolitical crisis and leading powers' sanctions policy" hinted that limiting the economic fallout emanating from Russia is high on his list of concerns.
Trade with Russia (a major economic partner for Kazakhstan and fellow member of the Customs Union) slumped 22 percent during the first three quarters of 2014. At the same time, a precipitous drop in global oil prices has ramped up the economic pressure on the Nazarbayev administration, prompting Astana to slash this year's growth target from 6 to 4.3 percent.
Against this gloomy backdrop, Nazarbayev envisions an updated version of "President Roosevelt's 'New Deal' policy" to invigorate the economy, as Foreign Minister Yerlan Idrissov put it. Some observers, however, fail to see a New Deal parallel between Astana's intentions and the Roosevelt administration's desire to lift the United States out of the Great Depression.
One online commentator derided Nazarbayev's plan as a rehash of the New Economic Policy, or NEP, which was cooked up by Vladimir Lenin's Bolsheviks in the 1920s to resuscitate Russia's economy after it was ravaged by economic policies known as War Communism. "I recall the history of the USSR and the phrase of Uncle Lenin," the commentator said, referring to Nazarbayev's own characterization of his plan as a "New Economic Policy."
When unveiling the plan, Nazarbayev did not delve into specifics. Instead, he stuck to identifying development priorities, including improving transport and energy infrastructure, upgrading utilities networks, and building more schools and housing.
Such goals are already outlined in the government's existing strategic infrastructure development blueprint. The plan aims to reduce Kazakhstan's dependence on energy-export revenue – now a bigger priority than ever, given the precipitous decline in oil prices in recent months. Yet, Kazakhstan's economic diversification efforts to date have not borne fruit: oil earnings still account for 25 percent of Kazakhstan's GDP and 60 percent of its balance of payments.
So can Astana spend its way out of the doldrums? Nadeem Naqvi, an economics professor at Almaty's KIMEP University, says it can – in theory.
"You can actually employ an expansionary fiscal policy – increase public spending – to neutralize the negative GDP shock, dollar for dollar," he told EurasiaNet.org on the sidelines of a conference – tellingly entitled Kazakhstan's Economy: Entering the Turbulence Zone. The conference was organized by KIMEP's Central Asian Studies Center.
A rough calculation suggests Nazarbayev may not be spending enough to accomplish his desired goal. Oil prices have plunged roughly 40 percent since the start of the year, from $115 to under $68 per barrel in late November. The price has increased slightly since then, but if it ever dips under $66 per barrel, that would translate into an annual loss of some $20 billion for Kazakhstan, Naqvi says, in comparison to the revenue Kazakhstan would have generated had the price remained near its 2014 high.
A potential $20 billion shortfall would dwarf the size of Nazarbayev's cash injection, assuming prices remain low for the foreseeable future. "If it's $9 billion over three years, that's a significantly smaller amount than that required to fully neutralize the adverse shock," Naqvi said.
Astana's 2015 budget is based on an oil price of $80. The IMF says the oil price at which Kazakhstan can balance its books is $65.5 per barrel, but economists believe if the price hits $60, Kazakhstan would experience zero growth.
Nazarbayev's decision to tap into the National Fund has raised concerns about its depletion. The oil fund accumulates energy revenues as a cushion against economic shocks – but is also intended as a windfall for future generations.
"That's the main challenge for policymakers; how to beat this [crisis] with limited resources, [and] how to use the National Fund and not to lose it within the next three to five years," Kassymkhan Kapparov, director of the National Bureau for Economic Research think tank, said at the recent KIMEP conference.
The $9 billion injection, at a rate of $3 billion annually from 2015 to 2017, would amount to 12 percent of the fund's current hard currency holdings of $76.8 billion. On top of this emergency spending, the fund helps cover a portion of government operating expenses every year, with $9.4 billion earmarked each year for the 2015-17 period. Thus, the total to be withdrawn from the fund over the coming three years will rise to $37.2 billion. To guard against rapid depletion, Astana recently raised the minimum level of cash the fund must hold from 20 percent to 30 percent of GDP.
Under current conditions, Kazakhstani authorities are struggling to tamp down fresh currency devaluation rumors. In recent weeks, the tenge has held steady and the National Bank keeps vehemently ruling out devaluation, which would be a politically explosive issue after February's devaluation caused economic havoc and public anger.
Nevertheless, amid plummeting oil prices and a collapsing Russian ruble, many economists now see another devaluation as inevitable. It is "not a question of whether to have a devaluation or not, but rather when to have it: this year or next year," Kapparov told EurasiaNet.org.
Sabit Khakimzhanov, head of research at Halyk Finance investment bank, believes the solution is for policymakers to move from exchange-rate targeting to inflation targeting, allowing the tenge to float freely instead of propping it up. There is "fear of floating," he said, but the solution is to let the market decide the rate so "the economy always lives within its means, we're always competitive."
Nurly Zhol's potential for success depends in part on implementing structural reforms to address rampant corruption and inefficiencies in the cumbersome system of public administration, analysts say. Until now, the government has shown little appetite for tackling such issues.
On the plus side, economists broadly agree that Kazakhstan's healthy fiscal position (low debt and a low deficit) gives it a strong hand to tackle the crisis. "There are tough times ahead," said Naqvi, "but given the right political will it can be handled."