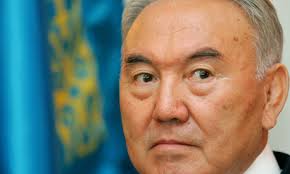 With every resource that it needs to become a wealthy country, Kazakhstan should be doing better, but its economy remains stubbornly tied to energy and metals prices. President Nazarbayev is running out of time to transform his nation
The past year has not been kind to Kazakhstan. Everywhere one looks, statistical data is headed in the wrong direction. Inflation is ticking up as growth slows. Foreign exchange reserves dipped to $9.7bn in 2013 against $13.7bn in 2011, according to figures from the National Bank of Kazakhstan (NBK). Private consumption is set to grow by just 7.4% in 2014, half the rate of the previous year, while foreign direct investment, another mainstay metric, fell 30% in 2013, to $9.7bn.
And that's just the topline data. Kazakhstan faces a series of painful structural challenges as it seeks to transform itself into a middle income nation by 2030 and one of the world's 30 largest economies by mid-century — ambitions that longstanding president Nursultan Nazarbayev spelled out nearly two decades ago. The economic base remains badly undiversified, overly dependent on the price of energy and metals. Even the oil and gas sector faces its demons, in the shape of the latest setback for the Kashagan oilfield, where full production has been pushed back again, to 2017.
Then there's the large and often unruly northerly neighbour. Since declaring independence in 1991, days before the dissolution of the Soviet Union, Kazakhstan has been transformed into the region's answer to Switzerland. Nazarbayev has carefully cultivated an image of a country acting as a buffer against extremism beyond its southerly borders, as a bridge between China and Russia and as a business-friendly place for Western and Asian corporates.
But Russia's increasing intransigence over eastern Ukraine is causing jitters in the Kazakh capital, Astana. In early September, Nazarbayev told the country's parliament that a long running sanctions war between Moscow and the West would inevitably require "serious adjustments" to Central Asia's largest economy.
Trade between Kazakhstan and Russia slumped by more than a fifth in the first half of 2014, according to NBK data, while economic growth slowed to 3.9% in the first half, the slowest rate of expansion in five years.
Strange as it may sound, there are yet reasons to be optimistic. Gross domestic product (GDP) is likely to accelerate to 5.6% in 2015, after softening this year to 4.5%, says Charles Robertson, the London based chief economist at Renaissance Capital. Even that relatively sluggish growth, he adds, "is still higher than in the majority of [former] Soviet Union countries", including Russia and the whole of central and eastern Europe.
Marcus Svedberg, chief economist at Stockholm-based East Capital Asset Management, adds: "Macro conditions are surprisingly resilient and long term growth predictions look bright. This is a country that should over time become a wealthy country as it has every conceivable resource that it needs."
GDP SHOCK
Moreover, the shock decline in GDP in the first three months of the year, when annualised economic growth slowed to just 3.8%, was the result not of sanctions but of an unexpected devaluation in the Kazakh currency. In February, the government shocked investors by devaluing the tenge by 19% to the US dollar, allowing officials to stymie currency speculators while adjusting to the freer float of the Russian rouble. Kazakh companies and individuals would "resume spending" as the shock of the devaluation fades, RenCap's Robertson says, adding that low unemployment and a slower pace of inflation growth would offer a "supportive backdrop for consumer demand".
Nor is the president merely sitting back and hoping the economic picture will improve. In early April, Nazarbayev, frustrated at waning growth and an increasingly pervasive sense of economic drift, reshuffled his government. Out went Serik Akhmetov; in, for his second stint as premier, came Karim Massimov.
The reappointment was telling. A report issued in late 2013 by the European Bank for Reconstruction and Development (EBRD) had filtered its way up the governmental food chain, finally settling in the president's in tray. Titled Stuck in transition, it warned that Nazarbayev's treasured ambition of transforming Kazakhstan within his lifetime was under threat. Economic convergence between Kazakhstan and wealthy Western states such as Germany and the US, the London-based multilateral warned, had plateaued — and was in danger of being thrust into reverse. "The report showed that if things continued as they were, the country would get nowhere near achieving its developmental goals," says Janet Heckman, Kazakhstan country director at the EBRD. "So something dramatic needed to be done to get things moving."
Something did. On Massimov's second day in office, he invited the EBRD to his office in Astana. Nazarbayev had given him a remit, simple in purpose but more compound and complex in practice: to accelerate economic reforms and to create a thriving industrial base, focused on chemicals, car production and agribusiness. Massimov quizzed Heckman on how to transform the country's image — most notably, how to attract more investor dollars to the country. The new premier also met with a host of fellow multilaterals, including the Asian Development Bank (ADB) and the International Finance Corporation (IFC).
The upshot was a radical new three pronged strategy designed expressly to transform Kazakhstan into the investor-friendly destination its president has always wanted.
First up, public-private partnerships (PPPs). Officials in Astana have long talked of their love of the hybrid investment structure but rarely has passion been converted into action. According to the Kazakhstan Public-Private Partnership Center, the country boasts just 22 operating PPPs, worth just KT660bn ($3.6bn), notably in the renewable energy, agriculture and infrastructure space — a small return for more than a decade's work.
That is set to change. Moazzam Mekan, regional manager, Central Asia at the IFC, the private sector arm of the World Bank, points to "seven or eight" sectors that are likely to benefit from a rapid uptick in PPP activity. "The government is committed to injecting more private capital into the delivery of public services, whether roads, health, education or the construction of industrial parks. The scale of the ambition and the clarity of purpose are impressive. The next step will be to ensure that risks facing the public and private sector on any given project are allocated fairly, ensuring a good deal for everyone."
Betty Wilkinson, director, public management, finance and trade, central and west Asia at the ADB, says the rollout of new privately invested projects will help the country to "develop further into a regional hub for transport and transit and expand beyond oil and gas production to a more diversified economy".
PRIVATE SECTOR PROTECTION
Legislative changes should help boost overall private sector activity. An amended and upgraded 2013 PPP law allots more protection to private sector investors and seeks to direct more capital into fast growing companies and industries. Multilaterals are keen to invest in a raft of projects covering sectors from agribusiness to urban transport to commercial heating. For now, all eyes are on a single PPP scheme, the long delayed $2bn BAKAD ring encircling the financial capital, Almaty. "BAKAD has been going on for so long," says one senior multilateral official. "If they can get that one completed swiftly and successfully now, that will send a great message to future [PPP] investors."
Then there is the latent realisation that the country needs to invest its considerable financial resources a little better. In May, the government rolled out a new state sanctioned investment programme, officially called the Partnership for Re-Energising the Reform Process in Kazakhastan but more simply referred to as the Enhanced Partnership (EP), designed in conjunction with a quartet of institutions including the EBRD, the IFC and the European Investment Bank.
Over the coming four years, around $5bn in fresh state capital will be channelled into projects covering a range of industries, including power production and transmission, information technology, commercial zones and agribusiness — though that figure could rise, officials say. Smaller slices of funding will filter through the system to support a willing army of small and medium sized enterprises that have long struggled to gain traction. Of that total, at least $2.75bn will be channelled through the four multilaterals and development banks, which are expected, says the EBRD's Heckman, to match the government on any given EP-related investment dollar for dollar.
Finally, there is a broader, latent recognition that Kazakhstan needs to improve its relationship with global investors. In recent decades, foreign energy companies have profited handsomely by investing in the country's greatest asset: its staggering natural resources. Few see any reason why that one way flow of capital should change. Renaissance Capital tips FDI, having fallen sharply in 2013, to reverse course, rising to $12.8bn this year and $14.1bn in 2015.
But those in power, keen to avoid becoming economically becalmed like Russia (another resource-dependent nation, which is facing flat or even negative growth in 2014) want more. In June 2014, corporate tax on foreign investors willing to channel capital into non-energy industries for a period of 10 years was scrapped. The same month, officials relaxed transit regulations, allowing visitors from 10 nations including the UK, Japan, the US and the United Arab Emirates to enter Kazakhstan visa-free for up to 15 days. Staying true to its Swiss-style foreign policy, it is also seeking to forge closer bonds with the European Union while embedding itself formally in the Moscow-led Eurasian Economic Union.
DETERMINED TO TRANSFORM
The country has an elderly, if sharp-minded, leader determined to transform the country he has guided since independence. Nazarbayev's long term ambition for the country is to marry East Asian rates of growth with the levels of wealth and prosperity still on display in Berlin, London and New York.
But more than anything, the Kazakh president wants to wean his country off its dependency on hydrocarbons, creating, in his words, "a new type of industry". If that's the aim, Kazakhstan is going about things the right way: boosting relations with Russia, Asia and Europe; slashing taxes and visa rules; injecting more private capital into public services; and encouraging the growth of smaller and non-energy corporates. Nearly a quarter-century after independence, Central Asia's largest economy has belatedly realised that diversification is the only way to guarantee long term growth, generate more job opportunities and align Kazakhstan with the wealthy nations of the West. Better late than never.
www.emergingmarkets.org