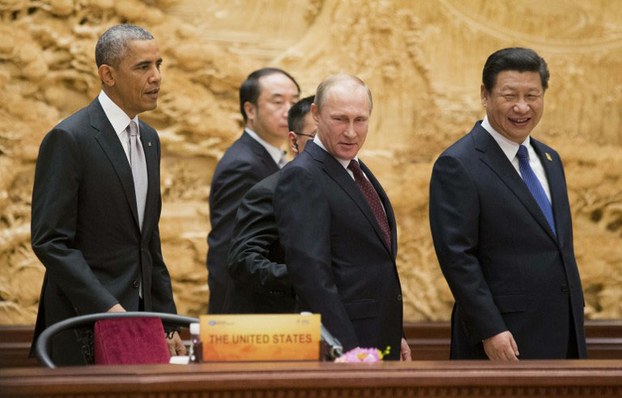 China will be keeping a close eye on its energy interests in Central Asia as Russia reinforces the borders of the Commonwealth of Independent States (CIS) against external threats.
Speaking at a summit in Kazakhstan on Oct. 16, President Vladimir Putin pushed CIS leaders to beef up their former- Soviet borders by joining a Russia-led security force to guard against militants of the Islamic State, known as ISIS or ISIL, in Syria and Iraq, as well as the Taliban in Afghanistan.
"Member countries ... will be able to form groups comprising of officials of their border guards and other agencies to tackle possible crises on the border," Interfax quoted Putin as saying, arguing that a joint force was authorized by a cooperation accord that CIS leaders had gathered to sign.
Implementation "will help to build a reliable shield on the external borders of the CIS," Putin said at the meeting in the resort town of Burabai.
The countries agreed on a joint task force to guard the CIS external border with Afghanistan, shared by Turkmenistan, Uzbekistan and Tajikistan.
While Russia maintains a military presence in the weakest member nations of Armenia, Kyrgyzstan and Tajikistan, others like Uzbekistan have been strongly resistant to pressures from Moscow.
But Putin made the case that external threats could become internal, estimating that ISIL has recruited 5,000 to 7,000 fighters from the CIS.
Russia has already announced increases in troop strength and air power under separate agreements with Kyrgyzstan and Tajikistan, according to the BBC.
"Moscow justifies building up a military presence in the region by highlighting the threat Central Asia and Russia are facing from Afghanistan and beyond," the BBC said.
Russian needs
Others see Russia's motives as driven by regional security needs.
"However Russian moves and Afghanistan's future play out, it is becoming increasingly clear that Moscow now faces the danger of a fourth front developing in Central Asia to add to its military activities in Ukraine, Syria and the North Caucasus," the Washington-based Jamestown Foundation's Eurasia Daily Monitor said.
Russia guarded Tajikistan's 1,344-kilometer (835-mile) border with Afghanistan until 2005. It still maintains a force of 6,000 troops in the country under a 30-year agreement, providing military aid directly and through the CIS Collective Security Treaty Organization (CSTO).
At an earlier meeting with Putin, Tajikistan President Emomali Rahmon voiced alarm at "fighting taking place on over 60 percent of the border," Interfax reported.
But there have also been rumblings of concern about the implications of Russian initiatives at a time when Putin has shown willingness to send forces abroad.
"Just as in Syria he has said he is fighting against ISIL, but in reality is fighting to preserve (President) Bashar Assad's regime, in Central Asia they will suspect him of using the threat of Islamism as an excuse to create a zone that will eventually be recognized as a Russian sphere of Influence," said Arkady Dubnov, a Moscow-based expert on Central Asia in an interview with Britain's The Telegraph.
Doubts about Russia's intentions also highlight the differences with China regarding their roles and interests in Central Asia.
China has relied increasingly on energy flows from the region, particularly gas from Turkmenistan that crosses multiple borders by pipeline. Russia has all but ended its gas imports through the Soviet-era Central Asia-Center pipeline system, despite major volumes promised a decade ago.
Beijing's approach has been largely mercantilist, avoiding defense commitments despite the rhetorical security assurances of the Shanghai Cooperation Organization (SCO), which includes China, Russia and nearly all the same Central Asian countries that are linked by the nine-member CIS.
Color revolutions
Russia has stressed hegemony, security, political stability and a united front against "color revolutions" in the region, which have already diminished the CIS with Georgia's departure and the distancing of Ukraine.
Moscow's border initiative and its military resurgence are likely to raise China's concerns about the security of its cross-border energy flows from Central Asia, while Moscow presses its own costly pipeline projects for China from Siberia.
"You've got internal concerns, and Russia is sort of upping its game. That China would be watchful is fair to say, for sure," said Edward Chow, senior fellow for energy and national security at the Center for Strategic and International Studies in Washington.
"The Russian interest in dominating Central Asia politically and in the security sphere runs up against China's long-term economic interest," said Chow.
"In the short and medium-term, maybe that's something that can be resolved, but in the long run, it's a contradiction that is bound to create tension," he said.
The problems may be most sensitive for Turkmenistan, where China has invested heavily in gas exploration, production and export routes for its Central Asia-China Gas Pipeline system with three branches through Uzbekistan and Kazakhstan.
As of August, Turkmenistan had supplied 125 billion cubic meters (4.4 trillion cubic feet) of gas since deliveries started in 2009, accounting for over 35 percent of China's gas imports, Ashgabat's Ministry of Oil and Mineral Resources said.
A fourth branch of the China supply network known as "Line D" is said to be under construction through Uzbekistan, Kyrgyzstan and Tajikistan, boosting system capacity to 85 billion cubic meters (3 trillion cubic feet) per year.
Neutral Turkmenistan
But the new route may depend on stability and border protection, a sore point for Turkmenistan, which has relied on its neutrality policy rather than its under-strength military, while barring Russian forces since the Soviet collapse.
There are also signs that the security situation has created tensions among the Central Asian states.
On Oct. 15, Turkmenistan's Foreign Ministry registered a "strong protest" after Kazakhstan President Nursultan Nazarbayev voiced concern over reports of deadly incidents on the Turkmen border with Afghanistan.
"In this connection, the Turkmen side expresses its deep concern and incomprehension of the remarks made by the Kazakh side, viewing them as far from reality," the ministry said.
Despite at least two reported attacks from northern Afghanistan on the Turkmen border, Ashgabat has insisted it will launch a long-stalled gas pipeline project through Afghanistan to Pakistan and India, known as TAPI, in December.
Turkmenistan has pursued the TAPI plan since the 1990s in order to diversify its exports. Before it started supplying gas to China, the isolated country relied heavily on Russian demand and transit routes.
Now that exports to Russia and Iran have slowed to a trickle, Turkmenistan depends on its routes to China, making the security issue crucial for access to the country's huge gas reserves.
Aside from direct risks posed by ISIS and the Taliban, China may have reason to be concerned about the implications of Russia's rising involvement in the region on several counts.
Making things worse?
First, it is unclear whether Russian military activity in Syria and the buildup in Central Asia will make the security risks better or worse for Chinese interests, energy investment and transit from the region.
Even if existing gas flows continue without interruption, new projects like China's "Line D" near Tajikistan's border with Afghanistan could be put on hold.
In March, Uzbekistan said its preliminary plan was to start building its section of the line at the end of this year for completion in 2017, Interfax reported.
Beijing has stopped short of openly criticizing Moscow's military activity, but has made clear it supports a political settlement in Syria.
"Force cannot resolve the problem. A political resolution still remains the basic way (out)," Foreign Minister Wang Yi said on Oct. 16, according to Reuters.
Second, Russia could be seen as having conflicting interests in Central Asia at a time when it is promoting its own projects for gas exports to China, including at least two pipelines to supply 68 billion cubic meters (2.4 trillion cubic feet) per year from Siberia.
The Russian routes, which are far from the regional conflicts, cross a single border and could offer greater security. China has recently reduced its estimates of import demand, raising questions about whether it will need as much Central Asian gas as it has previously planned.
Russia has also recently floated a plan that suggests it may be trying to draw Central Asian gas west across its own territory toward Europe and away from China.
Turkish stream
On Oct. 15, a Russian Foreign Ministry official said that Central Asian countries could join in Russia's project to pipe gas along a southern route to Europe. The project known as "Turkish Stream" is one of several variations that Russia has planned for exports across the Black Sea, bypassing Ukraine.
The route would compete with Caspian Sea gas from Azerbaijan that would skirt Russian territory on a route through Georgia and Turkey on a southern corridor to the European market.
The plan could serve a dual purpose of diverting gas from the region onto a Russian route and also away from China, leaving less to compete with Russian supplies in the East.
"Inviting the interested Central Asian countries to take part in our project with Ankara for energy supplies to southern Europe could be a step toward cooperation in the energy sphere," said Alexander Sternik, director of the ministry's Third Department for the CIS, making a pitch for coordinated Russian-Turkish cooperation with Central Asian producers.
"It could embrace more clearly the fight against terror and extremism, the fight against organized crime, drug trafficking, and not on a bilateral basis but in the framework of the SCO," said Sternik, according to Interfax.
Last week, Secretary of State John Kerry visited the Central Asian nations, giving assurances that the United States would not neglect their interests as it winds down its military presence in Afghanistan.
At a meeting with President Islam Karimov in Samarkand, Kerry touched on the region's energy security problems, citing "the enormous energy resources and the challenges that these five Central Asian countries have with respect to being landlocked and the need to move products to the global marketplace."
On his four-day tour, Kerry advanced a new C5+1 format for U.S. ties to the region and promoted a "New Silk Road" initiative to strengthen links through energy, trade, transit, customs procedures and communications.
But during a speech in Kazakhstan, the secretary stressed that Washington seeks avoid a clash of Big Power interests.
"Economic integration is not and should not be a zero-sum game," Kerry said in the capital Astana. "And the United States fully encourages Central Asian nations to develop the broadest range of partners that you can."
Ocnus.Net, 12.11.2015