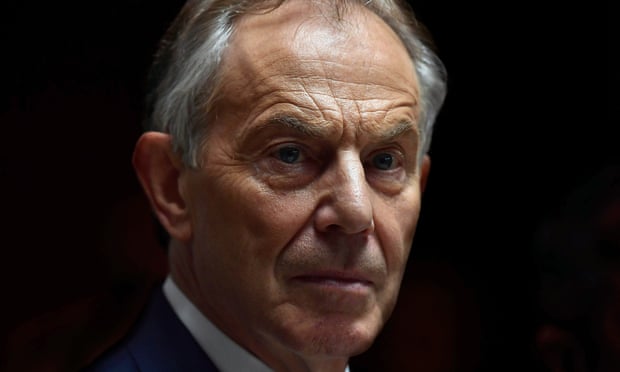 Tony Blair – friend to dictators, enemy of socialist principles – wants a breakaway party. It would be a vehicle for the powerful
Let us look at who Tony Blair regards as palatable and who he does not. This week, Blair had what was described as a "friendly" meeting with Matteo Salvini, Italy's far-right interior minister who has demanded the expulsion of thousands of Roma. He was there lobbying for a pipeline on behalf of Azerbaijan's human rights-abusing autocracy. It was also revealed that Blair's institute has received millions of pounds from Saudi Arabia, a regime where homosexuality is punishable by death, which exports international extremism, and which slaughters children in Yemen. Another client has been Nursultan Nazarbayev, the dictator of Kazakhstan, who has paid Blair millions for services rendered – including advice from our former prime minister on fixing his reputation after his regime was responsible for the massacre of 15 striking oil workers.
Raising these points invites an inevitable response. This is playing the man, it is ad hominem, and we should ignore all this and listen to what he says. Given Jeremy Corbyn is frequently judged to be morally disgraceful and outside the legitimate parameters of politics as a result of having attended the same conference as some unsavoury individual or other – rather than being paid millions of pounds to advise murdering dictators – this is an intriguing double standard. But what is striking is that Blair is more critical of his own party's leader than he is of the dictatorships from which he is happy, of course, to accept employment.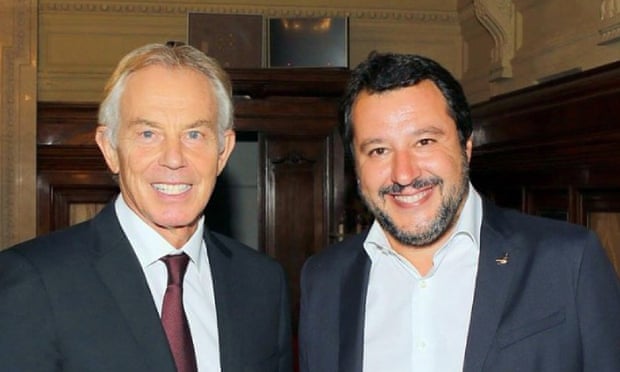 'Tony Blair had what was described as a "friendly" meeting with Matteo Salvini, Italy's far-right interior minister.' Photograph: Twitter
As it happens, I welcome Blair's intervention, because it offers a moment of political clarity. It is Blair and his key allies now agitating for a new breakaway party. Blair the man epitomises what such a formation would look like. Beholden to the wealthy and powerful, including the headchoppers of Riyadh. During the 2015 Labour leadership contest, Blair declared that he would not want Labour to win on a leftwing platform even if he thought that was electorally viable.
This was commendable honesty on his part. That is the truth: Blair and his allies are ideologically opposed to Labour's flagship policies. They don't believe taxes should be hiked on the rich and big business to invest in services and the economy; they don't want to scrap the tuition fees Blair introduced; they are profoundly against public ownership of the utilities. They speak of bullying and intolerance within Labour, but the truth is they balk at Labour's membership having been swollen by hundreds of thousands of people whose beliefs are fundamentally on a collision course with their own. They deem Labour's foreign policy a moral outrage, yet roll their eyes at any mention of Iraq – and the hundreds of thousands killed, the millions displaced, the extremism spawned – as a boring irrelevance. Can't we all just move on from it?
We are told that Blair was a three-times election winner and therefore we must listen and learn from him. But Blairism belongs to a completely different political epoch, one before the financial crash caused the longest squeeze in wages in generations and left young people with a worse lot in life than their parents. Many of Labour's sister parties in Europe have remained broadly wedded to Blair's orthodoxy – for example in Germany, Italy and the Netherlands – and they are all facing political oblivion.
The polling here is very clear: Blair is one of Britain's few unifying politicians, uniting remainers and leavers, Labour and Tory, young and old in contempt towards him. His last constituency of support is composed of senior media figures who fawn over his every word and who will be the most passionate supporters of any breakaway party. If a split ever happens, we know what it will be: a Blairite tribute act, a roadshow for the discredited politicians whose ideology helped plunge Britain into its current mess. And for providing that clarity, Blair deserves our praise.
• Owen Jones is a Guardian columnist
Since you're here…
… we have a small favour to ask. More people are reading the Guardian than ever but advertising revenues across the media are falling fast. And unlike many news organisations, we haven't put up a paywall – we want to keep our journalism as open as we can. So you can see why we need to ask for your help. The Guardian's independent, investigative journalism takes a lot of time, money and hard work to produce. But we do it because we believe our perspective matters – because it might well be your perspective, too.
The Guardian is editorially independent, meaning we set our own agenda. Our journalism is free from commercial bias and not influenced by billionaire owners, politicians or shareholders. No one edits our Editor. No one steers our opinion. This is important because it enables us to give a voice to the voiceless, challenge the powerful and hold them to account. It's what makes us different to so many others in the media, at a time when factual, honest reporting is critical.
If everyone who reads our reporting, who likes it, helps to support it, our future would be much more secure. For as little as $1, you can support the Guardian – and it only takes a minute. Thank you.
The Guardian News, 07.09.2018