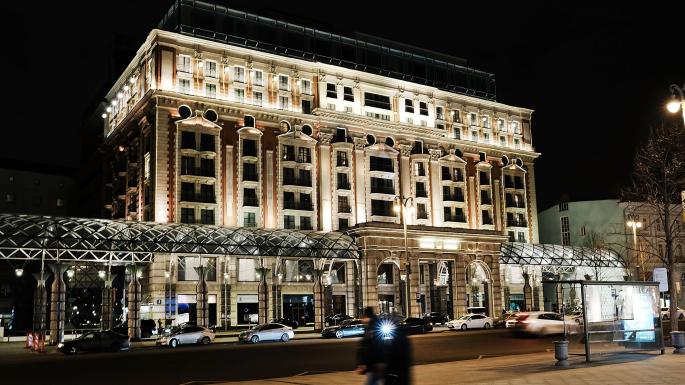 Hotelier's transactions via Cork highlight how oligarchs funnel millions through Irish companies to Russia
Three Cork-based companies were used by a Kazakh billionaire to route €228m to Moscow to pay off his loans on the Ritz-Carlton hotel, where Donald Trump reportedly stayed in 2013 while attending the Miss Universe pageant.
The three Irish entities were used by Bulat Utemuratov, the richest man in Kazakhstan, to pay off his loans on the luxury hotel, which he bought for about €525m in 2011. Utemuratov's only previous involvement with Ireland was purchasing what was once Derek Quinlan's villa in the French Riviera, which had been on the market for €65m.
The Moscow hotel came to worldwide attention last year following allegations by a former MI6 agent that Trump had hired prostitutes to urinate on a bed previously slept in by his predecessor, Barack Obama, in 2009. Trump denied it.
The involvement of the Cork companies in its financing highlights how vast sums of money are being moved through Irish entities to Russia by some of the world's wealthiest oligarchs. Recent research by Trinity College Dublin found that 125 Russian-linked companies had raised €103bn through the International Financial Services Centre since 2007.
Utemuratov is a close aide to Nursultan Nazarbayev, the authoritarian president of Kazakhstan, who is regarded as a strong ally of the Russian president Vladimir Putin.
Company documents show that the three Irish firms beneficially owned by Utemuratov — Spelugues, Tenao and Moneghetti — all have an address at South Mall in Cork. The three were incorporated as special purpose vehicles (SPVs) in July 2012, a year before Trump's visit to Utemuratov's five-star hotel.
The money was transferred to Moscow through a complex series of transactions. On November 18, 2014, Utemuratov's Verny Capital transferred €820m in shares it owned in global mining giant Glencore to the three Irish companies. On December 18, 2014, the three Irish SPVs used the shares as collateral to borrow €228m. On the same day, one of the three, Moneghetti, transferred more than €207m to the two companies that own the Moscow Ritz Carlton — Red Square Investment Company BV and Wilbur Real Estate 7, a company registered in the Cayman Islands tax haven.
After the loans were paid off, the hotel underwent a multimillion-euro refurbishment, including a new 2,590 sq ft presidential suite located on the top floor of the hotel, with floor-to-ceiling windows overlooking the Kremlin and Red Square.
Donald Trump, pictured right with Miss Universe 2013 Gabriela Isler, was reportedly a guest at the Ritz-Carlton ALEXANDER NEMENOV/GETTY Verny Capital confirmed this weekend that the Irish companies had been used to route the money to Russia through a series of deals. "We confirm that the Glencore shares held by the three below-mentioned Irish entities (Spelugues, Tenao and Moneghetti) were used as collateral to borrow $260m (€227m) in December 2014," it said. Verny Capital also confirmed that Moneghetti subsequently transferred $260m "to repay the then existing loans of the hotel".
Utemuratov, a former Kazakhstan trade ambassador to the United Nations, made much of his fortune through a series of share deals with Glencore, including the sale of stakes in a Kazakh goldmine and in a company that is one of the world's largest producers of zinc. Forbes magazine estimates his fortune at $2.6bn.
The vast sums of Russian money passing through Ireland recently prompted Bill Browder, a financier who is a critic of the Putin regime, to call on the Irish government to introduce legislation curtailing the activities of Russian businesses. Browder, who runs an investment fund, claims corrupt Russian state officials murdered one of his employees, a lawyer called Sergei Magnitsky, in a Moscow prison in 2009. He believes Magnitsky was targeted after raising concerns over an alleged tax fraud committed by Russian government officials.
The Times, August 12 2018