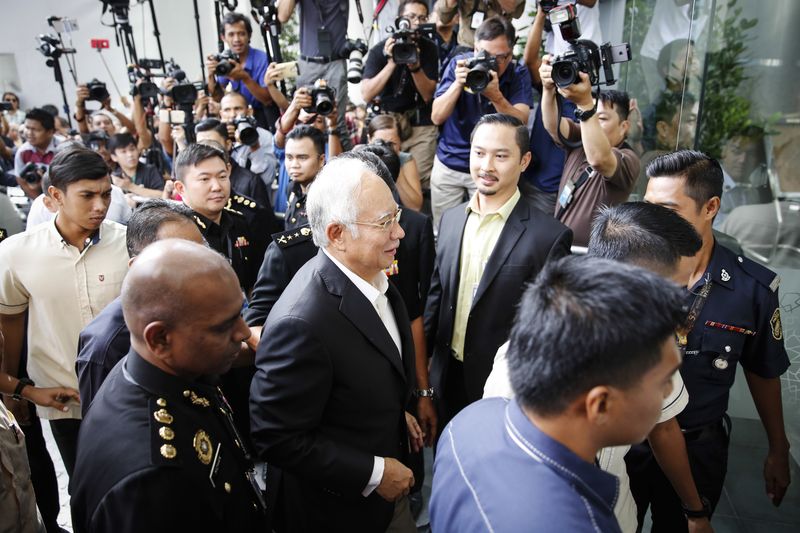 Najib Razak at the Malaysian Anti-Corruption Commission headquarters on May 24. Photographer: Joshua Paul/Bloomberg
Malaysia's new government has wasted no time training its sights on 1MDB, the scandal-ridden state investment company that's spurred criminal and regulatory probes around the world.
Less than a day after taking office, new Finance Minister Lim Guan Eng had ousted premier Najib Razak in his cross-hairs as he spoke of a cover-up of 1MDB's finances. In his latest salvo, Lim asked Najib to explain where $8.3 billion raised and planned for certain ventures had "gone to," implying funds may have been misused when the former leader was chairman of 1MDB's advisory board.
But answers to Lim's queries can be found in documentation assembled by investigators from Switzerland to the U.S. and Singapore as they probe 1MDB's links to cases of embezzlement and money laundering. In mapping a money trail that stretched from Kuala Lumpur to Hollywood, U.S. authorities laid out how about $4.5 billion of 1MDB funds may have been misappropriated, while a Malaysian probe separately identified billions of dollars more missing in irregular transactions. Under Najib's administration, 1MDB consistently said all its funds were accounted for.
How Malaysia's 1MDB Scandal Shook the Financial World: QuickTake
Here are the three questions Lim asked and this is what investigators say happened.
The Saudi Oil Venture
1. Where has the $1.83 billion invested with PetroSaudi International Limited between 2009 and 2011 gone to?
In September 2009, 1MDB agreed to invest $1 billion in a joint venture with a private oil exploration company, PetroSaudi. The agreement called for 1MDB to transfer the money to the joint venture's bank account but investigations showed $700 million instead went to one controlled by Malaysian financier Low Taek Jho, who U.S. prosecutors portray as the puppet master behind some of the schemes involving missing funds at 1MDB. (Low has denied wrongdoing.)
Photographer: Dimitrios Kambouris/Getty Images for Gabrielle's Angel Foundation
When 1MDB decided to exit the venture in June 2010, it received $1.2 billion in Islamic debt notes issued by 1MDB-PetroSaudi, and in accordance with a financing agreement, it provided the venture with $830 million in loans over the next year. That brought 1MDB's investment to $1.83 billion. Of the additional borrowings, a probe showed $330 million went to Low's account.
After multiple restructuring agreements on 1MDB's investment in what the U.S. described as "a series of complicated and commercially unnecessary transactions," it ended up with about $2.32 billion of units in a Cayman-registered fund which investigators said was a "fraudulent valuation." Its auditor KPMG resigned in early 2014 amid concern of the nature of the underlying assets for the so-called fund units and how they were valued.
1MDB later said it redeemed about $1.4 billion of fund units, while the U.S. alleges some of it was money from a bank loan which was made to appear like a redemption. On the remaining $940 million, a 1MDB director last week told Lim that the company's management failed to supply proof of such holdings over the past two years, and called it a "scam."
Investments in Power Plants
2. Where has the $3.5 billion raised in 2012 for the purposes of acquiring power plants in Malaysia gone to?
Goldman Sachs Group Inc. advised 1MDB on its acquisition of Tanjong Energy Holdings from Malaysian billionaire Ananda Krishnan and domestic power plants from Genting Bhd., a conglomerate. To help finance the purchases, Goldman arranged two separate bond offerings in 2012.
The U.S. Department of Justice alleges Low and 1MDB officials diverted more than 40 percent of the net amount raised, or $1.4 billion, to a Swiss bank account belonging to a British Virgin Islands entity known as Aabar Investments PJS Limited or Aabar BVI. The BVI entity bore a similar name to Aabar Investments PJS, a unit of an Abu Dhabi wealth fund IPIC which co-guaranteed the bonds.
Bond offering circulars didn't state some of the proceeds would be transferred to Aabar. The U.S. said 1MDB -- in its audited accounts -- booked the payment to Aabar as a refundable deposit that was collateral for the guarantee, while Low and 1MDB officers told bank officials they were non-refundable payments for IPIC's backing of the debt.
Separately, a bipartisan Malaysian parliamentary committee said in 2016 it couldn't verify separate payments totaling $2.1 billion to Aabar BVI. 1MDB had said it could be a victim of fraud if payments of $3.5 billion intended for IPIC via its unit never made it there.
Najib's Personal Accounts
3. Where has the $3 billion raised in 2013 for the purposes of investing in TRX gone to?
In 2012, Najib inaugurated Tun Razak Exchange -- a financial center to be built on 70 acres of prime Kuala Lumpur real estate. Named after his father and the country's second premier, the development known as TRX had a projected sales value of 40 billion ringgit.
1MDB issued $3 billion in debt underwritten by Goldman in March 2013 to raise capital for "new strategic economic initiatives between Malaysia and Abu Dhabi" and said TRX could be the venture's first investment. U.S. investigators allege about $1.3 billion from the offering was diverted to accounts whose beneficial owner was an associate of Low's.
Accusations with more serious implications for Malaysian politics surfaced. Probes showed that within days of the closure of the bond offering, $681 million of the diverted funds were transferred to an account belonging to a Malaysian government official whose description matched Najib's.
The former premier has acknowledged receipt of $681 million while denying wrongdoing and saying it was a political donation from a royal family in Saudi Arabia, a point backed by Saudi's foreign affairs minister. About $620 million was returned to the account belonging to Low's associate in August 2013.
Investigators say some of the embezzled funds were used to buy artworks which ended up with Low. The Malaysia-Abu Dhabi joint venture, "which was the stated basis for the 2013 bond sale, was ultimately never funded," the U.S. said. TRX is under development with its first office building earlier scheduled to be ready by the end of 2018.
Bloomberg.Com, 30.05.2018