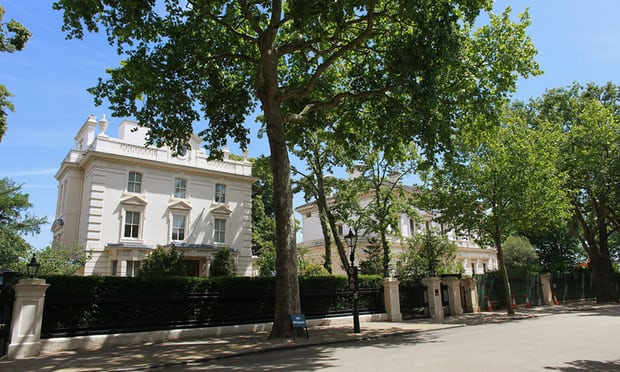 Frontmen of foreign shell companies that are used to hide the true ownership of some of London's most expensive properties could face up to two years in jail and unlimited fines under new government plans.
The government announced the new sanctions on Thursday as it unveiled plans to set out draft laws this summer to lift the secrecy surrounding foreign ownership of billions of pounds worth of British property.
Under the draft laws, foreign companies must disclose who ultimately owns their properties. The plans follow new rules on ownership and control of UK companies that were introduced in 2016.
Questions surrounding secret and offshore ownership were highlighted by revelations from the Paradise Papers, published in the Guardian.
However, the timetable for the new property register had been subject to numerous delays and even a threat of rebellion by two Tory peers, who put forward an amendment to the sanctions and anti-money-laundering bill in January.
Facing a potential defeat, the government announced that it would table draft legislation by this summer, though transparency campaigners have said this will still in practice delay an operational register until 2021.
Russian ownership of UK property has been under the spotlight since the nerve agent attacked attributed to the Kremlin in Salisbury.
A Whitehall source said though the new draft law was not explicitly aimed at Russia, the UK had seen a significant increase in the number of Russians seeking to invest in property, with one estate agent reporting a 30% increase in interest in the first quarter of 2017.
Prominent Russian figures with ties to the Vladimir Putin regime own British properties worth nearly £1.1bn, although the true value may be greater because of the way ownership can be concealed.
In the Commons earlier this week, the Liberal Democrat leader, Vince Cable, cited the case of Russia's first deputy prime minister, Igor Shuvalov, who owns two flats in Whitehall bought in 2014 for £11.4m by a company that campaigners have alleged the minister owns. Shuvalov's official salary in 2014 was £112,000.
Campaigners have repeatedly called for similar register of beneficial ownership to reveal details of companies based in Britain's overseas territories, some of which have become major tax havens, which the government has so far resisted imposing, despite previous support by David Cameron.
British crown dependencies and overseas territories are currently only required to provide information on the true owners of offshore companies to law enforcement agencies, and only if requested.
The business minister, Andrew Griffiths, confirmed on Thursday that the UK would seek to introduce the UK property legislation early in the second session of this parliament.
"The UK is taking a leading role in the global fight against corruption, including cracking down on the use of shell companies to launder dirty money by buying up some of London's prime real estate," he said.
"Our public register will ensure we know who owns UK property wherever they are from and will help authorities come down hard on frontmen seeking to conceal their paymasters' true identities.
"This is the first register of its kind in the world and we must be careful to ensure it strikes the right balance between improving transparency and minimising burdens on legitimate owners."
In the announcement, the Department for Business, Energy & Industrial Strategy said more than £180m worth of property in the UK has been brought under criminal investigation as the suspected proceeds of corruption since 2004, and more than 75% of properties currently under investigation use off-shore corporate secrecy.
www.theguardian.com, 22 Mar 2018