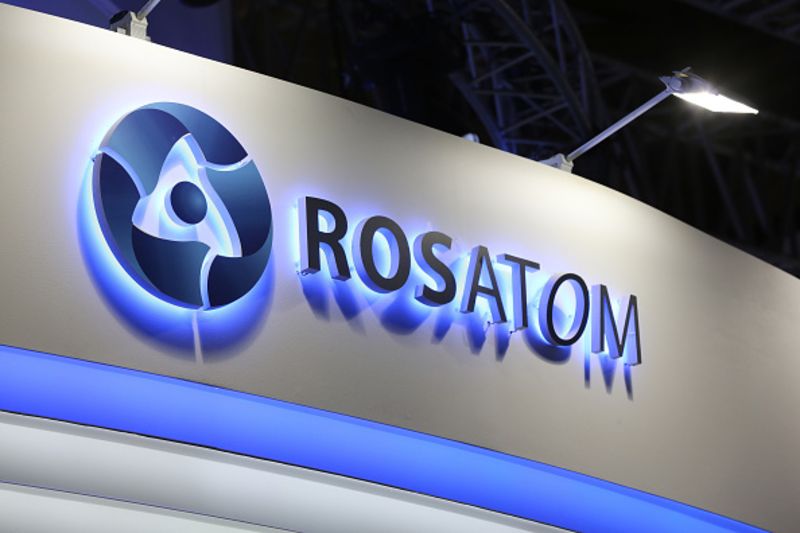 A rekindled nuclear scandal shows how Russia exports corruption to the West.
The biggest Russian threat to Western institutions doesn't come from disinformation or the clever use of social networks but from a certain kind of money that, by its very nature, corrupts everything it touches. To understand how that works, it's worth re-examining a uranium story that has resurfaced as part of the U.S. political debate after Washington, D.C. publication The Hill ran an article about it on Tuesday.
The article, which prompted the Senate Judiciary Committee to open a probe into "Russian nuclear bribery," recounts how the Obama administration approved the sale of Uranium One, a Canadian company with some U.S. mining assets, to Russian state-owned nuclear power monopoly Rosatom, despite an ongoing Federal Bureau of Investigation corruption probe into the activities of a Rosatom official in the U.S. The Uranium One case and the bribery case of the official, Vadim Mikerin, were reported by the media separately but it's the linking of the two by The Hill that has caused a ruckus.
Tenam, the company Mikerin set up and ran in the U.S., is a subsidiary of Rosatom's foreign trade arm, known outside Russia as Tenex. Vadim Zhivov, who became president of Uranium One after Rosatom assumed control in three separate deals between 2009 and 2013, was also deputy head of Tenex and might have run the company had he been willing to give up his Canadian dual citizenship. Mikerin, the son of a Soviet deputy minister for nuclear energy, had only ever worked in the Rosatom-Tenex system, which he knew inside out and, it turned out, exploited for personal profit.
When Rosatom decided in 2010 to acquire Uranium One and applied to the Committee on Foreign Investment in the U.S. (Cfius) for approval, Mikerin was the top Rosatom official in the U.S. Though his primary responsibility was to facilitate the sales of Russian uranium to U.S. power plants, it's likely he was involved in planning the Uranium One purchase. Mikerin was under an FBI investigation for offering a U.S. businessman a consulting contract in exchange for kickbacks; the American went to the authorities and was allowed to pay the kickbacks as the FBI and the Department of Energy watched and recorded everything.
Along the way, they discovered that Mikerin also received kickbacks from U.S. companies involved in the transportation of Russian uranium in the U.S., and that he apparently shared the money -- in cash -- with his Rosatom superiors when they visited. Some of that was known to government agents before Cfius approved the Uranium One deal, but, apparently, it never come up in discussions, though Attorney General Eric Holder was on the committee.
Secretary of State Hillary Clinton also sat on the committee. By the time of the Uranium One decision, the charitable foundation run by her husband Bill Clinton had received, but not fully disclosed, hundreds of thousands of dollars in donations from a Uranium One shareholder and former chariman, Ian Telfer, who stood to benefit from a generous Rosatom offer of a premium to the stock price. In June, 2010, when Rosatom made known its interest in controlling Uranium One, Bill Clinton received $500,000 for a speech organized by Renaissance Capital, a Russian investment bank that was talking up Uranium One shares.
Ostensibly, these were all unrelated events: A kickback probe into the work of a Rosaton official in the U.S.; Rosatom's bid for Uranium One and for U.S. approval of the deal; Bill Clinton's fundraising. No one has managed to connect the dots convincingly, since there was no formal link between Mikerin and Uranium One, Hillary Clinton maintained she'd done nothing to expedite the deal, and Telfer insisted he'd never talked to her about it.
Russia, however, is a land of magic. Whatever happened in Washington in 2010, Rosatom ended up owning Uranium One. In 2016, it made an operating profit of $67.8 million on $314.6 in revenue.
When Mikerin was finally arrested in 2014, some four years after government agents had proof of his kickback schemes, Rosatom said the arrest could be "politically motivated." But the Russian government didn't see much propaganda value in his case; in 2015, he was quietly sentenced to four years' imprisonment in a plea deal and the U.S. government recovered $2.1 million in ill-gotten gains from him.
The story of toxic Russian money -- government money handled by crooked officials and the profits they make from it -- is, however, all about connecting the dots. For example, one of the companies the U.S. court was told Mikerin used to receive kickbacks, the now-defunct U.K.-based Leila Global Limited, was part of a network of firms ostensibly controlled by Latvians Erik Vanagels and Stan Gorin. The company that owned Black Sea Cable -- the only Ukrainian asset political consultant Paul Manafort attempted to buy as part of an investment project with Russian billionaire Oleg Deripaska -- belonged to the same network, as did the firm to which ownership reverted after the Manafort deal apparently fell through.
The post-Soviet money web is there for any interested agency to investigate. So far, however, it's mainly investigative journalists who manage to connect a few dots every once in a while.
As for the toxic money, it keeps circulating, carrying the corruption virus to ostensibly unrelated parts of Western economic and political systems. Sometimes, tiny amounts are recovered by the authorities: the $2.1 million in the Mikerin case or the $5.9 million in the Prevezon case, related to a massive Russian tax scam. The defendant in that case, Denis Katsyv, had hired Natalya Veselnitskaya, the lawyer who famously met with with Manafort and Donald Trump's son last year. With billions of misappropriated or mishandled Russian money flowing through Western financial systems, such recoveries are mockingly inadequate.
To get at Russian interference in Western politics, Western nations must work diligently at unraveling the shell companies and networks and keep following the money. They need to start asking questions about apparently unrelated events that lead to Kremlin-favored outcomes. And they need to take a long, hard look at state-controlled Russian business entities operating in the West.
It's a harder path than examining Russian state TV programs for propaganda and perusing Facebook for signs of interference. It is, however, the only way to get at real, effective Russian influence and at Western politicians entangled in the corrupt web the Kremlin has spun. In the U.S., they're likely to be a bipartisan bunch: President Vladimir Putin's Russia is commercially, not ideologically motivated.
This column does not necessarily reflect the opinion of the editorial board or Bloomberg LP and its owners.
Bloomberg, 18.10.2017