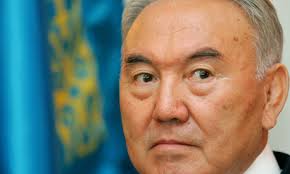 Kazakhstan dropped AO Transtelecom, the provider of phone and Internet services headed by President Nursultan Nazarbayev's grandson, from its list of state-run companies slated for sale through initial public offerings.
"The government set the task of selling most companies to private investors this year," sovereign wealth fund Samruk-Kazyna, the parent of Transtelecom, said today by e-mail from the capital, Astana. "Share sales of companies on bourses take more time for preparations, which is why a decision was made to sell some companies at auction," including a 49 percent stake in Transtelecom, it said.
Kazakhstan is offering stakes in state-owned assets through share sales and auctions as part of a privatization drive championed by Nazarbayev. The country is seeking to attract foreign investors with tax breaks and lure funds by planning an amnesty on capital repatriation.

Nurali Aliyev, 29, the son of Nazarbayev's oldest daughter, Dariga, was named as chief executive officer of Transtelecom in November. On April 14, the telecommunications unit of state-owned railway company Kazakhstan Temir Zholy was included by the government in its plan for 2014-2016 IPOs.
To contact the reporter on this story: Nariman Gizitdinov in Almaty at This email address is being protected from spambots. You need JavaScript enabled to view it.
To contact the editors responsible for this story: Alaric Nightingale at This email address is being protected from spambots. You need JavaScript enabled to view it. Paul Abelsky, Elizabeth Konstantinova
Bloomberg News