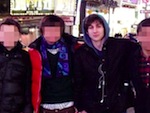 After two Kazakh students are charged with disrupting the investigation into the Boston bombing, residents from Kazakhstan defend their compatriots. The surviving Boston Marathon bombing suspect exchanged text messages with a friend who had become suspicious after seeing what looked like a familiar face on television, authorities say. That friend and two others now stand accused of aiding the suspected bombers.
Dias Kadyrbayev texted his college buddy Dzhokhar Tsarnaev, saying he looked like one of the bombing suspects. Kadyrbayev and his roommate Azamat Tazhayakov, both from Kazakhstan, were charged yesterday with conspiring to destroy emptied fireworks and other evidence linking their friend to the deadly April 15 blasts.
Another man, Robel Phillipos, who graduated from school with Tsarnaev in 2011, was charged with lying to investigators about the April 18 visit to his friend's dormitory room to retrieve the items.
Three people were killed and more than 260 wounded when two bombs exploded near the marathon's finish line. Tamerlan Tsarnaev, 26, died after a gunfight with police days later. Younger brother Dzhokhar was captured and remains in a prison hospital.
The mother of the Tsarnaev brothers has said the allegations against her sons are lies.
Kazakhstan's Foreign Ministry said today it was cooperating with the United States in the case.
"Both Kadyrbayev and Tazhayakov are cooperating with the investigative bodies and providing them assistance," the Kazakh Foreign Ministry said in a statement. "As we have repeatedly stressed, Kazakhstan strongly condemns any form of terrorism."
The lawyers for the Kazakh students said their clients had nothing to do with the bombing and were just as shocked by the crime as everyone else. Phillipos' attorney, Derege Demissie, said outside court: "The only allegation is he made a misrepresentation."
The Kazakh students did not request bail at a hearing yesterday and face another hearing May 14. Phillipos has a hearing on Monday. If convicted, Kadyrbayev and Tazhayakov could get up to five years in prison and a US$250,000 fine. Phillipos faces a maximum of eight years behind bars and a US$250,000 fine.
Kadyrbayev and Tazhayakov have been in jail for more than a week on allegations they were in violation of their student visas, one because he was skipping classes, the other because he was no longer enrolled.
"Tsarnaev's return texts contained 'lol' and other things Kadyrbayev interpreted as jokes such as 'you better not text me' and 'come to my room and take whatever you want,"' an FBI agent wrote in an affidavit.
Tazhayakov told authorities that during a meal about a month before the bombings that Tsarnaev told him and Kadyrbayev "that he knew how to make a bomb." That is significant because, before he was advised of his rights not to speak with authorities, the 19-year-old suspect allegedly said his older brother had only recently recruited him to be part of the attack.
According to the FBI account, just hours after surveillance camera photos of the two suspects were flashed around the world April 18, Tsarnaev's friends suspected he was one of the bombers and removed a backpack along with a laptop from Tsarnaev's dormitory room.
One of them later threw the backpack in the garbage, and it wound up in a landfill, where it was discovered by law enforcement officers last week, authorities said. In the backpack were fireworks that had been emptied of their gunpowder.
Investigators have not said whether the pressure cooker bombs used in the attacks were made with gunpowder extracted from fireworks.
Kadyrbayev, an engineering major, said he and Tazhayakov hung out with Tsarnaev on and off campus. The three often spoke Russian among themselves. He told authorities he became "better friends" with Tsarnaev, an ethnic Chechen, in spring 2012, and that he was a frequent visitor to the Tsarnaev home in Cambridge, near Boston.
The FBI said that before Tsarnaev's roommate let the three friends into the room, Kadyrbayev received a text message from Tsarnaev that read: "I'm about to leave if you need something in my room take it," according to the FBI. When Tazhayakov learned of the message, "he believed he would never see Tsarnaev alive again," the FBI said in the affidavit.
It was unclear from the court papers whether authorities believe that was an instruction from Tsarnaev to destroy evidence.
Once inside Tsarnaev's room, the men watched a movie. At some point, they noticed a backpack containing more than a half-dozen fireworks, each about 8 inches (203 millimetres) long, according to the affidavit. The black powder had been scooped out.
The FBI said that Kadyrbayev knew when he saw the fireworks that Tsarnaev was involved in the bombings and decided to remove the backpack "to help his friend Tsarnaev avoid trouble."
Kadyrbayev also decided to remove Tsarnaev's laptop "because he did not want Tsarnaev's roommate to think he was stealing or behaving suspiciously by just taking the backpack," the FBI said.
After the three returned to Kadyrbayev's and Tazhayakov's apartment with the backpack and computer, they watched news reports featuring photographs of Tsarnaev. The FBI said Kadyrbayev told authorities the three men then "collectively decided to throw the backpack and fireworks into the trash because they did not want Tsarnaev to get into trouble."
When the backpack was later found, inside it was a homework assignment sheet from a class Tsarnaev was taking, the FBI said.
The court papers do not say what happened to the laptop.
In a footnote, the FBI said: "Tazhayakov also informed the FBI agents that while eating a meal with Dzhokhar and Kadrybayev approximately one month prior to the marathon bombing, Dzhokhar had explained to Kadyrbayev and Tazhayakov that he knew how to make a bomb."
Robert Stahl, an attorney for Kadyrbayev, said his client "absolutely denies the charges" and didn't know that the backpack and fireworks were part of the bombing case. Kadyrbayev is "just as shocked and horrified by the violence in Boston that took place as the rest of the community is," the lawyer said.
He also denied that Kadyrbayev instantly recognised Tsarnaev's photo and said Kadyrbayev didn't know Tsarnaev was involved in the bombing: "His first inkling came much later," he said.
Tazhayakov's lawyer, Harlan Protass, said Tazhayakov "feels horrible and was shocked to hear that someone he knew at the University of Massachusetts Dartmouth was involved with the Boston Marathon bombing."
AMERICAN DREAM GOES SOUR
Going to study in America was a dream come true for Kazakh students Kadyrbayev and Tazhayakov, an escape from a regimented life under authoritarian rule in their Central Asian homeland.
Their arrest on charges of impeding the investigation into the Boston Marathon bombings to help their friend, prime suspect Dzhokhar Tsarnaev, left many in the huge former Soviet republic in disbelief.
Tazhayakov had enjoyed a privileged upbringing, attending an elite school in the capital Astana. Kadyrbayev had found it harder at school in the commercial capital Almaty but was delighted when he got the grades to study in the United States.
Although Kadyrbayev listed Islam as his world view on what appears to be his social media site, nothing obvious marked either out as someone who might one day help a suspected bomber.
"He studied here for a year. He didn't do particularly well at anything," said Yuri Dovgal, deputy director of academic affairs at a school attended by Kadyrbayev in Almaty which specialises in mathematics and physics.
Asked about Kadyrbayev's religious leanings, he said: "There was nothing of the kind. Just a lack of punctuality."
Tazhayakov and Kadyrbayev, both 19, are charged with conspiring to obstruct justice by hiding a backpack and fireworks they found in Tsarnaev's dorm room. They could face up to five years in prison.
PRESIDENT'S IRON GRIP
There appears to have been nothing extraordinary about the two boys as they were brought up in different cities in Kazakhstan, a country five times the size of France and home to 3 percent of the world's recoverable oil reserves.
Kazakhstan has been ruled by one man, President Nursultan Nazarbayev, since it became independent of the Soviet Union in 1991. He shows no tolerance of dissent and no sign of relaxing his firm grip on the country of steppes, desert and mountains.
"We were shocked. Everyone knows my son. He's never fought anyone," Amir Ismagoulov, Tazhayakov's father, told a local television channel. "He's never been in touch with any radicals. He doesn't go to the mosque unless we go or there's another reason. In the US he has never been to a mosque."
The interview was recorded a week before the boys were arrested over the bombing. Ismagoulov was commenting on his son's detention with Kadyrbayev on suspicion of violating the terms of their US visas by skipping class.
Kadyrbayev's father also defended his son in an interview with a local television station last week.
"He passed his exams this summer ... The invitation came through from the university, and everyone was very happy," Murat Kadyrbayev said in comments made after his son was questioned over the bombings last month.
"As my son was a friend of Tsarnaev in the campus dormitory, they came under suspicion. But they were released within 12 hours because they had nothing to do with these events."
What is not in doubt is that they both knew Tsarnaev, an ethnic Chechen who had lived in Russia's North Caucasus.
Tsarnaev was captured by police after a manhunt. His brother Tamerlan, who is also suspected of carrying out the bombings, was shot dead by police in a firefight.
Both Kadyrbayev and Tazhayakov have pictures of themselves with Tsarnaev on what appear to be their profiles on VKontakte, a Russian-language social media site.
On his, Kadyrbayev lists his world view as Islam and says the main thing in life is "perfecting the world".


LOVE OF CARS AND MUSIC
The pictures and videos on the site show his love of BMW cars. Kadyrbayev's father said the two students had bought one themselves and dismissed suggestions it had been stolen.
One picture appears to show Kadyrbayev standing with Tsarnaev and Tazhayakov in Times Square in New York.
What appears to be Tazhayakov's VKontakte profile shows his love of soccer and U.S. pop music, at one point quoting a song by the group Green Day. There are no obvious signs that might point to militant or radical beliefs.
Friends and relatives described Kadyrbayev as sociable and always ready to help others. His father said he loved listening to music and writing songs. But he appears at one stage to have been thrown out of school for not doing well enough.
"He entered (the school) in 2008 the same way everyone else did, through a competitive process. They have to pass three subjects: maths, physics and logic in the form of a test. He got the necessary score, he got on the list and was accepted," Dovgal told Reuters.
"But at the end of ninth grade in 2009, he was expelled. So he was expelled ... because he only had 'satisfactory' marks in the core subjects, such as algebra, geometry and physics."
It was not immediately clear where he finished school before going to the United States.
Tazhayakov's parents were divorced when he was a child. Born in the town of Atyrau, known as the oil capital of Kazakhstan, he later studied at the private "Miras" school in Astana.
The Kazakh Foreign Ministry issued a statement on Thursday condemning any form of terrorism and said it was cooperating with the United States over the bombings. But many people in Kazakhstan were simply bewildered.
"This doesn't mean that they were involved. Maybe they didn't know that they (the Tsarnaevs) were terrorists. Friends are friends, friends can be different. You don't even know what they do before (you meet them)," said Timur, a student.
Another Almaty resident, who gave her name only as Meruert, said: "You know, I think they're innocent, that they weren't involved in any way. They just turned out to be in the wrong place at the wrong time, with the wrong people."
- AP