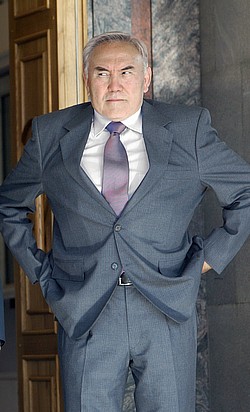 After the Kazakhstan Government asked the Swiss to look into foreign bank accounts held by one of the opponents of the Kazakhstan President, the Swiss wound up freezing an account kept for the benefit of the President himself.
Daniel Devaud, the investigating magistrate in Geneva, froze an account last August at Credit Agricole Indosuez, the Swiss affiliate of a French bank, that he believed was available for the benefit of President Nursultan A. Nazarbayev, people with knowledge of the inquiry said. It was not known whether the President's name was on the account.
The source of the Kazakh money held in Switzerland could not be determined. Kazakhstan has received more than $2 billion from foreign companies for rights to explore and develop its vast oil fields. Some of the money was deposited in Government accounts in Swiss banks, people with knowledge of the deals said.
The freeze came after Kazakhstan Government prosecutors asked Mr. Devaud to examine the assets of a vocal opponent of Mr. Nazarbayev, the self-exiled Akezhan Kazhegeldin, who was Prime Minister from 1994 to 1997.
Instead, Mr. Devaud widened the money laundering inquiry that had focused on high-level Russian officials and ended up freezing several Kazakhstan accounts in at least two Swiss banks, people with knowledge of the order said.
A request by lawyers for the Kazakh Government to have the freeze lifted is pending in a Geneva court. A Kazakhstan Government spokesman declined comment, as did Mr. Devaud.
The examination of Kazakhstan assets is separate from a Swiss investigation of a construction company, Mabetex Project Engineering Group of Lugano, that performed major construction work in both Russia and Kazakhstan.
Mabetex won large contracts to renovate the Kremlin and, according to investigators, paid kickbacks to Russian officials. It is also accused of providing credit card accounts for the family of President Boris N. Yeltsin, who has denied the existence of such accounts.
Mabetex also did construction work in the past few years in a new capital city that Mr. Nazarbayev, the Kazakhstan President, built in Astana, on the country's vast steppe.
Swiss authorities are looking into whether Mabetex may have paid kickbacks or provided other benefits to Kazakhstan officials in return for construction contracts, people with knowledge of the investigation said.
Mr. Nazarbayev, 59, Kazakhstan's former Communist Party leader during the Soviet period, rules his republic autocratically. He has formed strong friendships with power figures in both the Democratic and Republican parties in the United States, Kazakhstan's main guarantor of independence.
Since last August, the State Department has been considering sanctions against Kazakhstan because it sold some 40 MIG fighter aircraft to North Korea, a rogue nation the United States views as a supporter of terrorism.
In addition, Washington has criticized Kazakhstan for its treatment of Mr. Kazhegeldin, the former Prime Minister and opponent of the President.
Mr. Kazhegeldin, 47, was barred from running for President last January, failed to qualify for last Sunday's parliamentary elections, and last month was briefly arrested in Moscow on a Kazakhstan accusation of corruption and abuse of power. He was later released without being charged.
Kazakhstan has accused Mr. Kazhegeldin of enriching himself as Prime Minister and as part of its campaign against him the Government last summer asked Switzerland to disclose any bank assets held by him or his family. Mr. Kazhegeldin has denied the accusations.
Mr. Kazhegeldin also held $4.5 million in deposits at Pictet and Company, a Geneva bank, at least until 1997. But he withdrew most or all of the funds from Switzerland to an undisclosed destination, according to documents of the accounts.
When the Swiss investigators responded to the request for assistance from the Kazakhstan Government, they turned up several Kazakhstan accounts in Swiss banks.
One set of transactions particularly caught their attention: the movement last summer of between $80 million and $85 million from a Kazakhstan Government account at Credit Agricole Indosuez to what appeared to be a personal account at the same bank held for the benefit of the President.
In August, after Mr. Devaud initiated his inquiry, the money was suddenly transferred from the personal account to a Kazakhstan Government account at Pictet and Company, according to people with knowledge of the accounts who spoke on condition of anonymity.
Officials at both banks said they were barred by Swiss bank secrecy laws from commenting. Swiss law strictly prohibits officials, lawyers and bankers from discussing such criminal investigations.