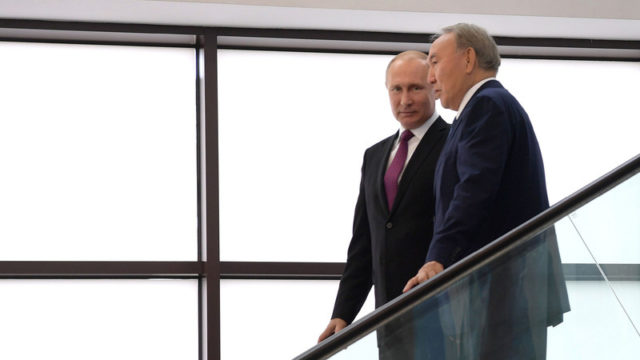 Recent developments in Armenia, where a former president–turned–prime minister, Serzh Sargsyan, hastily stepped down in the face of vigorous street protests on April 23, underscored the potential vulnerability of Russia's regional alliances.
The Eurasian Economic Union (EEU) has been a pillar of Russia's post-Soviet diplomacy since its formation in 2014, following two decades of various regionalist experiments with trade and economic integration. The EEU has three founding members—Russia, Kazakhstan and Belarus—and two later joiners, Armenia and Kyrgyzstan, respectively, since January and August 2015. Of these, Armenia now has a leader who promised to maintain his country's close political-security links to Russia, while at the same time calling for an "Armenia first" policy agenda (see EDM, April 24, May 3, 10). Belarus is regularly at loggerheads with Russia over a range of issues, from oil supplies to the milk trade. And Kyrgyzstan still cannot forgive Russia's 2015 withdrawal from a gigantic hydropower plant project initially agreed on three years before (RBC, May 1, 2018; Panorama.am, April 23, 2018; Kloop.kg, December 24, 2015).
Kazakhstan, meanwhile, has been and will likely long remain Russia's key ally both within the EEU and in the wider former Soviet space. Yet, relations between the two countries are also far from halcyon at present. On May 5, Kazakhstani President Nursultan Nazarbayev signed into law an addendum to a September 2017 protocol between his country and the United States regarding the allocation of two additional points of transit in Kazakhstan for US military goods going to or from Afghanistan. Although the existence of this additional agreement had been known for more than half a year, news of its definitive approval caused an uproar in the Russian media. The first deputy of the Duma committee for Commonwealth of Independent States (CIS) affairs, Konstantin Zatulin, publicly expressed anxiety and complained that Kazakhstan exhibits neutrality when it comes to Russia but consistently refers to "strategic cooperation" with the US. Expert opinions were divided; yet the most negative response came from anonymous commentators who accused Kazakhstan of "betrayal" and "blackmail," among other supposed transgressions (see EDM, April 26; Regnum, Politikus.ru, April 25).
To allay fears and dispel concerns, the Kazakhstani embassy in Moscow had to issue a formal statement asserting that Russia used to have a similar arrangement in place with the US for military transit to and from Afghanistan (Kazembassy.ru, April 26). It should be noted, however, that the latest public debate about the strength of the Kazakhstani-Russian partnership was launched in Russia by a prominent Moscow-based journalist, Vladimir Solovyev. He anchors a nationally broadcast daily talk show on Vesti, one of the two (together with Channel 1) most popular Russian TV channels. His remarks followed an April 14 session of the United Nations Security Council, during which Kazakhstan abstained from voting on a Russian-backed resolution condemning the US's and its allies' airstrikes in Syria. "This is not the first time that Kazakhstan expresses an ambiguous position. Maybe we do not know something about our relations with this country… Should we expect the next Maidan [after the 2014 EuroMaidan, i.e. a popular revolution in Ukraine] will occur in and against Kazakhstan, so it can be torn away from Russia?" mused Solovyev (Sputniknews.kz, Novaya Gazeta, April 17; NTV, April 14).
Kazakhstan's Ministry of Foreign Affairs was quick to hit back at Vladimir Solovyev's comments, with Deputy Minister Yerzhan Ashikbayev promising to take "appropriate measures" aimed at avoiding any damage to the "strategic alliance and brotherly relationship" between Kazakhstan and Russia. Prominent political scientist Dossym Satpayev was more outspoken and suggested banning the likes of Solovyev from entry into Kazakhstan for his provocative statements or actions that question Kazakhstan's right to a sovereign foreign policy. Many Kazakhstanis, including those with Russian-sounding online pseudonyms, sounded even more critical on Internet comments sections: some of them suggested prohibiting broadcasts of Vesti throughout the country or asking for a formal apology from the TV channel or even the Russian government. The two episodes—whether about Syria or military cooperation with the US—amply demonstrated the significant gap that exists between the muted public reactions of Russian and Kazakhstani authorities, on the one hand, and the pent-up anger and indignation among both countries' citizens, on the other (Tengrinews.kz, Nur.kz, April 18; Informburo.kz, 365info.kz, Forbes.kz, April 17).
Earlier, in the middle of March, Russia stirred up a short-lived controversy in response to Kazakhstan's decision to grant visa-free access to US citizens as part of a reform package aimed at attracting additional foreign visitors and investments into the country. Russian Foreign Minister Sergei Lavrov commented that Kazakhstan should have consulted with Moscow beforehand because US citizens traveling to Kazakhstan without visas could attempt to cross into Russia by illegally exploiting the EEU's visa-free regime. Interestingly, Kazakhstan first introduced visa exemptions applicable, inter alia, to US passport holders in July 2014 and has been extending and expanding this program ever since. The Kazakhstani foreign ministry had to issue an official rebuttal, arguing that the EEU was not a political union and that Kazakhstan, as a sovereign state, was fully entitled to exempt citizens of any non-EEU countries from visa requirements. Political scientist Rasul Zhumaly, who had previously worked as a diplomat, said that Lavrov's reaction was a reflection of Russia's post-imperialism, whereby former Soviet states are expected to consult with the Kremlin on every major decision within their state borders (Azattyk.org, March 16; Kursiv.kz, March 15).
President Nazarbayev's recent meeting with Vladimir Putin in Sochi, on May 14, allowed the two leaders to reaffirm their personal friendship and the strategic ties linking Astana and Moscow, both bilaterally and at the EEU level. The Kazakhstani president also chided the media for misrepresenting their disagreements and blowing inevitable difficulties out of proportion (Today.kz, May 15; RIA Novosti, 24.kz, May 14). In truth, however, Russian-Kazakhstani relations were substantially impaired by Russia's annexation of Crimea in early 2014, its support for separatism in eastern Ukraine, several waves of Western sanctions against Moscow, Russian military assistance to Syria and multiple other issues. From a stable partner and military ally, Russia has gradually become more and more of a liability for Kazakhstan, whose multi-vector foreign policy has aspired, since the 1990s, to build and maintain fruitful ties to all neighbors and far-flung partners—including Europe and the US.
Jamestown.Org, May 21, 2018