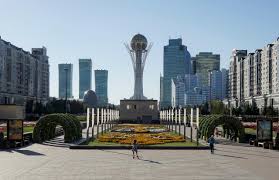 Rothschild, which advises the Kazakh central bank, has recommended that the country's privatisation programme include pre-sales to strategic investors before shares are put on the market.
Oil-rich Kazakhstan, hard hit by the fall in global crude prices LCOc1, has embarked on an ambitious privatisation drive to sharply cut the state's role in the economy by 2021.
Its $67 billion sovereign wealth fund, Samruk-Kazyna, plans to reduce its holdings in assets including Air Astana, uranium producer Kazatomprom and oil company KazMunayGaz (KMG), and Giovanni Salvetti, Rothschild's Russia and CIS chief, told Reuters that his company had suggested "strategic sales" of stakes in large companies selected for privatisation.
"We have shared this idea with top officials and they could consider such an option for certain companies if a fair price is offered. In our view, pre-IPO sales could be done this year while actual IPOs – some time later," Salvetti said in a recent interview.
In remarks cleared for publication on Tuesday, Salvetti said that in his view flagship carrier Air Astana was among the companies most prepared for an initial public offering.
"They could also have a pre-IPO investor especially if you put the company in the frame of the 'One Belt-One Road' infrastructure project," he said, referring to China's project to recreate the old Silk Road trade routes that passed through central Asia.
A secondary share issue of Kazakhtelecom KZTK.KZ could potentially be done quickly as well, he said, while KMG and Kazakhstan Temir Zholy may require two or three years of preparation.
The Kazakh economy ministry, which oversees privatisations, said it was considering the two-step plan.
It told Reuters it was preparing nine companies for public share sales, with Kazakhtelecom, Air Astana and Kazatomprom set for this year depending on market conditions, while KMG, Samruk Energy, Kazpost and Kazakhstan Temir Zholy were expected in 2019-2020. Stakes in national mining firm Tau-Ken Samruk and another airline, Qazaqair, would also be floated at some point.
"Currently, the government is considering proposals to sell small share stakes to strategic investors ahead of an IPO to increase the share value during the IPO," the ministry said in a written reply to a Reuters request.
The flotations would take the form of listing shares on Kazakhstan's new stock exchange, Astana International Financial Center (AIFC), and on overseas exchanges in the form of global depository receipts, the ministry said.
Samruk-Kazyna has proposed to Royal Dutch Shell (RDSa.L) that the Anglo-Dutch oil giant buy a large minority stake in KMG KMGZ.KZ to make its planned flotation more attractive to foreign investors, sources told Reuters earlier this month.
EXPANSION TO UZBEKISTAN

Rothschild advises the National Bank of Kazakhstan and has other advisory business in Kazakhstan that Salvetti said he could not disclose. He and Rothschild board chairman Eric de Rothschild held a meeting with Kazakh President Nursultan Nazarbayev in November, according to the presidential website.
Salvetti said Rothschild was considering expanding its activities to neighbouring Uzbekistan, following steps by President Shavkat Mirziyoyev to open up the economy since he took power following the death of Islam Karimov in 2016.
"Uzbekistan is a country with huge potential and the new administration seems to be very committed to modernizing the country," said Salvetti who visited Uzbekistan earlier this year.
"Our working model in Kazakhstan is applicable to Uzbekistan as well – possibly advising the government on privatisations, helping with reforming the banking sector."
Salvetti said Kazakh AIFC could get an additional boost if it manages to attract companies from neighbouring countries when they are ready, particularly Uzbekistan.
Additional reporting by Raushan Nurshayeva in Astana; Writing by Katya Golubkova; Editing by Susan Fenton
Reuters, MARCH 28, 2018