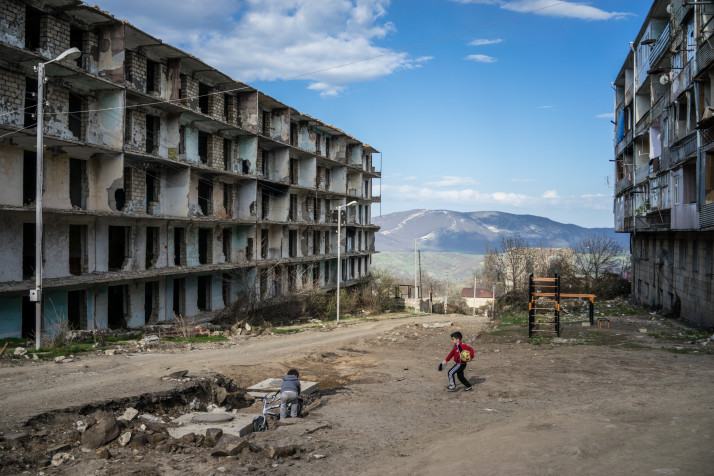 Nagorno-Karabakh, the former Soviet Union's oldest and most dangerous conflict, is waking up again. The 1994 ceasefire between Armenia and Azerbaijan is under severe strain. Where there was occasional sniper fire two years ago, mortars are now being fired. Rockets are raining down on the Armenia-Azerbaijan border and the ceasefire line east of Karabakh itself. There have been around a dozen casualties in the last week.
It is still premature to talk about a return to the kind of full-scale war that raged here for three years in the 1990s. But the leaders in both Baku and Yerevan are digging themselves into warlike positions that they will find hard to give up.
This is not about the "hand of Russia" — although Russia's behavior is not helping. The danger of the Caucasus is that no one is fully in charge and that Karabakh is becoming another link in a chain of disorder stretching from Ukraine to Syria, in which Russia meddles but is not fully in charge.
* * *
The Karabakh conflict has never been "frozen" since fighting ended in 1994. Nor has Russia ever had a controlling hand. Its core dynamics, going back to 1988 and the Gorbachev era, have always been local, stemming from the collision of two fierce nationalist movements over the territory of Nagorno-Karabakh. As the USSR fell apart, the two new nations went to war. In 1994, after 20,000 people had died and more than one million had been turned into refugees, the Armenians won a victory on the ground and a ceasefire was signed.
Since then the unresolved conflict has stunted development both in Armenia and Azerbaijan, yet neither is prepared to make the painful compromises that will lead to peace. For the semi-democratic leaders of Armenia and the authoritarian ones of Azerbaijan, regime survival is the absolute priority. They fear change and periodically find it useful to play the "Karabakh card" to rally the nation round the flag.

In the last two years President Ilham Aliev has turned Azerbaijan into the most authoritarian state in wider Europe, while upping his bellicose rhetoric and publicly calling Armenians "fascists" and "terrorists." On September 26, Armenian President Serzh Sargsyan escalated his own political rhetoric by dropping his previous position of public ambiguity and categorically declared Karabakh an "inseparable part of Armenia."
* * *
Russia tries to shape this dangerous situation, but does not pull the strings. Overall, Moscow has a strategic interest in resolving the conflict and has sometimes played the role of responsible peacemaker — most recently through the mediation of Dmitry Medvedev in 2011. But it has also periodically used the conflict to win tactical advantages over both Armenia and Azerbaijan and to keep a foothold in the South Caucasus.
During the the 1990s war it played for both sides before assisting the Armenians in the last phase of the conflict.
More recently, Russia has reinforced its long-term alliance with Armenia, signing a new lease on the Gyumri military base that lasts until 2044 and inviting Yerevan into the Eurasian Union. Simultaneously, it has grown closer to Azerbaijan and has started to sell the country heavy weaponry.
Alongside France and the United States, Russia is one of three mediators in the conflict, in the so-called Minsk Group of the OSCE. Recently the Minsk Group has become a conflict management exercise, with little ambition or ability to achieve a full resolution of the conflict.
The quarrel between Russia and the West over Ukraine has further enervated the peace process and darkened the mood. As in Syria, they may share several goals but evidently have different ideas about how to achieve them — and very little trust in one another.
If Russia had a clear imperial design, it might actually be easier to deal with — but if there is a plan in the Caucasus and the whole post-Soviet neighborhood, it's not working. Across the board, recent Russian action smacks more of reflex, PR and improvisation than of grand strategy. Everywhere, it leaves disorder in its wake.
Consider the evidence on the ground. President Putin scored one operational victory in annexing Crimea in 2014, but this was a place where he already had multiple levers of control and wide support, and at a time when there was virtually no government in Kiev.
Putin has failed in his larger "Novorossiya" project in Ukraine and Donbas has turned into a nasty intractable mess run by criminalized extremists whom the Kremlin doesn't trust.

Abkhazia and South Ossetia, which Russia rather hastily recognized as independent countries in 2008, are a political and financial drag on Moscow and keep throwing up awkward surprises. In 2011 the Kremlin couldn't even get its own candidate elected as president of South Ossetia (population 30,000) on the first try. The recognition of those two territories, not supported by any other major country, has shut down the chances of rapprochement with Georgia, which should have been a far bigger priority.
Looking around the wider post-Soviet region, not much else is going according to plan. Putin sees a Ukraine that wants to break with Russia.
He sees leaders who are erecting autocratic fortresses against outsiders as in Uzbekistan. Other leaders tack between Moscow and the West. That includes the two other main members of his Eurasian Union project, Kazakhstan's Nursultan Nazarbayev and Alexander
Lukashenko of Belarus, who posed this week with President Barack Obama at the United
Nations.
* * *
Azerbaijan falls into the Uzbekistan category, as Aliev reinforces his regime against any threat of regime change with a mass crackdown on civil society, the media and what remains of his opposition. This has driven Azerbaijan further from the West and closer to Russia, but Azerbaijan, with its energy interests and strong ties to Turkey, will never be a full Russian ally. Armenia is balancing, like Belarus and Kazakhstan, being a formal ally of Russia while seeking every opportunity to keep up good relations with Georgia, the EU, NATO and the United States.
The important point is that Moscow cannot enforce its will in either country, especially on an issue as vital to national interest as Karabakh. Yet by selling weapons to each side and trying to play each against the other, Russia is destabilizing the peace its mediators made in 1994.
The Caucasus looks more unstable and unpredictable than it has for many years. The latest Armenian-Azerbaijani fighting raises the risk that a serious incident will precipitate, by miscalculation, a new small war that no one wants but from which neither side is prepared to back away.
Russia's behavior makes it hard to stop that occurring — but no one else currently has much capacity to stop that nightmare scenario either.
Thomas de Waal is a senior associate at Carnegie Europe.
www.politico.eu, 10/11/15