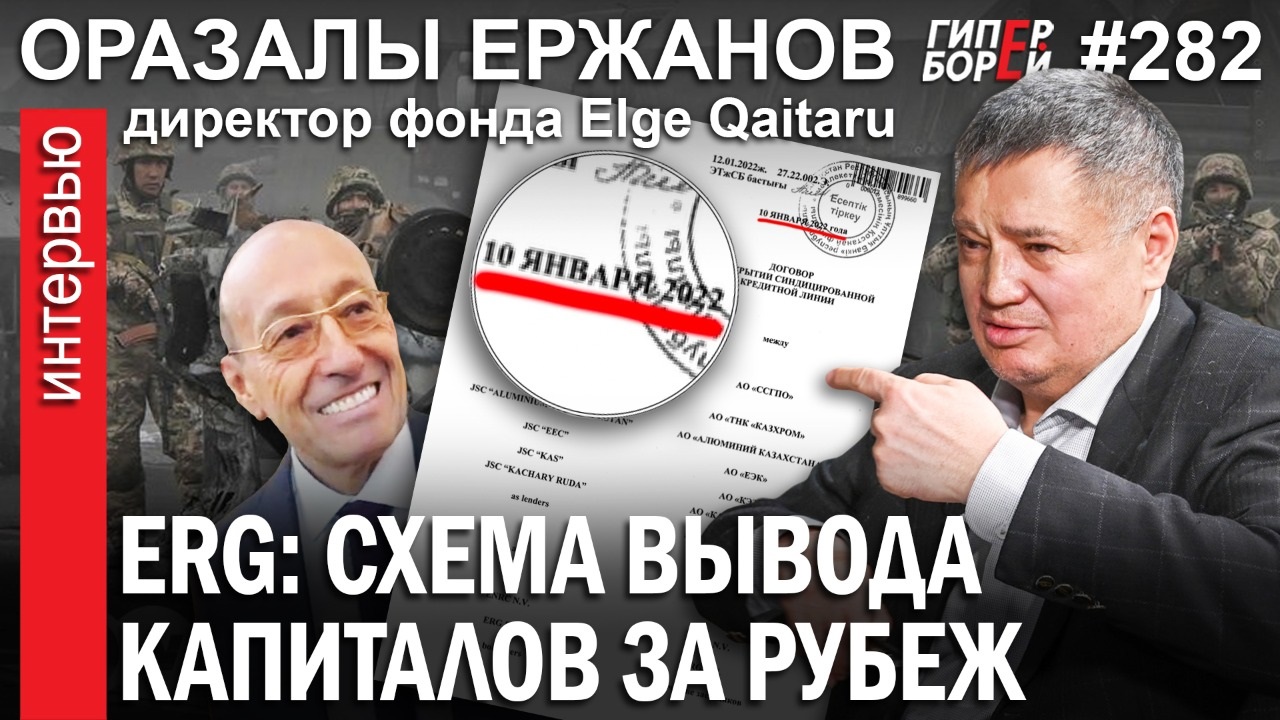 The Eurasian Group has been slandered and suffered reputational damage, reads the statement submitted by ERG lawyers to law enforcement authorities demanding to bring to justice Orazaly Yerzhanov, director of Elge Qaitaru Asset Recovery Fund, and their expert Iskander Beisembetov.
Orazaly Yerzhanov told Vadim Boreyko about their "wrongdoing" before Eurasian Resources Group in an interview, which aired on Hyperborey's YouTube channel on 28 December 2022.
Gorbachev called Kazakhstan a laboratory for experiments
V.B. Orazaly Santayevich, is this a civil or criminal suit?
O.E. It is an article on defamation, and it was transferred from the Criminal Code to the Administrative Code, i.e. it is an administrative case.

V.B. What are the claims?
O.E. Well, this is not a lawsuit (a lawsuit is a civil law term), but a claim that my colleague Iskander Beisembetov and I may have damaged the reputation of ERG during a press conference on October 27 this year with our words - basically everything we said there.
V.B. Usually such statements require refutation of specific words. What exactly does the ERG need to refute?
Photo: lawyer Dzhokhar Utebekov.
O.E. I only got acquainted with the statement the day before yesterday, we received a copy and engaged the services of lawyers Dzhokhar Utebekov and Alimzhan Oralbay, they are now studying all the materials. The applicant has a private opinion of a philological examination of our words, and we have applied to the police (as the code considers the police) so that such an examination can now be officially appointed. I only saw a conclusion in the documents, where I did not notice any words or phrases.
V.B.: So they want to refute your statements "wholesale"?
O.E. Yes, if I can put it that way. And I would like to congratulate all people of Kazakhstan on this event. I'll tell you why. We were in London recently and we heard that literally every journalist is complaining about ERG, that they're very aggressive, they're taking cases to courts everywhere, it's true they're not always successful - somewhere they were rejected, somewhere they won, some other cases are going on, and I understand that there are successes on the other side as well...
But there were no such processes in Kazakhstan. I know journalists who are in the same fight with the Eurasian Group, who have sent a lot of requests - mainly, of course, to the Ministry of Finance - and nothing! No detailed answers they have received. But if, I hope so, our case comes to court and we have the opportunity to sue the ERG publicly, we will do everything we can to raise as much material as possible to prove what we have been talking about. I see no reason to classify anything here.
V.B. They will do anything if they want to. They are not enforcing laws themselves, I am talking about courts, prosecutors and investigative agencies whose enforcement they are supposed to supervise.
O.E. Look, I think they miscalculated a bit. They did not calculate and do not feel the situation in which the country is in. Remember, after the December events in early 1987, Gorbachev was asked what he thought happened and he said, "We didn't expect it. Kazakhstan was a laboratory for all kinds of experiments". I read those words myself.
And I think that those who are now behind that statement, the initiators of that statement, they think the same way, that they can do anything here. But I would say to them: gentlemen, I hope, I'm sure times have changed, we are not a laboratory, the people of Kazakhstan are not laboratory rabbits. And our foundation is not a rabbit, we will not give up and we will do everything possible to make people understand the truth of the matter.
Why do you have government representatives on ERG's board?
V.B. Explain me the following: your foundation has already had several press conferences, you are making serious accusations not only regarding ERG, there were Timur Kulibayev, and Jusan Bank, and Kazakhmys, and you named Eduard Ogay (Kazakhmys LLC board chairman), and Vladimir Kim (Kazakhmys Holding president) and many other oligarchs. Why did none of them react at all, let alone sue?
O.E.: I think this is a peculiarity of our country, a well-established practice: these people were probably smarter than our current opponents. They understand that the decision about their fate - whether they have broken the law or not, whether they have stolen or not, whether they will be punished or not - is not in the hands of civil society, but in the hands of the people in Astana. This is why they probably felt it unnecessary to stoop to this level, to sue someone...
V.B.: Ok, I understand why those guys didn't do that, but why these guys did?
It is difficult to say. You remember that at that press conference we read the text of our statement. It was not addressed to the ERG. We, as citizens of our country, addressed a list of questions (there were 10 of them) to our own government: to the President, to the Prime Minister, to the Prosecutor General, to the Anti-Corruption Agency and to the Financial Monitoring Agency. And last week we received - this must be a consolidated response - on all our questions, from the Ministry of Finance. It is very entertaining.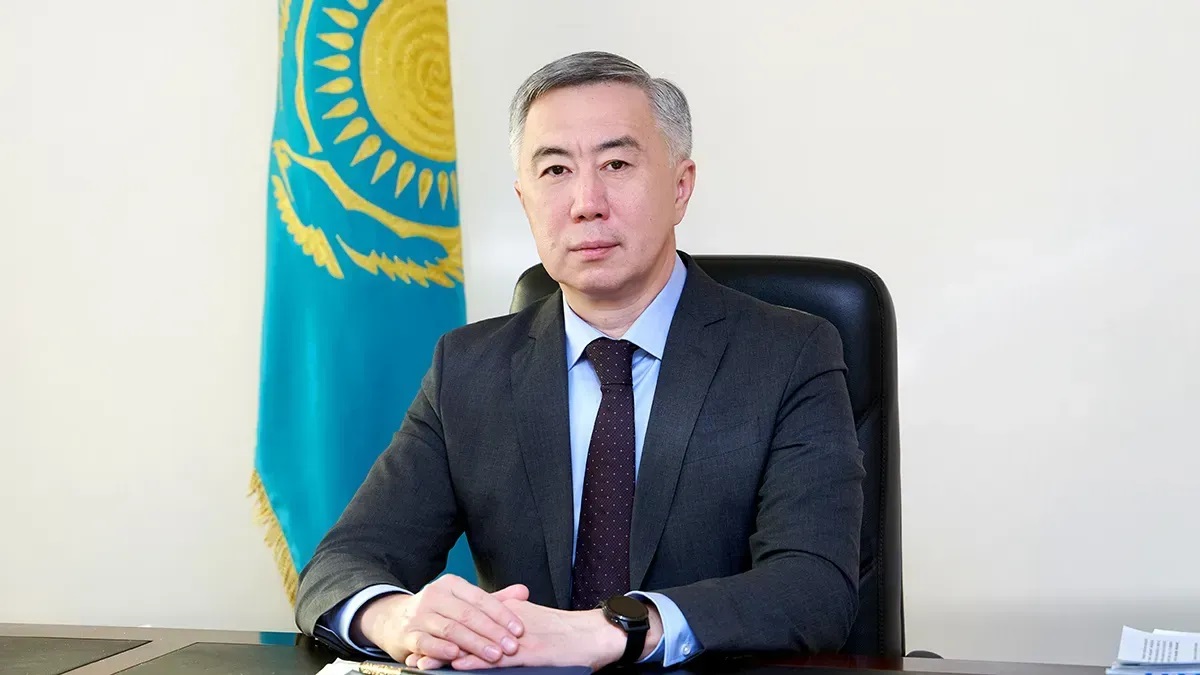 Photo: Serik Zhumangarin.
V.B. Let me remind readers that one of the shareholders of ERG is the government, it has 40%, which is not a small percentage. The government is represented by Vice Prime Minister, Minister of Trade and Integration Serik Zhumangarin, and also by Vice Prime Minister, Minister of Finance Yerlan Zhamaubaev - did you get a letter from him?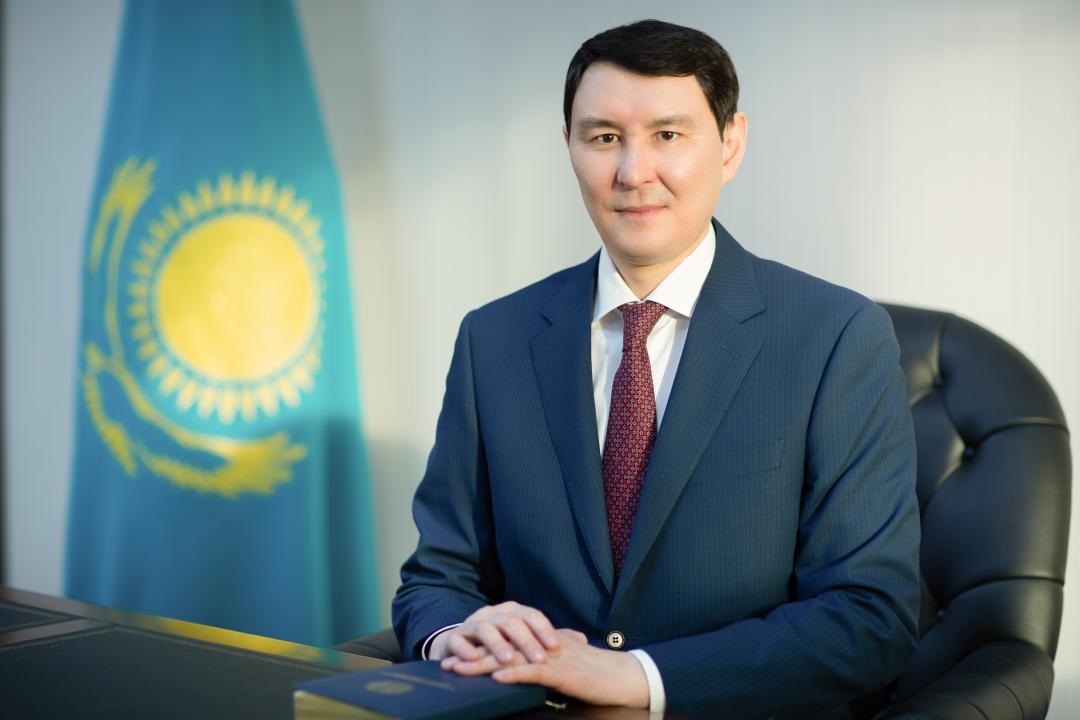 Photo: Yerulan Zhamaubaev.

O.E. We received it through eGov - Deputy Minister Dauren Temirbekov signed it. And I will say this: none of the points in this letter gives a concrete answer to any of our questions.
First of all, when ENRC was created in 2007, all the assets were merged, the share of the Kazakh government was 20%. And 80% was already in the hands of private owners. We asked a question: how much money did current owners of ERG pay to Kazakhstan's budget for this 80% stake? Our answer was: "information on deposits of ERG members and their value is available in open data of ENRC Plc listing both on London and Kazakhstan stock exchanges", i.e. go and look.
V.B.: Is this data open or not?
A. We are working on it, but I don't want to go into details now as we are in the process of litigation.
Background to our second question: this autumn Ratel published an article "How Kazakhstan was privatized" which said, among other things, that when ERG left the London Stock Exchange listing there was a rather large payment, which was felt by the Kazakh government. We asked a question: was it after this that the government's share rose from 20% to 40%? What did we pay for the additional 20%? The answer was that the Republic of Kazakhstan did not make any payments.
The third question we asked was: why is the Kazakhstani part of the company indebted, while the parent company is quite successful?
V.B. Recall that ERG LLP is based in Kazakhstan, while the parent company is based in Luxembourg.
O.E. Another related question: why do ERG enterprises in Kazakhstan have big debts? Based on 2021 results - the Ministry of Finance confirms this - the debt of Eurasian Group is USD 7 billion. And for some reason, according to the Ministry of Finance, the ratio of net debt to EBITDA is 1.5 in 2021. Their EBITDA is an operating profit of 4 billion in 2021. And the debt at the same time is 7 billion - or is the Ministry of Finance not looking at the company's statements? This is the data from the official website of ERG Luxembourg. So with a profit of 4 billion, they have a debt of 7 billion.
There was also a big question: how much dividends have they paid to our country's budget? We received an answer, it's one of the biggest in the text, but there is not a single figure in it - how much dividends the major shareholder, the government of the Republic of Kazakhstan received for its 40%.
And - about the government. As far as I know, for a long time the government of the Republic of Kazakhstan was represented on the board of directors of ERG by two people who were permanent members under Nazarbayev: Bakhyt Sultanov, the recent deputy prime minister, minister of trade and integration, and Marat Beketayev, minister of justice from 2016 to 2022. I told you we would return to the Beketayev figure....
V.B. And they represented the government in the ERG, as Zhamaubayev and Zhumangarin represent it now.
O.E. Yes. And I believe that this war, which ERG started by filing an application against us, will end up in a criminal case, first of all against government representatives.
As far as I understand, the company was supposed to pay dividends as early as 2014. If you even look at the 2021 results alone, their operating profit (that's before taxes) is 4 billion 200 million dollars. Even the net balance, free cash flow is 1 billion 830 million dollars.
So, Kazakhstan should have received at least 700 million dollars only by the results of 2021 - but there is nothing about it in the presented answer. They say: there is a case of Stati, there were some accounts.... This happened in 2017! Why are we sitting around doing nothing? What do we need government representatives on the board for then?
These people are hardly associating their future with Kazakhstan.
V.B. Orazaly Santayevich, could you please elaborate on ERG's debts?
According to our materials, the Kazakh companies which are part of the Eurasian Group are borrowers of Sberbank, VTB Bank (both Russian, they are under sanctions). Moreover, they are also borrowers of the Development Bank of Kazakhstan, the Eurasian Development Bank - this is also an intergovernmental bank where one of the founders is the Government of Kazakhstan.
And most importantly: these same companies, when receiving a loan from our own Development Bank, are lending to the parent company. We asked the ERG a question: what is the problem? Why our state bank, the Development Bank of Kazakhstan, gives a loan to a Kazakhstani company, which then immediately takes the money as a loan somewhere outside the country - what is the point?
V.B.: I remember very well that at that press conference you said, "ERG is taking money out of Kazakhstan". We have the contract in front of us - I will ask you to comment on that.
Here are three pages from the contract.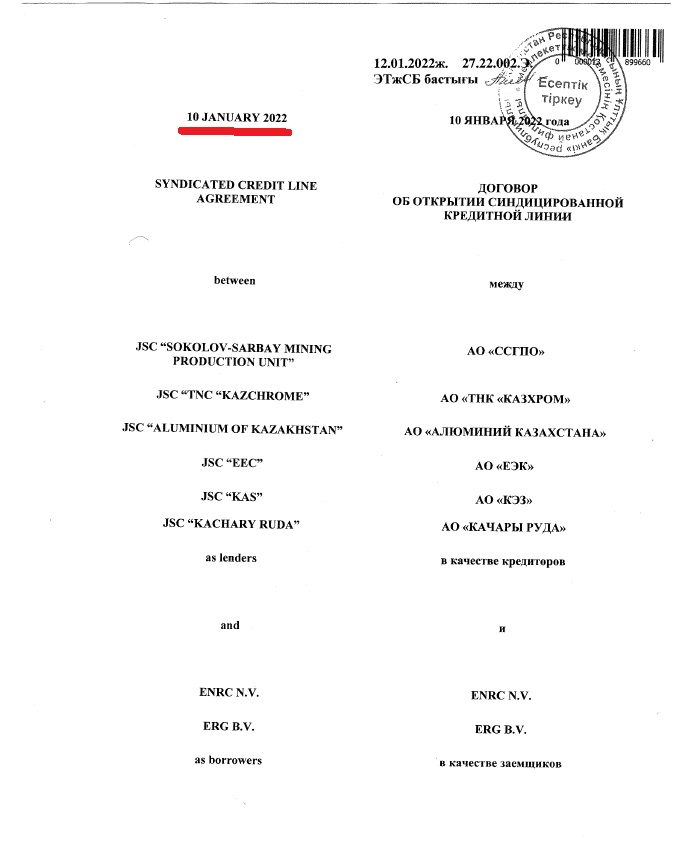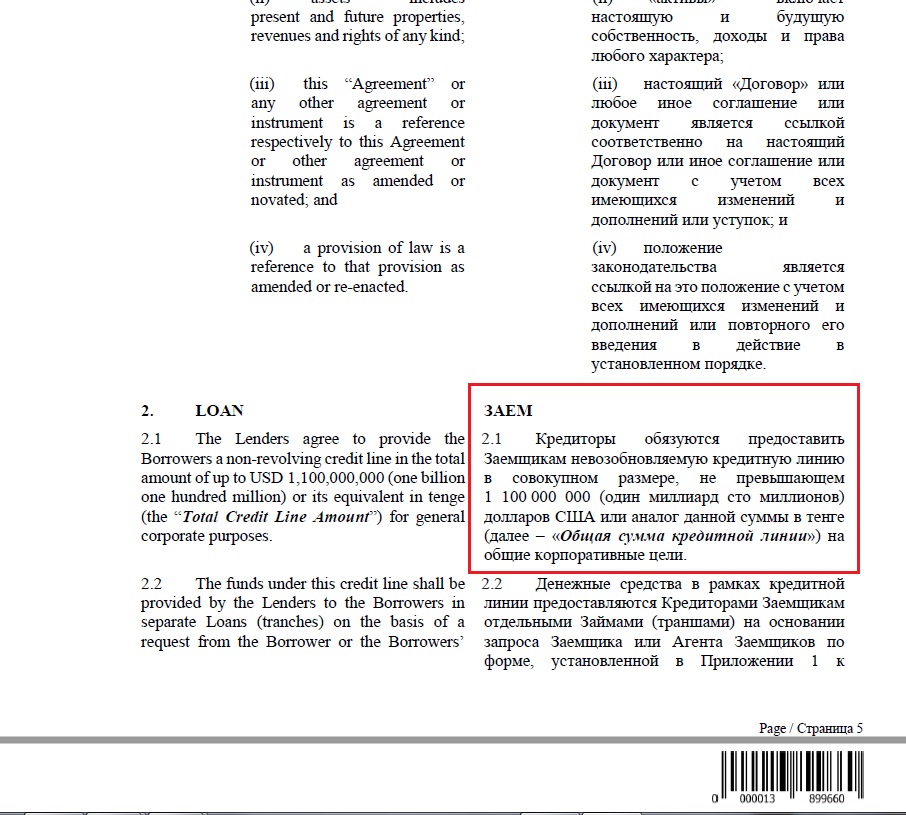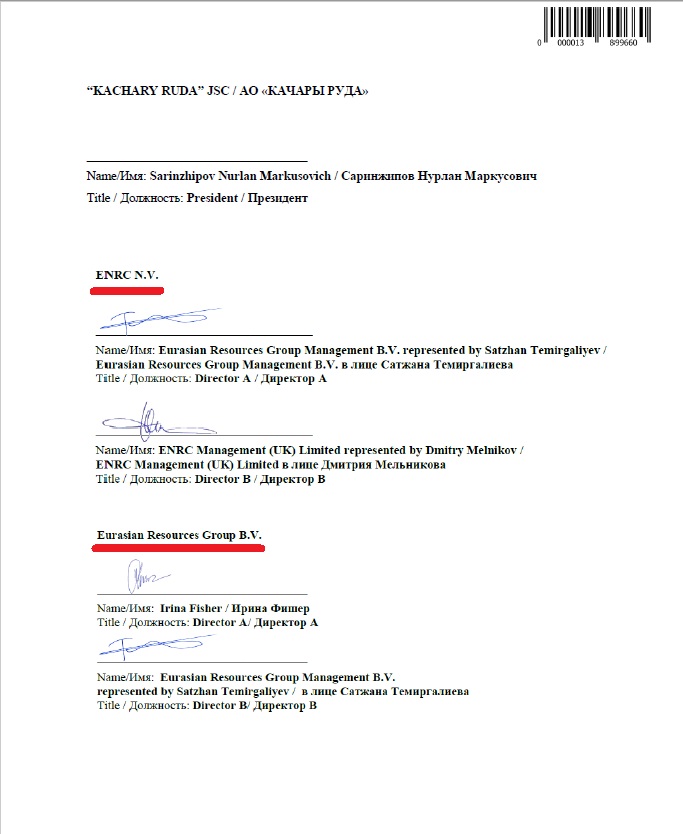 This is a contract for a syndicated credit line between the following companies: SSGPO (Sokolovsko-Sarbai Mining Industrial Association), TNC Kazchrome, Aluminium of Kazakhstan, EEC (Eurasian Energy Company), KEZ Kazakhstan Electrolysis Plant) and Kachary Ore JSC. They all act as lenders.
Borrowers: ENRC N.V. - is a company incorporated in the Netherlands and ERG B.V. - the same parent company. In other words, businesses that owe the Development Bank of Kazakhstan, Sberbank and VTB, whose total debt is 7 billion, are creditors of parent companies based in foreign jurisdictions. Is this called capital flight?
O.E.: In this case yes, I would call it legalized way to withdraw capital. We have also asked the government this question and received an answer that these are internal corporate borrowings, intra-group loan repayments, they are not aimed at withdrawal of funds from the company or at reducing the share of ownership of the Republic of Kazakhstan, they are a redistribution of liquidity within the group.
I emphasize: the Ministry of Finance responds in such a way. Intra-group loans are provided by their own lender on market terms and are more profitable than bank loans.
V.B. Let me name the people who signed this contract. SSGPO president Valery Grinenko, Kazchrome president Arman Yesenzhulov, Aluminium of Kazakhstan president Roman Romanov, EEC president Duisen Mergaliyev, Electrolysis president Serik Donbekbayev, Kachary Ore president Nurlan Sarinzhipov.
On the borrowers' side of ENRC N.V. Director A - Satzhan Temirgaliyev and Director B - Dmitry Melnikov signed. On the side of ERG B.V., Director Irina Fischer. What is the amount of this loan? Here is what is written: "Loan. 2.1. The lenders undertake to extend to the borrowers a non-revolving credit line not exceeding one billion one hundred million US dollars for general corporate purposes". What does this wording mean?
O.E. I don't know.
V.B. Now I would like to draw attention to the date of this agreement. There are two dates on the cover page: January 10, 2022 and January 12, 2022. How would you comment on that?
O.E. You know, it's like this. Imagine a family lives together. Some misfortune happens and everyone who is concerned about their well-being brings all of their possible resources to the family in order to overcome the misfortune. Another case, from the history of ancient Rus': if the enemy attacked, then it was necessary to appear to all, mounted, crowded and armed, raising all resources to overcome the common enemy.
And now back to the dates on the contract: 10 January is the first working day after Bloody January. On January 11, President Tokayev spoke, saying that constitutional law in the country has been restored, there was no coup, he changed the government, we will go on living and building a new Kazakhstan. The second date is January 12, so these people, instead of thinking about the future of our country, immediately took out of Kazakhstan 1 billion 100 million dollars from our natural resources.
Let me say right off the bat: I have not seen the payments; I cannot say exactly what sums were withdrawn and when, and where. But this document has created a basis for that to be possible. Not only that - this is not the entire amount of these intra-corporate loans, there are others. And there are more than one hundred billion dollars where Kazakhstani enterprises credit the parent company. I showed you the website of Luxembourg's parent company ERG, where it states that by the end of 2021 it has 1 billion 830 million in free cash flow. It is there.
V.B. While here, Kazakh businesses are in debt like silk.
O.E.: That is not even the main thing. Having such spare money, they "throw out" 1 billion 100 million more at the same time. My assumption: these are the actions of people who do not associate their future with Kazakhstan.
After the tragic events, the first thing they did was to take out USD 1 billion 100 million - a rather large amount. I hope they were then convinced that the situation had calmed down, and they returned the money to the enterprises: they have to pay salaries and maintain day-to-day operations. But I can tell you that we have enough materials to prove that it's not the whole amount, that was withdrawn outside of Kazakhstan as intragroup loans.
V.B. I don't know what to add here. I think you will see in court - oh, how many strange discoveries this court is preparing for us.
O.E. I hope that it will be one of those events that will eventually work to restore justice in Kazakhstan.
Published by Hyperborei YouTube channel
The original text of interview was translated by the © DeepL translator.
Interview published in Russian with subtitles