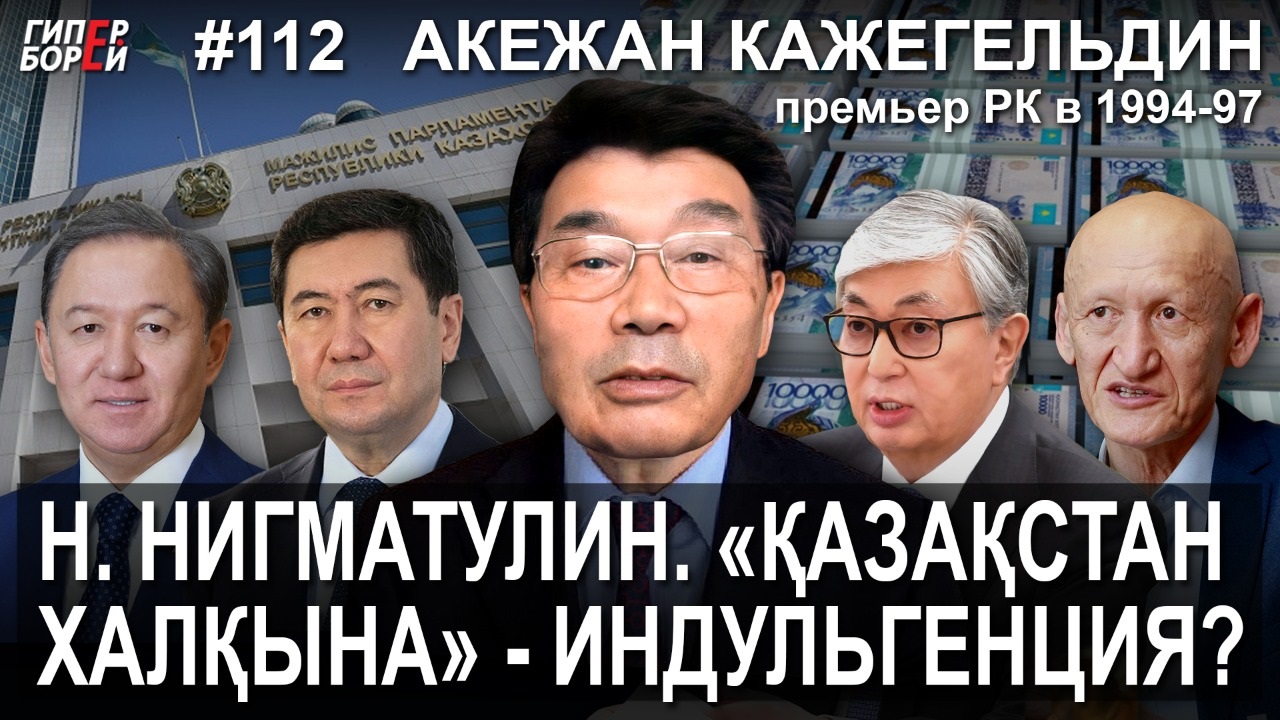 There is a past that does not need to be buried - it needs to be dealt with, Akezhan Kazhegeldin believes. On events with no statute of limitations, from the executions of the first real Kazakh government, the Alash Orda, and the famine of the 1930s, to the murders of Altynbek Sarsembayev and Dulat Agadil, in an interview by Vadim Boreyko with the Kazakh Prime Minister from 1994 to 1997, which appeared on the "Hyperborei" YouTube channel on 2 February 2022.
Nigmatulin's resignation
Vadim Boreyko. On February 1, 2022, Majilis speaker Nurlan Nigmatulin resigned.
Nurlan Nigmatulin. What can you say about the resignation of one of the most powerful men in Kazakhstan?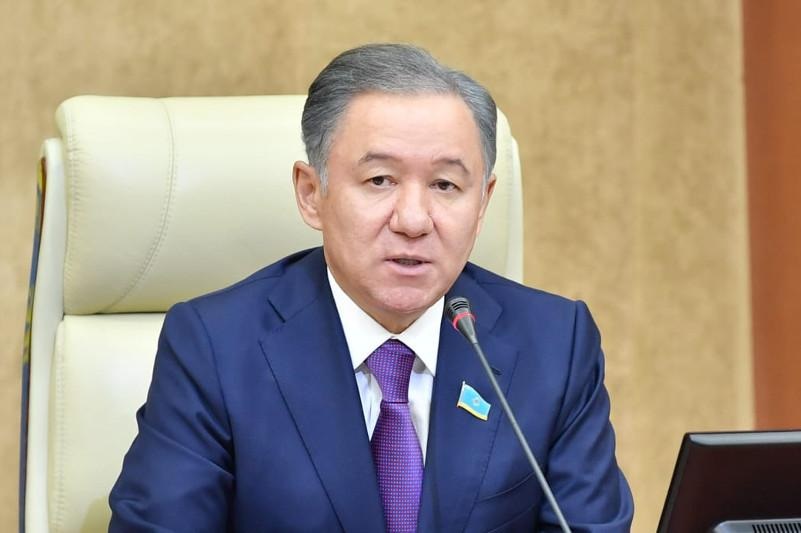 Photo: Nurlan Nigmatulin, Chairman of the Majilis of the Parliament of the Republic of Kazakhstan, 2016-2022.
Akezhan Kazhegeldin. I think this was a predictable step. Probably the next step should be the dissolution of Parliament and the election of a new one, but first we must instruct this Parliament to change the electoral law. Going to elections on party lists again is a waste of money and time.
Tokayev does not have much time, because Nazarbayev has "devoured" the whole of his generation, our generation and even the generation of his older children.
...And what can I say about Nigmatulin? I've heard much about these brothers (Nurlan Nigmatulin has a twin brother Yerlan), they did well in Karaganda, and I think that his leaving is correct formally, I will not say "in content", because from this Majilis only a similar, well, maybe more modest, not yet enriched, not overfed person can be elected as Speaker. I have already said about this Majilis, it is like a deaf-mute sheep, it is not an authority, it does not represent the people.
V.B. Have you heard anything about Nurlan Nigmatulin being involved in the case of former Prime Minister Serik Akhmetov?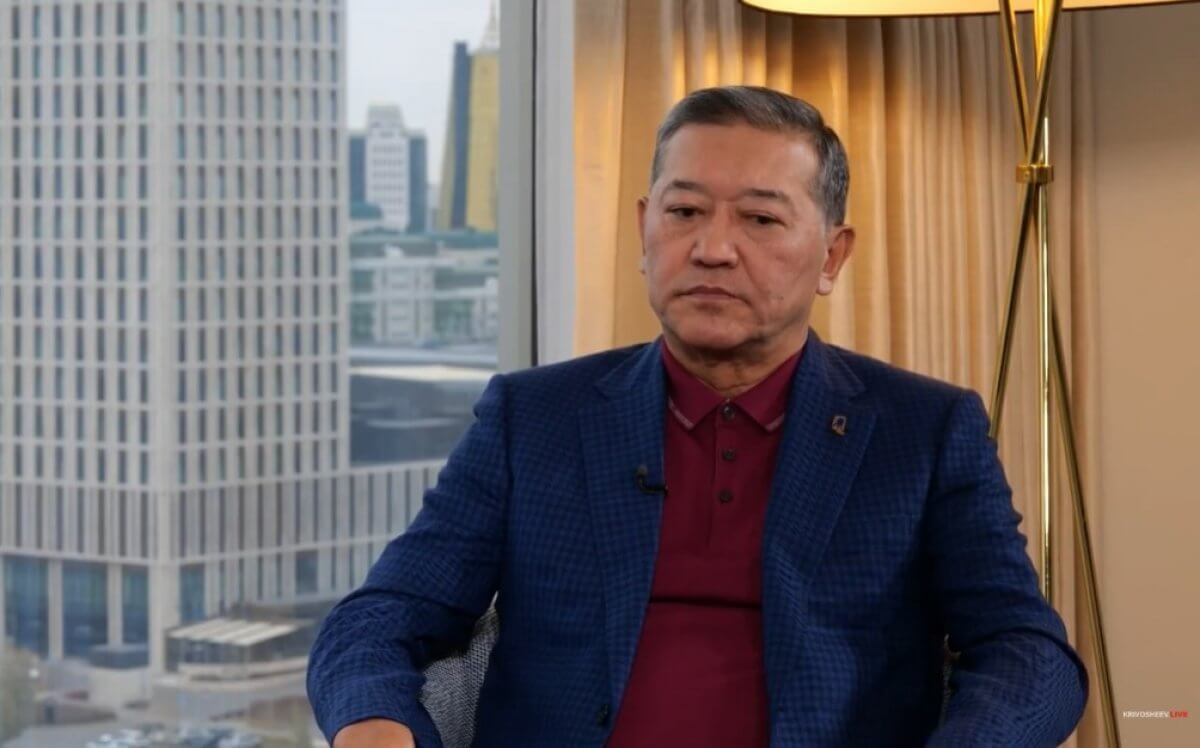 Photo: Serik Akhmetov, Kazakhstan's prime minister from 2012-2014. On 11 December 2015, he was sentenced by a court to 10 years in prison on corruption charges. On 21 September 2017, he was released "in connection with the substitution of imprisonment for restriction".
A.K. Yes, a lot was written about it, everything was presented as an intra-Karagandan squabbles, Nigmatulin had more resources than Akhmetov, the former prime minister became a victim of a clan struggle, and he was jailed. I believe this more.
V.B. How irreversible are such resignations in general, and is this a trend that is only now emerging?
A.K. I think the man (Tokayev - author) has started to come to power. For the public it is probably again an expectation that he will deliver on his promises. If Tokayev follows through on his own statement, where he said we will form a new political culture following the principle of "different views, but one nation", we will quickly notice from his real attitude towards freedom of speech whether his intentions and his rhetoric are consistent with real actions. If the situation remains the same, we will consider that the man promised, but for some reason couldn't do it: he didn't want to or something prevented him from doing it, but that's just for a little excuse. There are no such categories in politics: it's either yes or no.
So I want to say that his statement is very strong. A historic statement. Just like his call to shoot those who took to the streets with guns against the government. Everyone will remember it, and everyone will use it. He won't be able to visit any foreign country, without being reminded of this phrase, and I think that he dropped it for a reason, let's hope that he will follow it.
"It's like a state racket."
V.B. At the beginning of the year, President Tokayev said that assets should be returned, but he began by creating a charitable foundation, which is more like a kind of "joint-stock fund"...
A.K. Again, I think that Tokayev understands that one of his main problems today, before the upcoming elections, is the poverty of the people. And he needs to raise money in order to somehow cope with this situation, to help people simply to live. But I believe the prompt he was given is both politically and legally incorrect. Legally, it won't work in any way, because it looks like a government racket. Politically it is incorrect, because the people do not need it. This is not what the people want.
Kassym-Jomart Kemelevich needs to listen to what the Kazakhs say in the Kazakh language, and they say: we live in poverty, because we were robbed, give us back the money! Therefore, the proposal to collect some handouts in the new fund is incorrect.
How do you return assets?
V.B. And how do you propose to return the assets, even if they are discovered and the governments of foreign countries say: "here, take it"? Let me give you an example: in 2001, a group of Kazakhstani journalists went to Switzerland, where we met with the Attorney General of the Canton of Geneva, Bernard Berthousse, who had just discovered four Swiss bank accounts that belonged to figures K1 and K2 and their daughters.
It was about Nazarbayev and the late Nurlan Balgimbayev. At that time, 84 million dollars with interest were returned to Kazakhstan, but, as Serik Medetbekov (head of the Foreign Bureau of the Kazakh opposition, - author) told me, in the process of transferring them through the Bota Fund, "shrinkage and emptying" occurred: some of this money did not reach the intended recipients.
A.K. There are many different possibilities for this, according to current practice: how to return, say, money stolen by the former president of the Philippines; assets of Fujimori, President of Peru; Malaysia, Egypt and other states are now seeking refunds of money.
V.B. Please explain the legal complexity of asset recovery, for example, the case when the British Serious Fraud Office [note: it was actually the National Crime Agency] issued a warrant against Dariga Nazarbayeva and her son Nurali Aliyev.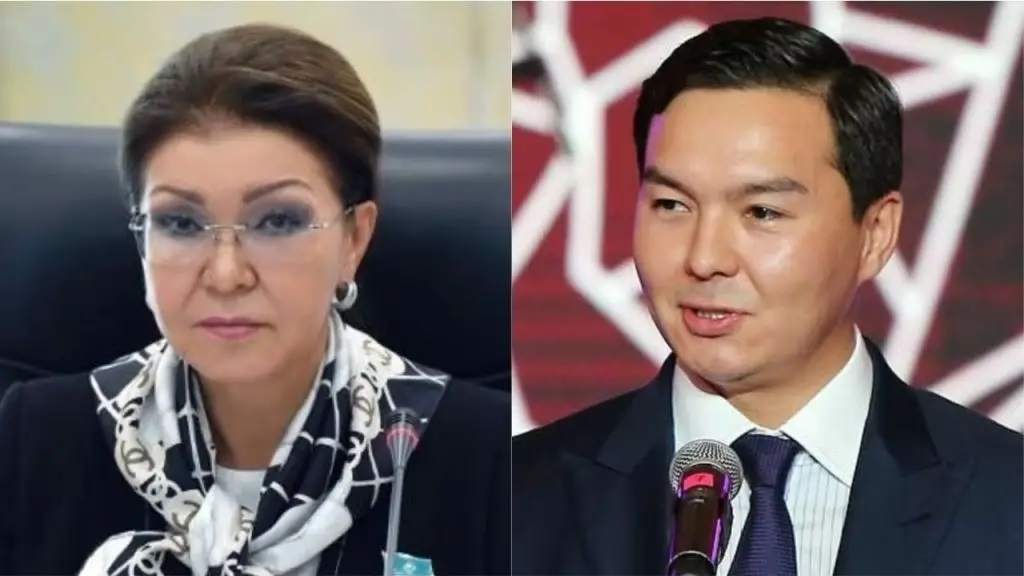 Photo: the eldest daughter of Kazakhstan's ex-president, Dariga Nazarbayeva, and her son Nurali Aliyev.
A.K. You give a very good example, regarding Dariga and her son, and property that was frozen and then unfrozen by a court decision.
Firstly, it shows that the UK is a country where the law applies. Secondly, this law works exactly as it was used. Thirdly, now we know exactly what happened: Dariga Nazarbayeva, as the daughter of the first president, manipulated her lawyers by providing them with evidence in bad faith, and they influenced the decision of the British court. She cited, for example, the fact that Nurali Aliyev received a loan of more than $60 million from his bank and used it to purchase three properties.
But the point is in the origin of this capital - criminal. This capital was received thanks to the actions of Rakhat Aliyev: the story with Nurbank, when the shareholders and managers of the bank were beaten, someone was even killed. They were forced to rewrite their assets in his favour. The British court did not consider this part of the case, because they simply did not know about it. Such conflicts sometimes occur, but this is not an obstacle to the return of capital: if the country acts correctly and provides objective information, does not try to hide someone behind someone, then it will achieve a return faster than private individuals.
The second peculiarity of British law is that some of these kinds of issues are dealt with in civil courts, whereas in the US, for example, they are criminal offences, and manipulation of this kind is virtually impossible there. And the transactions that Dariga Nazarbayeva got these assets from her husband have to do with US jurisdictions: according to a report by the OCCRP, an international consortium of journalists, we are talking about the same holding that owns property in America, Britain and Switzerland,. We are talking about an amount of more than a billion dollars.
V.B. And how would you advise acting in countries that are not under the jurisdiction of Kazakhstan, where these assets have already been turned into the private property of these people?
A.K. A very good question, and one that concerns the Fund of the First President of the Republic of Kazakhstan. Among other things, money that was raised from the closure of more than 20 so-called "Kazakh trading houses abroad" went there. That is, these funds are not Nazarbayev's fees for books. And even if some private company transferred money to the fund, let's call it a donation, they still belonged to the country. Because the donation, if Kazakhmys transfers it, is not Kim's money - it is the money of the Kazakhmys corporation, which generates a profit on the capital invested by the Republic of Kazakhstan, and so on. This kind of institution should be returned to the control of the state - this is the first thing.
Secondly, I would recommend either entrusting the Accounts Committee or creating a special agency to deal with these issues; be sure to include the Treasury as the institution that should receive the recovered funds; involve the Prosecutor General's Office, because according to the laws of the Republic of Kazakhstan and international agreements signed by Kazakhstan, the prosecutor's office is the body that sends requests for legal assistance abroad; and, of course, involve the Ministry of Foreign Affairs and all embassies.
And if we are asked for advice, we will help and share information with you if we believe that this is serious and this is not "Bota" number 2.0.
About Marat Beketayev
A.K. I think that the country, if it is serious about it, should act in this sequence. In this regard we need to take a good look at the staff. I recently found out that the former Minister of Justice became an advisor to the Prime Minister - I mean Mr. Beketayev.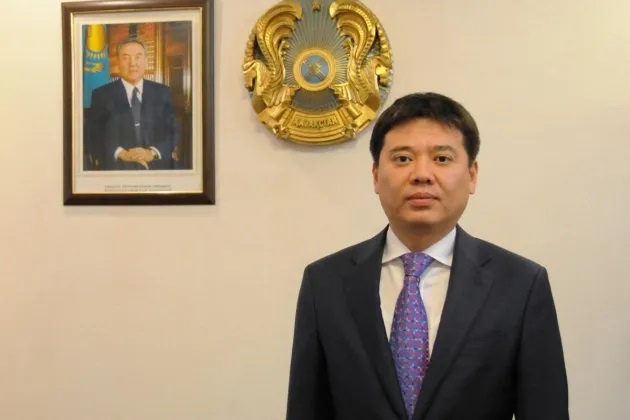 Photo: Marat Beketayev, Minister of Justice of Kazakhstan in 2016-2022.
You, as a journalist, can approach your OCCRP colleagues in the UK. Ask them to use the Freedom of Access to Information Act to send letters to all the law firms that have worked for the government of Kazakhstan in recent years: can they confirm that they have never shared any fees from the government of Kazakhstan represented by the Ministry of Justice with any third-party entities?
Because this gentleman was transferring money through law firms to third parties, which was received by fourth parties, and between the government of Kazakhstan, which was operating the money of Kazakh citizens, there was his private shop called Bolashak. And now he is in an advisory capacity - what is his advice to the president?
V.B. About Marat Beketayev. We have all followed Beketayev's actions in litigation against Ablyazov and Moldovan businessmen. This became a separate self-sufficient "business". What was the order of sums spent for these international cases of our ministry?
A.K. This is a very interesting example. It is commonly believed in Kazakhstan that BTA was the only bank stolen in the country. But in fact, all the banks were stolen, including Halyk Bank. However, only that bank was saved, by Nazarbayev's will; all the others were dismantled, developed, etc, including Bank TuranAlem.
Well, a lot of money has been spent to recover the stolen money. A considerable part of it has gone to the accounts of those who were after Mr. Ablyazov. And it has got to the point of absurdity, you have to understand that there was only one criminal case abroad against Ablyazov - in France - which was recently closed because of statute of limitations. All the rest since 2009 are economic disputes.
But the funny thing in this story is that in place of Bank TuranAlem a private company appeared in Kazakhstan which is called BTA Limited, and there is just one director. And this BTA Limited is entitled to receive a portion of the found liquidated assets, i.e., the money does not go into the Kazakh treasury (even though the main accusation against Ablyazov is that he caused damage to the country). It goes to a private company and is divided into private accounts. This was also done at the instigation of the Ministry of Justice, and this also needs to be dealt with.
V.B. What was the dispute in late November or early December 2021 between BTA Bank, now represented by Kenes Rakishev, and Bulat Utemuratov?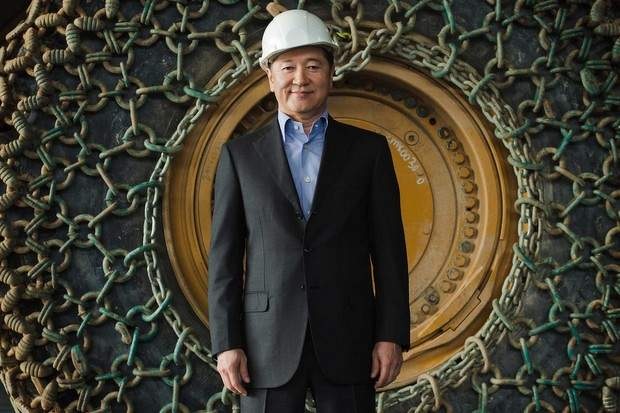 Photo: Bulat Utemuratov, a Kazakh oligarch with a fortune of $2.7 billion as of April 10, 2023(data from forbes.com).
A.K. Transactions were discovered which were suspicious from the point of view of Kazakh law and guidance. And they decided to punish Utemuratov, who had many years of business contacts with Ablyazov (of course, who did not have them with BTA?), and he was forced under pressure to rewrite it all, allegedly to Bank TuranAlem.
But I repeat: there is no Bank TuranAlem, there is a private company BTA Limited, and this was done in order to transfer funds to institutions controlled by Nursultan Abishevich. Nazarbayev ordered practically everyone - Kims-Nekims, Utemuratovs-Neutemuratovs - to transfer assets to his nephew, Kairat Satybaldy. All these assets were transferred to Nursultan Abishevich's fund, because the man realized that age plays a role. He has young children and he was well aware that Dariga is not their sister, and that Dinara is not a protector for his boys, that only the Nazarbayevs can be a protector for Nazarbayev. This process didn't come to fruition because of the events of January 4-5-6.
V.B. Please clarify for readers: which young children of Nazarbayev are you referring to?
A.K. They are his sons, who now go to public schools in London and live in a very expensive flat, formally registered to Mr. Kim at 101 Hyde Park.
"These events have no statute of limitations."
V.B. Let's go back to the Kazakhstan Halkyna Foundation. Tokayev said that he plans to collect about 100 billion tenge per year, and now there are already more than 50 billion. Translated into US dollars it is about 230 million. On the national scale it's nothing but seeds. Those people, who were sitting in Tokayev's meeting with businessmen, must have thought: "That's lucky!" - and they willingly put into this pot 10 and 30 billion tenge, because for us it's a lot of money, but not for them. You are saying that it is not even enough to rebuild Almaty.
A.K.: Absolutely. This is the matter of principle: if it's a precedent and if, God forbid, it's going to be repeated, Tokayev gives an indulgence to all those who have dishonestly and without any rights got this money and continue their activities, referring to the fact that everything is fine in the country of origin of their capital.
This is politically dangerous for Tokayev himself. On what grounds does he give such indulgence, why does he take on this baggage from another era? Is he a beneficiary? No, I know for sure he is not. Does he want to somehow save the past? That past doesn't need saving. It's a past that needs to be dealt with.
We have forgiven so much from our past, for example, the Holodomor - it is considered to be only the responsibility of the Bolsheviks. Quite right. But people forget that there were Kazakhs among them.
Or the shooting of our first real government, the Alash. They were shot for demanding autonomy, for demanding to delineate the borders we now live in. And among those who testified against them, who shot them, were also Kazakhs.
And what about the events of 1986 that we "rolled up" into oblivion? What about the year 2011? What about Nurkadilov and Sarsenbayev? And the guys who were killed in the office of the vice-president of Nurbank, who were tortured by First Deputy Foreign Minister Rakhat Aliyev (Zholdas Timraliyev and Aybar Hasenov- author)?
They have no statute of limitations, such events. It cannot be zeroed out. I was in Washington on December 9-10 and met with politicians, and I showed them photos of Aron Atabek before his arrest and after his release. This is a concentration camp, this is the Holocaust. And it wasn't done by anyone - it was done by the former regime.
They have no statute of limitations, such events. It cannot be reset. I was in Washington on December 9-10, met with politicians, and I showed them photos of Aron Atabek before his arrest and after his release. This is a concentration camp, this is the Holocaust. And it wasn't done by just anyone - it was done by the former regime.


And what about the family of Dulat Agadil? And what about those who were arrested - 10,000 people! They find "terrorists" in the areas where peaceful rallies took place. They must be released immediately, and Tokayev must personally deal with this. Otherwise, all this will fall on his shoulders.
V.B. I would also mention "Shanyrak" in 2006 - no investigation was carried out. And the last question: recently, on one Russian channel, you named an impressive figure, the total amount of assets of Nazarbayev himself, his family and his entourage - 146 billion dollars, saying that this is twice the Russian military budget. What is your number based on?
A.K. It is based on data that we recently handed over to the US authorities.
V.B. Will you pass it on to us?
A.K. The information we have given to the US authorities is protected by the First Amendment of their constitution, which guarantees freedom of speech. If I hand it over to you, you will have so many claims - you simply will not be able to pay.
Published byHyperborei YouTube channel
The original text of interview was translated by the © DeepL translator.
Interview published in Russian with subtitles