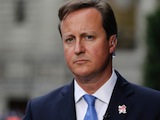 David Cameron is under pressure from human rights campaigners as he prepares to do business with Kazakhstan. He will become the first serving British leader to visit the oil-rich country in the next few days.
The Prime Minister is expected to sign lucrative energy deals and a long-term partnership agreement with the autocratic regime of President Nursultan Nazarbayev.
But Human Rights Watch has written to Mr Cameron urging him to raise concerns about widespread allegations of torture, religious repression and media censorship in the former Soviet republic.
The visit will seal growing links between the two countries at a time when the Government is keen to strengthen relations with what it sees as an emerging power.
Prince Andrew is a regular visitor to Kazakhstan and sold Sunninghill – the home he shared with ex-wife Sarah – to Timur Kulibayev, the dictator's son-in-law, for £15million.
Tony Blair's company has signed a £16million two-year deal to advise the regime on political reforms.
Mr Cameron and Mr Nazarbayev, who has ruled with an iron fist since the fall of the Soviet empire in 1991 are expected to discuss a deal by which the UK can use Kazakh bases as our troops quit Afghanistan.
But Human Rights Watch said the situation in Kazakhstan is deteriorating with authorities cracking down on dissent. Clashes between police and striking oil workers in 2011 saw 15 unarmed protesters shot dead, while opposition leader Vladimir Kozlov was jailed for seven years.
Downing Street said last night: 'When the Prime Minister goes abroad he has full and frank discussions with foreign leaders. Where the UK has concerns about human rights or other issues, he does not hesitate to raise them.'
www.dailymail.co.uk