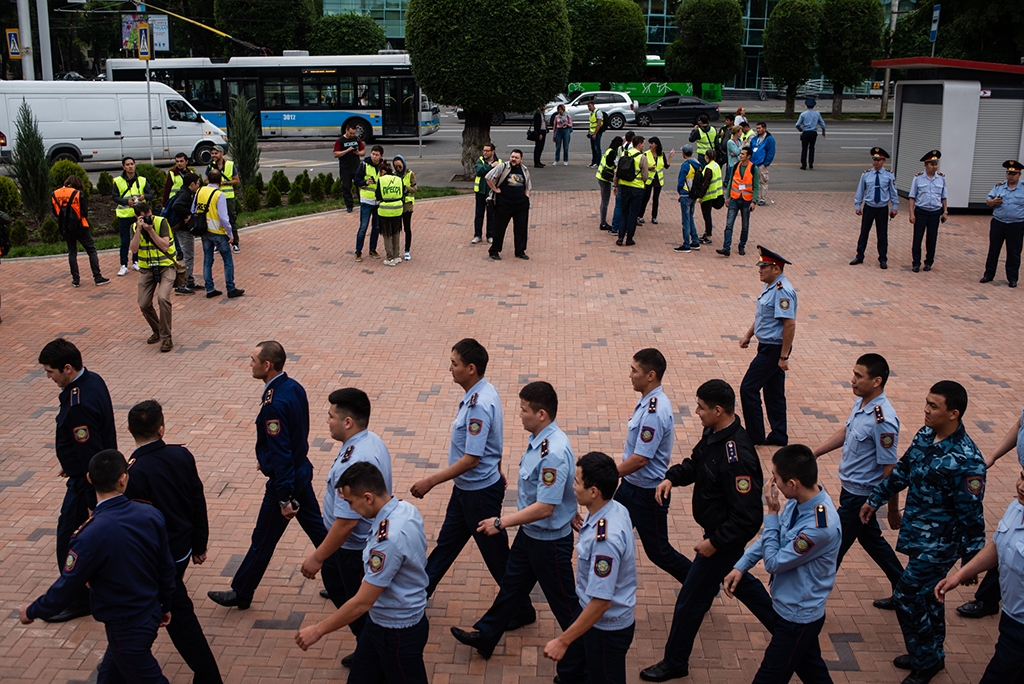 An independent polling agency in Kazakhstan has found in a nationwide survey that 43 percent of respondents view demonstrations as a force for good.
Only a relatively small portion of respondents, 16 percent, expressed negative views on rallies, while another 41 percent were indifferent or struggled to answer.
"The results of the survey have demonstrated that Kazakhstanis are on the whole more likely to be positively disposed to peaceful meetings and that they believe that with the help of public demonstrations, the situation in the country can be improved," the polling agency, Demoscope, said in an October 3 press release.
These findings may come as something as a surprise for the authorities, which have expended much energy over the years in casting protest gatherings as destructive and destabilizing.
Unauthorized gatherings of anti-government activists are typically met with robust resistance from the police. The protest rallies that took place during and after the June 9 presidential election that sealed Kassym-Jomart Tokayev's claim to office led to the detention of 4,000 people, according to the Interior Ministry.
There have been sporadic rallies since that time that have elicited similarly zero-tolerance policing.
Cognizant of the bad optics, however, Tokayev has signaled his intention to carve out a controlled space for the public to engage in gestures of public dissent. During an address to the nation on September 2, he issued instructions to permit such gatherings under specific circumstances.
"If peaceful demonstrations are not pursuing the goal of breaking the law and the citizens' peace, then we should meet them halfway and allow them to take place," he said.
Later, deputy Justice Minister Natalya Pan told lawmakers that draft legislation regarding public assemblies may be drawn up by the year's end.
"The deadline has been agreed – December 2019. Legal amendments will be worked out," she said.
Tokayev's distinction between different types of rallies is plainly a reference to the moving force behind many recent unauthorized protest demos.
On September 21, many dozens of people turned out to attend a gathering to express opposition to perceived Chinese economic expansion in Kazakhstan and what they feel is Nur-Sultan's overly cozy relations with Beijing. Police said 57 people were detained at the rallies, which took place in the cities of Almaty and Nur-Sultan.
That demonstration, like several others before it, was summoned by exiled regime opponent and disgraced banker Mukhtar Ablyazov, who is wanted by Kazakh authorities. All rallies linked to Ablyazov are automatically viewed with deep suspicion and lead to the mobilization of a heavy police presence.
The snap election, however, also led to the emergence of newer movements of politically engaged groups. The most prominent among these is Oyan, Qazaqstan – a loose movement directed by mostly urban-based activists that came of age after the collapse of the Soviet Union.
Tokayev has shown some nominal willingness to tolerate activism by his more youthful antagonists.
Responding to pre-election demonstrations spearheaded by the likes of Oyan, Qazaqstan, the president mused that "dialogue between the authorities and society should be based on the recognition of a plurality of opinions about the future development of Kazakhstan."
"Our young generation is smart, creative and patriotic! It will get a chance to achieve its dreams," he wrote in a June 6 tweet.
One data point in Demoscope's survey, which quizzed 1,100 people in 14 regions, suggests the government has every chance of nourishing distinctions among the public about which demonstrations are and are not acceptable.
Demoscope researchers found that 73 percent of respondents still believe that demonstrations should be coordinated with the authorities, while 17 percent disagreed with that position.
Original source: EURASIANET