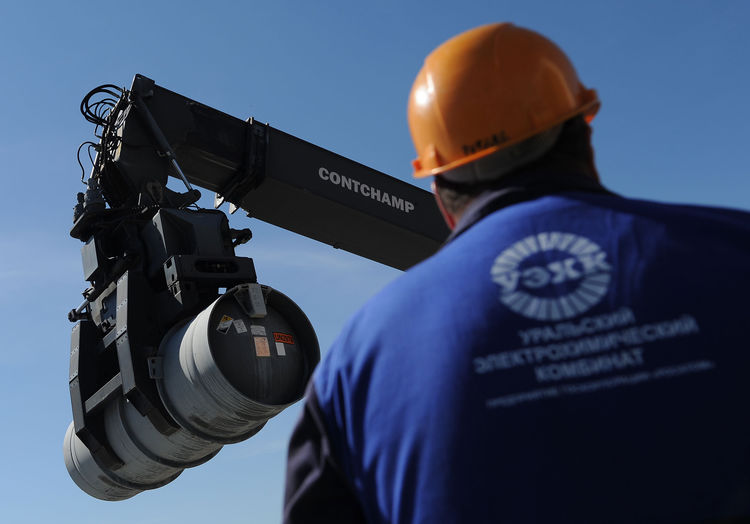 Since 2013, the nuclear energy arm of the Russian state has controlled 20 percent of America's uranium production capacity. Rosatom's acquisition of Toronto-based miner Uranium One Inc. made the Russian agency, which also builds nuclear weapons, one the world's top five producers of the radioactive metal and gave it ownership of a mine in Wyoming.

The deal, approved by a committee that included then Secretary of State Hillary Clinton, also followed donations from Uranium One's Canadian chairman to the Clinton Global Foundation, the New York Times reported on Thursday.

In an interview with Bloomberg News, Ian Telfer, the former Uranium One chairman and current chairman of Goldcorp Inc., said he pledged a donation of $3 million to the Clinton charity in March 2008, "when it was never contemplated that at some point in the future the Russian government would become a major shareholder of Uranium One."

Why did the Russian government want Uranium One?

Russia is only the world's sixth-largest uranium miner, but has a huge nuclear fuel industry. Rosatom had built that business partly by processing uranium from Soviet warheads decommissioned under the so-called megatons-to-megawatts agreement signed with the U.S. in 1993.

As that accord neared its end, Russia needed a new source of supply and Uranium One provided a solution. In 2010, a unit of Rosatom bought a majority stake and three years later, Russia paid $1.3 billion for the rest of the company.

The company that became Uranium One was founded in 1997 and merged with two competitors in 2005. In 2007, it bought UrAsia, a company co-founded by Canadian mining financier Frank Giustra that owned uranium mining assets in Kazakhstan.

Kazakhstan Deal

UrAsia's purchase of the mines was finalized shortly after Giustra and Bill Clinton visited Kazakhstan's president Nursultan Nazarbayev, the New York Times first reported in 2008. Clinton, Giustra and Telfer have all denied Clinton's visit played any role in helping the Canadians secure the mining assets.

A personal friend of the former president, Giustra, founded a charitable organization with Clinton with the mission of helping communities in regions impacted by mining operations.

Telfer pledged $3 million to the charity at a star-studded gala in Toronto in March 2008 that included Tom Cruise, Robin Williams and Elton John. Citing Canadian tax records, the Times reported that Telfer's family foundation donated a total of $2.35 million to the Clinton and Giustra charities between 2009 and 2012.

Hillary Clinton

Telfer's payments came both before and after a deal to sell a majority stake in Uranium One to Rosatom gained approval in October 2010 from the Committee on Foreign Investment in the United States, because of Uranium One's U.S. assets. As secretary of state, Hillary Clinton was a member of the committee.

"I have never met Hillary Clinton. This donation was made in support of Frank Giustra, my business partner and friend for more than 20 years. There was no thought of influencing anyone," Telfer said by phone.

Rosatom gained full control of Uranium One in early 2013.

Rosatom styles itself as Russia's national nuclear corporation and today Uranium One is its international mining arm. As well as Willow Creek and the Kazakhstan assets, it owns mines in Australia and has exploration assets in Africa and the U.S.

In 2013, the company produced 5,086 tons of uranium, mostly in Kazakhstan, according to its website. That's just under 10 percent of global production and 62 percent more than Russia produces at home.

At Willow Creek, 362 tons were mined that year, or 20 percent of U.S. productions, data from the World Nuclear Association show.

Economic Cornerstone

Rosatom itself is a cornerstone of Russia's industrial economy, building and operating all Russia's nuclear reactors and supplying about 17 percent of the country's power. Annual revenues are more than 500 billion rubles ($9.8 billion).

It's also an agent of Russian foreign policy, aiming to export nuclear technology. While its ambitions were set back by 2011's Fukushima disaster, Rosatom has won contracts to build reactors in Turkey, Indian and Vietnam.
www.bloomberg.com, April 24, 2015