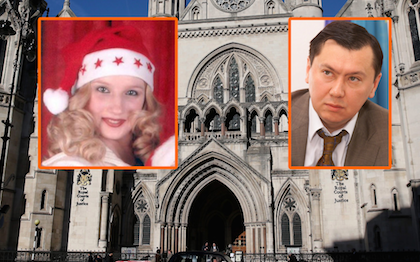 A wealthy British businessman who is feuding with the state of Kazakhstan over hundreds of millions of dollars of disputed assets claims the Kazakh secret police put him and his brother under "extreme psychological pressure" with a campaign of intimidation on the streets of London and in the USA.
The highly charged accusations were aired earlier this month during a defamation and harassment lawsuit brought in London's High Court by Issam Hourani.
Hourani, the wealthy businessman, is suing four US residents —Alistair Thompson, Bryan McCarthy, Allison Blair and John Waller. He is seeking damages in connection with their involvement in protests outside his London home in which he says he was falsely branded a "murderer" for his alleged role in connection with the death of a young Russian journalist, Anastasiya Novikova.
Hourani, who was born in Lebanon but now lives in London, claims the protests outside his home were part of a wider plot against him that included the harassment by the secret police.
Hourani's lawyer alleged in court earlier this month that the Kazakhstan government was pursuing a campaign to discredit Hourani and his brother Devincci because of a dispute over the ownership of hundreds of millions of dollars of assets in Kazakhstan. Hourani is currently involved in separate arbitration proceedings with the Kazakh state over that dispute.
His lawyer said in court that the campaign of intimidation included having both men followed on the streets of London, hacking into their emails and mounting disinformation attacks against them.
"What was done as part of this campaign, far from being an exercise in free speech, was oppressive, unwarranted harassment, targeted at him, intended to put him under extreme psychological pressure and achieving its effect," Hourani's barrister, Heather Rogers QC, said in summing up the case.
The four defendants in the defamation suit admit to being involved in the protest campaign outside Hourani's London home, but argue it was reasonable because they believed he had been involved in events that led to the death of Anastasiya Novikova. The journalist, aged 33, fell to her death in 2004 from an apartment in Beirut that was owned by Devincci Hourani.
Judgment in the case is expected within the next few weeks.
Heatst.com, 04.02.2017