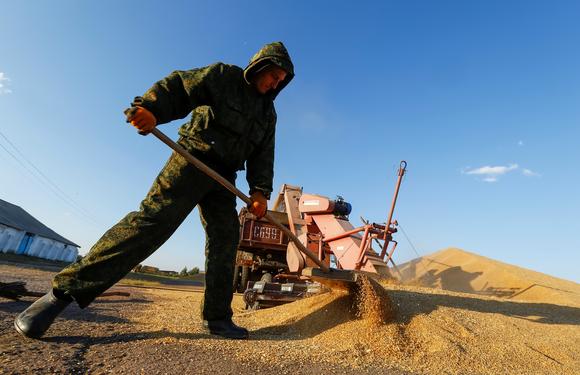 New infrastructure helps ex-Soviet grain exporters reach Asian markets
China's regionwide infrastructure drive is quickly proving to be a game changer in the grain trade.
The shift in the landscape was apparent when the Kazakh agriculture minister visited Beijing earlier this month. "Kazakhstan is willing to work with China and cement bilateral cooperation for common agricultural development," Askar Myrzakhmetov, who doubles as deputy prime minister, told Chinese Agriculture Minister Han Changfu on Nov. 7.
Executives of major Chinese companies were on hand to welcome Myrzakhmetov and pledged over $600 million worth of investment in Kazakh agriculture by 2024. China also agreed to boost wheat imports, meeting a Kazakh request.
The Belt and Road Initiative -- China's program for building infrastructure stretching to Europe -- has brought the countries closer together. With a new freight rail network up and running across Central Asia, it now takes about two weeks to transport goods from Shanghai all the way to Europe. That is half the time required for seaborne shipments.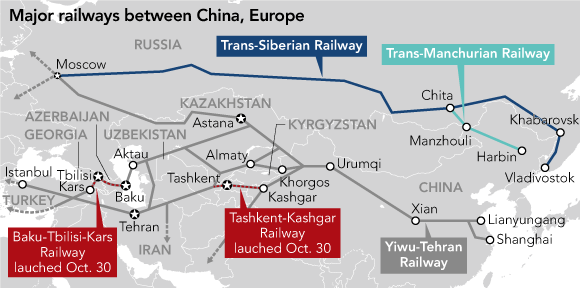 Thanks to the railway and other projects, former Soviet bloc countries like Kazakhstan, Kyrgyzstan and Uzbekistan smell opportunity. So does Russia.
The U.S. and Australia have long dominated the Asian wheat market. Until recently, Kazakhstan exported wheat mainly to Uzbekistan and other neighbors. But the Kazakh Agriculture Ministry has set a goal of increasing wheat exports to China to 1 million tons within the next three years -- nearly triple last year's level.
Similarly, the then Kyrgyz President Almazbek Atambayev in late October unveiled a plan to boost sales of farm products to China, noting, "There is a market of 1.5 billion people in China." A new Tashkent-Kashgar rail route -- connecting Uzbekistan with China through Kyrgyzstan -- opened on Oct. 30.
ASEAN access
China is not the only target market. A joint Chinese-Kazakh logistics center at the Port of Lianyungang, one of China's largest trading ports, is primarily intended for exports to the Association of Southeast Asian Nations bloc. The first phase of the logistics center is open and the facility will feature gigantic grain silos.

The Jiangsu Province port faces the East China Sea and represents a key intersection of land and maritime routes. The rail line to Central Asia starts there.
HISASHI KANAO, Nikkei staff writer, and NAUBET BISENOV, Contributing writer
Nikkei Asian Review, November 28, 2017